Filters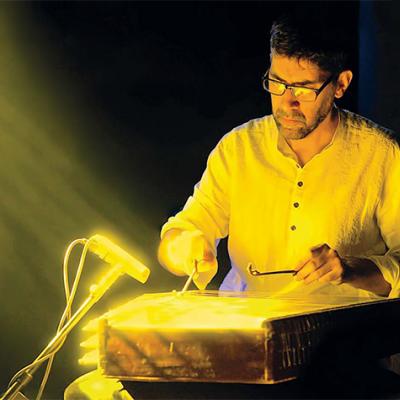 Born in Paris in 1968, Keyvan Chemirani grew up in the hills of Manosque. He was trained in Persian music by his father Djamchid and has become a master of the zarb (chalice-shaped drum), the daf (frame drum) and the bendir (Mediterranean percussion).
Biography

The art of Iranian percussion is based on poetry. The structure of the instrumental pieces for the zarb is inspired by Persian poems, the blows on the goatskin covering the instrument echo the rhythm of the verses. But for Keyvan, music cannot be limited to the secular Persian repertoire, for it is above all about sharing. He loves encounters and opportunities to create bridges between East and West and between all forms of music (world music, jazz, ancient music). He is particularly sensitive to voices.

As a curious musician, he travels around the world improvising with many artists, singers and instrumentalists: the Breton Erik Marchand, the Irish-Cretan Ross Daly, the South Indian Ragunathan, the Sephardic Françoise Atlan, the flamenco composer Juan Carmona or his brother Bijan. These improvisations capture the particular characteristics of the different traditions and reveal their similarities in a surprising way, showing how Iranian percussion can be similar to the sound of the Indian tabla, how the Breton language sounds almost Mediterranean.

His instrument, the zarb, has found a place in the jazz world. Keyvan has collaborated with renowned artists such as Didier Lockwood, Sylvain Luc, Louis Sclavis or Renaud Garcia-Fons. An explorer, he also enjoys working with early music ensembles such as Dominique Vellard's Ensemble Gilles Binchois, La Chapelle Rhénane with whom he recorded Schütz's Psalms of David, and Leonardo García Alarcón's Cappella Mediterranea, with whom he was invited to perform as a soloist and with whom he premiered Falvetti's Il Diluvio universale at the 2010 Ambronay Festival.
Reviews