Filters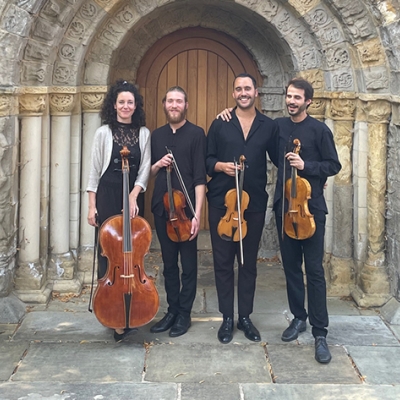 The Protean Quartet was formed in 2018 in Basel, moved by their curiosity and passion for the historically informed practice movement. The ensemble is mainly focused on the rediscovery of the stylistic, rhetorical and technical aspects of the musical language from the classical and pre-Romantic period. A deep interest in the combination of authenticity and meaningfulness, aims to establish a fresher musical speech style.
Biography

Javier Aguilar, Edi Kotler violins
Ricardo Gil viola
Clara Rada cello

Members of the quartet have studied at several European music colleges and been strongly influenced by diverse performers and ensembles. The quartet has performed in important festivals in Spain, Germany and Switzerland, including the Oude Muziek Festival in Utrecht 2019 (Groote Zaal, Tivoli Vrendeburg) FIAS 2021 and last summer made its debut in the Festival de Saintes 2021 with music by Haydn, Canales, Mendelssohn and Beethoven. The Protean Quartet was awarded the first prize at the Biagio-Marini International Competition 2020 and won the 2022 York Early Music International Young Artists Competition.

As well as their dedication to the quartet repertoire, the members play regularly with leading Baroque ensembles such as Akademie für Alte Musik Berlin, Balthasar Neumann Ensemble, Collegium Vocale Gent, Il Convito, Diletto Musicale and Geneva Camerata, among others. They are also committed to broadening audiences with their creation of interdisciplinary performances, blending dance, visual art and music. Protean Quartet will record a new album for Linn Records.