Filters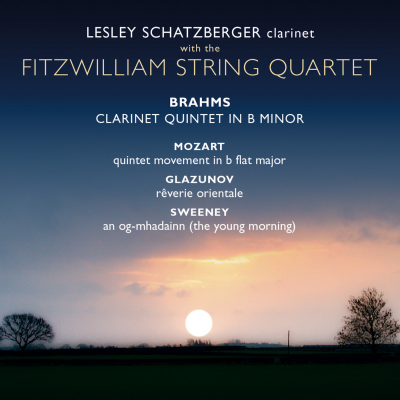 Inlay available for download
Booklet available for download
Clarinet Quintet in B minor, Op. 115: I. Allegro

Composer(s)

Johannes Brahms

Artist(s)

Lesley Schatzberger - clarinet

Fitzwilliam String Quartet

Clarinet Quintet in B minor, Op. 115: I. Allegro

$4.60

Clarinet Quintet in B minor, Op. 115: II. Adagio

Composer(s)

Johannes Brahms

Artist(s)

Lesley Schatzberger - clarinet

Fitzwilliam String Quartet

Clarinet Quintet in B minor, Op. 115: II. Adagio

$3.40

Clarinet Quintet in B minor, Op. 115: III. Andantino - Presto non assai

Composer(s)

Johannes Brahms

Artist(s)

Lesley Schatzberger - clarinet

Fitzwilliam String Quartet

Clarinet Quintet in B minor, Op. 115: III. Andantino - Presto non assai

$2.30

Clarinet Quintet in B minor, Op. 115: IV. Con moto</i>

Composer(s)

Johannes Brahms

Artist(s)

Lesley Schatzberger - clarinet

Fitzwilliam String Quartet

Clarinet Quintet in B minor, Op. 115: IV. Con moto

$3.40

Quintet movement in B-Flat Major, K.516c: Allegro

Composer(s)

Wolfgang Amadeus Mozart

Artist(s)

Lesley Schatzberger - clarinet

Fitzwilliam String Quartet

Quintet movement in B-Flat Major, K.516c: Allegro

$3.40

Reverie orientale, Op. 14 No. 2

Composer(s)

Alexander Glazunov

Artist(s)

Lesley Schatzberger - clarinet

Fitzwilliam String Quartet

Reverie orientale, Op. 14 No. 2

$3.40

An Og-Mhadainn

Composer(s)

William Sweeny

Artist(s)

Lesley Schatzberger - clarinet

Fitzwilliam String Quartet

An Og-Mhadainn

$4.60
Total running time: 62 minutes.
Album information

Clarinettist Lesley Schatzberger and the Fitzwilliam String Quartet present a new recording of works by Brahms, Mozart, Glazunov and Sweeny.

 At the centrepiece of this programme is the Brahms Clarinet Quintet in B minor, which in their hands carries particular historical significance. Brahms was originally inspired to write the Quintet after hearing clarinettist Richard Mühlfeld perform. Lesley Schatzberger performs on a specially-made copy made of Mühlfeld's own clarinet and the performers adhere to certain aspects of performance practice which were in favour at that time, while embracing Brahms's attitude to rhythm, tempo, and rubato creating a truly authentic feel.

The programme also includes a rare Mozart quintet movement in B flat major, completed by Duncan Druce, which is one of several unfinished Mozart works which are still being realised today, as well as Glazunov's haunting Rêverie Orientale and An Òg-Mhadainn (The Young Morning) by Scottish contemporary composer William Sweeney.
Related Artists
Reviews