Filters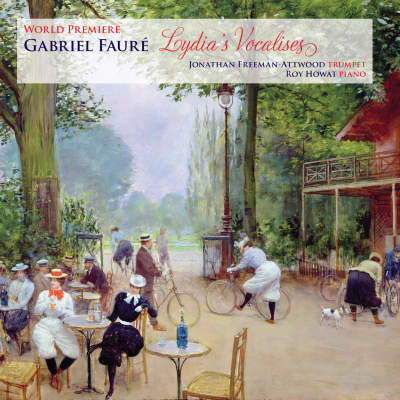 Inlay available for download
Booklet available for download
Lydia in F Major

Composer(s)

Gabriel Fauré

Artist(s)

Jonathan Freeman-Attwood

Roy Howat

Lydia in F Major

$2.40

La Beaute: Vocalise No. 9

Composer(s)

Gabriel Fauré

Artist(s)

Jonathan Freeman-Attwood

Roy Howat

La Beaute: Vocalise No. 9

$2.40

La Beaute: Vocalise No. 15

Composer(s)

Gabriel Fauré

Artist(s)

Jonathan Freeman-Attwood

Roy Howat

La Beaute: Vocalise No. 15

$2.40

La Beaute: Vocalise No. 16

Composer(s)

Gabriel Fauré

Artist(s)

Jonathan Freeman-Attwood

Roy Howat

La Beaute: Vocalise No. 16

$2.40

La Beaute: Vocalise No. 12

Composer(s)

Gabriel Fauré

Artist(s)

Jonathan Freeman-Attwood

Roy Howat

La Beaute: Vocalise No. 12

$2.40

La Beaute: Vocalise No. 1

Composer(s)

Gabriel Fauré

Artist(s)

Jonathan Freeman-Attwood

Roy Howat

La Beaute: Vocalise No. 1

$2.40

L'Envie: Vocalise No. 28

Composer(s)

Gabriel Fauré

Artist(s)

Jonathan Freeman-Attwood

Roy Howat

L'Envie: Vocalise No. 28

$2.40

L'Envie: Vocalise No. 6

Composer(s)

Gabriel Fauré

Artist(s)

Jonathan Freeman-Attwood

Roy Howat

L'Envie: Vocalise No. 6

$2.40

L'Envie: Vocalise No. 26

Composer(s)

Gabriel Fauré

Artist(s)

Jonathan Freeman-Attwood

Roy Howat

L'Envie: Vocalise No. 26

$2.40

L'Envie: Vocalise No. 20

Composer(s)

Gabriel Fauré

Artist(s)

Jonathan Freeman-Attwood

Roy Howat

L'Envie: Vocalise No. 20

$2.40

L'Envie: Vocalise No. 5

Composer(s)

Gabriel Fauré

Artist(s)

Jonathan Freeman-Attwood

Roy Howat

L'Envie: Vocalise No. 5

$2.40

L'Envie: Vocalise No. 14

Composer(s)

Gabriel Fauré

Artist(s)

Jonathan Freeman-Attwood

Roy Howat

L'Envie: Vocalise No. 14

$2.40

L'Envie: Vocalise No. 23

Composer(s)

Gabriel Fauré

Artist(s)

Jonathan Freeman-Attwood

Roy Howat

L'Envie: Vocalise No. 23

$2.40

L'Envie: Vocalise No. 2

Composer(s)

Gabriel Fauré

Artist(s)

Jonathan Freeman-Attwood

Roy Howat

L'Envie: Vocalise No. 2

$2.40

L'Envie: Vocalise No. 24

Composer(s)

Gabriel Fauré

Artist(s)

Jonathan Freeman-Attwood

Roy Howat

L'Envie: Vocalise No. 24

$2.40

La Cour: Appendix No. 3

Composer(s)

Gabriel Fauré

Artist(s)

Jonathan Freeman-Attwood

Roy Howat

La Cour: Appendix No. 3

$2.40

La Cour: Vocalise No. 7

Composer(s)

Gabriel Fauré

Artist(s)

Jonathan Freeman-Attwood

Roy Howat

La Cour: Vocalise No. 7

$2.40

La Cour: Vocalise No. 17

Composer(s)

Gabriel Fauré

Artist(s)

Jonathan Freeman-Attwood

Roy Howat

La Cour: Vocalise No. 17

$2.40

La Cour: Vocalise No. 13

Composer(s)

Gabriel Fauré

Artist(s)

Jonathan Freeman-Attwood

Roy Howat

La Cour: Vocalise No. 13

$2.40

La Cour: Vocalise No. 25

Composer(s)

Gabriel Fauré

Artist(s)

Jonathan Freeman-Attwood

Roy Howat

La Cour: Vocalise No. 25

$2.40

La Cour: Vocalise No. 21

Composer(s)

Gabriel Fauré

Artist(s)

Jonathan Freeman-Attwood

Roy Howat

La Cour: Vocalise No. 21

$2.40

La Cour: Vocalise No. 22

Composer(s)

Gabriel Fauré

Artist(s)

Jonathan Freeman-Attwood

Roy Howat

La Cour: Vocalise No. 22

$2.40

La Tendresse: Vocalise No. 8

Composer(s)

Gabriel Fauré

Artist(s)

Jonathan Freeman-Attwood

Roy Howat

La Tendresse: Vocalise No. 8

$2.40

La Tendresse: Vocalise No. 4

Composer(s)

Gabriel Fauré

Artist(s)

Jonathan Freeman-Attwood

Roy Howat

La Tendresse: Vocalise No. 4

$2.40

La Tendresse: Vocalise No. 11

Composer(s)

Gabriel Fauré

Artist(s)

Jonathan Freeman-Attwood

Roy Howat

La Tendresse: Vocalise No. 11

$2.40

La Tendresse: Vocalise No. 18

Composer(s)

Gabriel Fauré

Artist(s)

Jonathan Freeman-Attwood

Roy Howat

La Tendresse: Vocalise No. 18

$2.40

La Tendresse: Appendix No. 4

Composer(s)

Gabriel Fauré

Artist(s)

Jonathan Freeman-Attwood

Roy Howat

La Tendresse: Appendix No. 4

$2.40

Les Regrets: Vocalise No. 10

Composer(s)

Gabriel Fauré

Artist(s)

Jonathan Freeman-Attwood

Roy Howat

Les Regrets: Vocalise No. 10

$2.40

Les Regrets: Vocalise No. 29

Composer(s)

Gabriel Fauré

Artist(s)

Jonathan Freeman-Attwood

Roy Howat

Les Regrets: Vocalise No. 29

$2.40

Les Regrets: Appendix No. 12

Composer(s)

Gabriel Fauré

Artist(s)

Jonathan Freeman-Attwood

Roy Howat

Les Regrets: Appendix No. 12

$2.40

Les Regrets: Vocalise No. 19

Composer(s)

Gabriel Fauré

Artist(s)

Jonathan Freeman-Attwood

Roy Howat

Les Regrets: Vocalise No. 19

$2.40

Les Regrets: Appendix No. 7

Composer(s)

Gabriel Fauré

Artist(s)

Jonathan Freeman-Attwood

Roy Howat

Les Regrets: Appendix No. 7

$2.40

Les Souvenirs: Vocalise No. 27

Composer(s)

Gabriel Fauré

Artist(s)

Jonathan Freeman-Attwood

Roy Howat

Les Souvenirs: Vocalise No. 27

$2.40

Les Souvenirs: Vocalise No. 3

Composer(s)

Gabriel Fauré

Artist(s)

Jonathan Freeman-Attwood

Roy Howat

Les Souvenirs: Vocalise No. 3

$2.40

Les Souvenirs: Appendix No. 14

Composer(s)

Gabriel Fauré

Artist(s)

Jonathan Freeman-Attwood

Roy Howat

Les Souvenirs: Appendix No. 14

$2.40

Les Souvenirs: Appendix No. 15

Composer(s)

Gabriel Fauré

Artist(s)

Jonathan Freeman-Attwood

Roy Howat

Les Souvenirs: Appendix No. 15

$2.40

Lydia in G Major

Composer(s)

Gabriel Fauré

Artist(s)

Jonathan Freeman-Attwood

Roy Howat

Lydia in G Major

$2.40

Aubade

Composer(s)

Emmanuel Chabrier

Artist(s)

Jonathan Freeman-Attwood

Daniel-Ben Pienaar

Aubade

$2.40

Danse villageoise

Composer(s)

Emmanuel Chabrier

Artist(s)

Jonathan Freeman-Attwood

Daniel-Ben Pienaar

Danse villageoise

$2.40

Cello Sonata No. 2 in F major: Romanza poco adagio

Composer(s)

Camille Saint-Saens

Artist(s)

Jonathan Freeman-Attwood

Daniel-Ben Pienaar

Cello Sonata No. 2 in F major: Romanza poco adagio

$4.80

A Chloris

Composer(s)

Reynaldo Hahn

Artist(s)

Jonathan Freeman-Attwood

Daniel-Ben Pienaar

A Chloris

$2.40

Nais Suite: Overture

Composer(s)

Jean-Philippe Rameau

Artist(s)

Jonathan Freeman-Attwood

Daniel-Ben Pienaar

Nais Suite: Overture

$2.40

Nais Suite: Gavotte pour les Zephirs

Composer(s)

Jean-Philippe Rameau

Artist(s)

Jonathan Freeman-Attwood

Daniel-Ben Pienaar

Nais Suite: Gavotte pour les Zephirs

$2.40

Messe pour les Couvents: Cromorne sur la Taille...

Composer(s)

François Couperin

Artist(s)

Jonathan Freeman-Attwood

Daniel-Ben Pienaar

Messe pour les Couvents: Cromorne sur la Taille...

$2.40

Grand Dialogue

Composer(s)

Louis Marchand

Artist(s)

Jonathan Freeman-Attwood

Daniel-Ben Pienaar

Grand Dialogue

$4.80

Deuxieme Sonate pour Violon et Piano, Op. 108: Allegro non troppo

Composer(s)

Gabriel Fauré

Artist(s)

Jonathan Freeman-Attwood

Daniel-Ben Pienaar

Deuxieme Sonate pour Violon et Piano, Op. 108: Allegro non troppo

$4.80
Total running time: 73 minutes.
Album information

Written when Fauré was Director of the Paris Conservatoire, these exquisite vignettes find new life in this performance by a fellow director, the Royal Academy of Music's Principal, Jonathan Freeman-Attwood. Originally ordered by increasing technical challenge Jonathan instead orders the pieces by the music's varied 'affects' and aptly places them in a context central to Fauré.

Jonathan is accompanied by pianist Roy Howat, who is uniquely qualified in this role, having edited the newly discovered vocalises with Emily Kilpatrick for publication in 2013. Fauré: Lydia's Vocalises includes several bonus French works - which also started life as works for instruments other than trumpet and piano - originally featured on the albums La Trompette Retrouvée and Trumpet Masque accompanied and arranged by Daniel-Ben Pienaar.
Related Artists
Reviews