Filters
Handel: Esther, First reconstructable version (Cannons), 1720
Handel: Esther, First reconstructable version (Cannons), 1720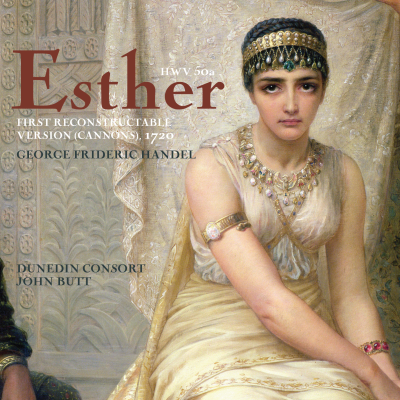 Inlay available for download
Booklet available for download
Act One, Overture - I. Andante

Composer(s)

George Frideric Handel

Artist(s)

John Butt

Dunedin Consort

Act One, Overture - I. Andante

$2.30

Act One, Overture - II. Larghetto

Composer(s)

George Frideric Handel

Artist(s)

John Butt

Dunedin Consort

Act One, Overture - II. Larghetto

$2.30

Act One, Overture - III. Allegro

Composer(s)

George Frideric Handel

Artist(s)

John Butt

Dunedin Consort

Act One, Overture - III. Allegro

$2.30

Act One, Scene 1 - I. Recitative: 'Tis greater far to spare, than to destroy

Composer(s)

George Frideric Handel

Artist(s)

John Butt

Dunedin Consort

Act One, Scene 1 - I. Recitative: 'Tis greater far to spare, than to destroy

$2.30

Act One, Scene 1 - II. Air: Pluck root and branch from out the land

Composer(s)

George Frideric Handel

Artist(s)

John Butt

Dunedin Consort

Act One, Scene 1 - II. Air: Pluck root and branch from out the land

$2.30

Act One, Scene 1 - III. Recitative: Our souls with ardour glow

Composer(s)

George Frideric Handel

Artist(s)

John Butt

Dunedin Consort

Act One, Scene 1 - III. Recitative: Our souls with ardour glow

$2.30

Act One, Scene 1 - IV. Chorus: Shall we the God of Israel's fear?

Composer(s)

George Frideric Handel

Artist(s)

John Butt

Dunedin Consort

Act One, Scene 1 - IV. Chorus: Shall we the God of Israel's fear?

$2.30

Act One, Scene 2 - I. Recitative: Now persecution shall lay by her iron rod

Composer(s)

George Frideric Handel

Artist(s)

John Butt

Dunedin Consort

Act One, Scene 2 - I. Recitative: Now persecution shall lay by her iron rod

$2.30

Act One, Scene 2 - II. Air: Tune your harps to cheerful strains

Composer(s)

George Frideric Handel

Artist(s)

John Butt

Dunedin Consort

Act One, Scene 2 - II. Air: Tune your harps to cheerful strains

$2.30

Act One, Scene 2 - III. Chorus: Shall we of servitude complain

Composer(s)

George Frideric Handel

Artist(s)

John Butt

Dunedin Consort

Act One, Scene 2 - III. Chorus: Shall we of servitude complain

$2.30

Act One, Scene 2 - IV. Recitative: O God, who from the suckling's mouth

Composer(s)

George Frideric Handel

Artist(s)

John Butt

Dunedin Consort

Act One, Scene 2 - IV. Recitative: O God, who from the suckling's mouth

$2.30

Act One, Scene 2 - V. Air: Praise the Lord with cheerful noise

Composer(s)

George Frideric Handel

Artist(s)

John Butt

Dunedin Consort

Act One, Scene 2 - V. Air: Praise the Lord with cheerful noise

$2.30

Act One, Scene 2 - VI. Chorus: Shall we of servitude complain

Composer(s)

George Frideric Handel

Artist(s)

John Butt

Dunedin Consort

Act One, Scene 2 - VI. Chorus: Shall we of servitude complain

$2.30

Act One, Scene 3 - I. Recitative: How have our sins provok'd the Lord

Composer(s)

George Frideric Handel

Artist(s)

John Butt

Dunedin Consort

Act One, Scene 3 - I. Recitative: How have our sins provok'd the Lord

$2.30

Act One, Scene 3 - II. Chorus: Ye sons of Israel mourn

Composer(s)

George Frideric Handel

Artist(s)

John Butt

Dunedin Consort

Act One, Scene 3 - II. Chorus: Ye sons of Israel mourn

$2.30

Act One, Scene 3 - III. Air: O Jordan, Jordan, sacred tide

Composer(s)

George Frideric Handel

Artist(s)

John Butt

Dunedin Consort

Act One, Scene 3 - III. Air: O Jordan, Jordan, sacred tide

$3.40

Act One, Scene 3 - IV. Chorus: Ye sons of Israel mourn

Composer(s)

George Frideric Handel

Artist(s)

John Butt

Dunedin Consort

Act One, Scene 3 - IV. Chorus: Ye sons of Israel mourn

$2.30

Act Two, Scene 1 - I. Recitative: Why sits that sorrow on thy brow?

Composer(s)

George Frideric Handel

Artist(s)

John Butt

Dunedin Consort

Act Two, Scene 1 - I. Recitative: Why sits that sorrow on thy brow?

$2.30

Act Two, Scene 1 - II. Air: Dread not, righteous Queen, the danger

Composer(s)

George Frideric Handel

Artist(s)

John Butt

Dunedin Consort

Act Two, Scene 1 - II. Air: Dread not, righteous Queen, the danger

$2.30

Act Two, Scene 1 - III. Recitative: I go before the king to stand

Composer(s)

George Frideric Handel

Artist(s)

John Butt

Dunedin Consort

Act Two, Scene 1 - III. Recitative: I go before the king to stand

$2.30

Act Two, Scene 1 - IV. Air: Tears assist me, pity moving

Composer(s)

George Frideric Handel

Artist(s)

John Butt

Dunedin Consort

Act Two, Scene 1 - IV. Air: Tears assist me, pity moving

$2.30

Act Two, Scene 1 - V. Chorus: Save us, O Lord

Composer(s)

George Frideric Handel

Artist(s)

John Butt

Dunedin Consort

Act Two, Scene 1 - V. Chorus: Save us, O Lord

$2.30

Act Two, Scene 2 - I. Recitative: Who dares intrude into our presence without our leave?

Composer(s)

George Frideric Handel

Artist(s)

John Butt

Dunedin Consort

Act Two, Scene 2 - I. Recitative: Who dares intrude into our presence without our leave?

$2.30

Act Two, Scene 2 - II. Duet: Who calls my parting soul from death?

Composer(s)

George Frideric Handel

Artist(s)

John Butt

Dunedin Consort

Act Two, Scene 2 - II. Duet: Who calls my parting soul from death?

$2.30

Act Two, Scene 2 - III. Air: O beauteous Queen, unclose those eyes!

Composer(s)

George Frideric Handel

Artist(s)

John Butt

Dunedin Consort

Act Two, Scene 2 - III. Air: O beauteous Queen, unclose those eyes!

$3.40

Act Two, Scene 2 - IV. Recitative: If I find favour in thy sight

Composer(s)

George Frideric Handel

Artist(s)

John Butt

Dunedin Consort

Act Two, Scene 2 - IV. Recitative: If I find favour in thy sight

$2.30

Act Two, Scene 2 - V. Air: How can I stay, when love invites?

Composer(s)

George Frideric Handel

Artist(s)

John Butt

Dunedin Consort

Act Two, Scene 2 - V. Air: How can I stay, when love invites?

$2.30

Act Two, Scene 2 - VI. Recitative: With inward joy his visage glows

Composer(s)

George Frideric Handel

Artist(s)

John Butt

Dunedin Consort

Act Two, Scene 2 - VI. Recitative: With inward joy his visage glows

$2.30

Act Two, Scene 2 - VII. Chorus: Virtue, truth and innocence

Composer(s)

George Frideric Handel

Artist(s)

John Butt

Dunedin Consort

Act Two, Scene 2 - VII. Chorus: Virtue, truth and innocence

$2.30

Act Three, Scene 1 - I. Air: Jehovah crown'd with glory bright

Composer(s)

George Frideric Handel

Artist(s)

John Butt

Dunedin Consort

Act Three, Scene 1 - I. Air: Jehovah crown'd with glory bright

$2.30

Act Three, Scene 1 - II. Chorus: He comes, He comes to end our woes

Composer(s)

George Frideric Handel

Artist(s)

John Butt

Dunedin Consort

Act Three, Scene 1 - II. Chorus: He comes, He comes to end our woes

$2.30

Act Three, Scene 2 - I. Recitative: Now, O Queen, they suit declare

Composer(s)

George Frideric Handel

Artist(s)

John Butt

Dunedin Consort

Act Three, Scene 2 - I. Recitative: Now, O Queen, they suit declare

$2.30

Act Three, Scene 2 - II. Accompagnato: Turn not, O Queen, thy face away

Composer(s)

George Frideric Handel

Artist(s)

John Butt

Dunedin Consort

Act Three, Scene 2 - II. Accompagnato: Turn not, O Queen, thy face away

$2.30

Act Three, Scene 2 - III. Air: Flatt'ring tongue, no more I hear thee!

Composer(s)

George Frideric Handel

Artist(s)

John Butt

Dunedin Consort

Act Three, Scene 2 - III. Air: Flatt'ring tongue, no more I hear thee!

$2.30

Act Three, Scene 2 - IV. Recitative: Guards, seize the traitor, bear him hence!

Composer(s)

George Frideric Handel

Artist(s)

John Butt

Dunedin Consort

Act Three, Scene 2 - IV. Recitative: Guards, seize the traitor, bear him hence!

$2.30

Act Three, Scene 2 - V. Air: How art thou fall'n from thy height!

Composer(s)

George Frideric Handel

Artist(s)

John Butt

Dunedin Consort

Act Three, Scene 2 - V. Air: How art thou fall'n from thy height!

$2.30

Act Three, Scene 2 - VI. Chorus: The Lord our enemy has slain

Composer(s)

George Frideric Handel

Artist(s)

John Butt

Dunedin Consort

Act Three, Scene 2 - VI. Chorus: The Lord our enemy has slain

$4.60
Total running time: 99 minutes.


Album information

John Butt leads the award-winning team of singers in the 1720 Cannons version of Esther. It was named by The Times as one of the 'Best Classical Albums of 2012'.

Named the 11th 'Greatest Choir' by Gramophone, the Dunedin Consort have established a reputation as the finest single-part period performance choir currently performing. 

The Dunedin Consort's recording of Esther - First Reconstructable Version (Cannons), 1720 is the third recording in its hugely successful Handel series. The Consort has set the bar high for this Handel performance with a Gramophone Award in 2007 for Messiah and a BBC Radio 3 'Building a Library' First Choice accolade for Acis and Galatea. 

For Esther, director John Butt has reunited his award-winning team of soloists, Susan Hamilton, Nicholas Mulroy, Matthew Brook and Thomas Hobbs, plus well-known guest soloists Robin Blaze and James Gilchrist.
Related Artists
Reviews