Filters
Handel: Samson (Bonus Tracks)
Handel: Samson (Bonus Tracks)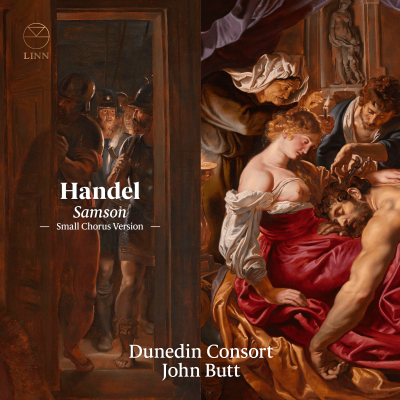 Samson, HWV 57: V. Act 1 Scene 1: Awake the Trumpet's Lofty Sound! (Chorus)

Composer(s)

George Frideric Handel

Newburgh Hamilton

Artist(s)

John Butt

Dunedin Consort

Samson, HWV 57: V. Act 1 Scene 1: Awake the Trumpet's Lofty Sound! (Chorus)

$0.00

Samson, HWV 57: VII. Act 1 Scene 1: Awake the Trumpet's Lofty Sound! (Chorus)

Composer(s)

George Frideric Handel

Newburgh Hamilton

Artist(s)

John Butt

Dunedin Consort

Samson, HWV 57: VII. Act 1 Scene 1: Awake the Trumpet's Lofty Sound! (Chorus)

$0.00

Samson, HWV 57: X. Act 1 Scene 1: Awake the Trumpet's Lofty Sound! (Chorus)

Composer(s)

George Frideric Handel

Newburgh Hamilton

Artist(s)

John Butt

Dunedin Consort

Samson, HWV 57: X. Act 1 Scene 1: Awake the Trumpet's Lofty Sound! (Chorus)

$0.00

Samson, HWV 57: XVIII. Act 1 Scene 2: O First Created Beam (Chorus)

Composer(s)

George Frideric Handel

Newburgh Hamilton

Artist(s)

John Butt

Dunedin Consort

Samson, HWV 57: XVIII. Act 1 Scene 2: O First Created Beam (Chorus)

$0.00

Samson, HWV 57: XXX. Act 1 Scene 3: Then Shall They Know (Chorus)

Composer(s)

George Frideric Handel

Newburgh Hamilton

Artist(s)

John Butt

Dunedin Consort

Samson, HWV 57: XXX. Act 1 Scene 3: Then Shall They Know (Chorus)

$0.00

Samson, HWV 57: XXXV. Act 1 Scene 3: Then Round About the Starry Throne (Chorus)

Composer(s)

George Frideric Handel

Newburgh Hamilton

Artist(s)

John Butt

Dunedin Consort

Samson, HWV 57: XXXV. Act 1 Scene 3: Then Round About the Starry Throne (Chorus)

$0.00

Samson, HWV 57: IV. Act 2 Scene 1: Return, O God of Hosts! (Air and Chorus)

Composer(s)

George Frideric Handel

Newburgh Hamilton

Artist(s)

John Butt

Jess Dandy

Dunedin Consort

Samson, HWV 57: IV. Act 2 Scene 1: Return, O God of Hosts! (Air and Chorus)

$0.00

Samson, HWV 57: XI. Act 2 Scene 2: Her Faith and Truth (Chorus)

Composer(s)

George Frideric Handel

Newburgh Hamilton

Artist(s)

John Butt

Dunedin Consort

Samson, HWV 57: XI. Act 2 Scene 2: Her Faith and Truth (Chorus)

$0.00

Samson, HWV 57: XIII. Act 2 Scene 2: Her Faith and Truth (Chorus)

Composer(s)

George Frideric Handel

Newburgh Hamilton

Artist(s)

John Butt

Dunedin Consort

Samson, HWV 57: XIII. Act 2 Scene 2: Her Faith and Truth (Chorus)

$0.00

Samson, HWV 57: XIX. Act 2 Scene 3: To Man God's Universal Law (Chorus)

Composer(s)

George Frideric Handel

Newburgh Hamilton

Artist(s)

John Butt

Dunedin Consort

Samson, HWV 57: XIX. Act 2 Scene 3: To Man God's Universal Law (Chorus)

$0.00

Samson, HWV 57: XXVII. Act 2 Scene 4: Hear, Jacob's God (Chorus)

Composer(s)

George Frideric Handel

Newburgh Hamilton

Artist(s)

John Butt

Dunedin Consort

Samson, HWV 57: XXVII. Act 2 Scene 4: Hear, Jacob's God (Chorus)

$0.00

Samson, HWV 57: XXX. Act 2 Scene 4: To Song and Dance We Give the Day (Chorus)

Composer(s)

George Frideric Handel

Newburgh Hamilton

Artist(s)

John Butt

Dunedin Consort

Samson, HWV 57: XXX. Act 2 Scene 4: To Song and Dance We Give the Day (Chorus)

$0.00

Samson, HWV 57: XXXI. Act 2 Scene 4: Fix'd in His Everlasting Seat (Chorus and Soli)

Composer(s)

George Frideric Handel

Newburgh Hamilton

Artist(s)

John Butt

Dunedin Consort

Samson, HWV 57: XXXI. Act 2 Scene 4: Fix'd in His Everlasting Seat (Chorus and Soli)

$0.00

Samson, HWV 57: IV. Act 3 Scene 1: With Thunder Arm'd, Great God, Arise! (Chorus)

Composer(s)

George Frideric Handel

Newburgh Hamilton

Artist(s)

John Butt

Dunedin Consort

Samson, HWV 57: IV. Act 3 Scene 1: With Thunder Arm'd, Great God, Arise! (Chorus)

$0.00

Samson, HWV 57: IX. Act 3 Scene 1: The Holy One of Israel (Air and Chorus)

Composer(s)

George Frideric Handel

Newburgh Hamilton

Artist(s)

John Butt

Jess Dandy

Dunedin Consort

Samson, HWV 57: IX. Act 3 Scene 1: The Holy One of Israel (Air and Chorus)

$0.00

Samson, HWV 57: XI. Act 3 Scene 2: Great Dagon Has Subdu'd Our Foe (Air and Chorus)

Composer(s)

George Frideric Handel

Newburgh Hamilton

Artist(s)

John Butt

Hugo Hymas

Dunedin Consort

Samson, HWV 57: XI. Act 3 Scene 2: Great Dagon Has Subdu'd Our Foe (Air and Chorus)

$0.00

Samson, HWV 57: XVII. Act 3 Scene 2: Hear Us, Our God! (Chorus)

Composer(s)

George Frideric Handel

Newburgh Hamilton

Artist(s)

John Butt

Dunedin Consort

Samson, HWV 57: XVII. Act 3 Scene 2: Hear Us, Our God! (Chorus)

$0.00

Samson, HWV 57: XX. Act 3 Scene 3: Ye Sons of Israel, Now Lament (Air and Chorus)

Composer(s)

George Frideric Handel

Newburgh Hamilton

Artist(s)

John Butt

Jess Dandy

Dunedin Consort

Samson, HWV 57: XX. Act 3 Scene 3: Ye Sons of Israel, Now Lament (Air and Chorus)

$0.00

Samson, HWV 57: XXII. Act 3 Scene 3: Glorious Hero (Soli and Chorus)

Composer(s)

George Frideric Handel

Newburgh Hamilton

Artist(s)

John Butt

Matthew Brook

Dunedin Consort

Mary Bevan

Samson, HWV 57: XXII. Act 3 Scene 3: Glorious Hero (Soli and Chorus)

$0.00

Samson, HWV 57: XXV. Act 3 Scene 3: Let Their Celestial Concerts All Unite (Chorus)

Composer(s)

George Frideric Handel

Newburgh Hamilton

Artist(s)

John Butt

Dunedin Consort

Samson, HWV 57: XXV. Act 3 Scene 3: Let Their Celestial Concerts All Unite (Chorus)

$0.00
Total running time: 55 minutes.
Album information

This collection has been compiled for customers who have bought Dunedin Consort's recording of Samson on CD.

The CD offers the Full Chorus Version which employs an authentic Handelian chorus, comprising both boy trebles from the Tiffin Boys' Choir and solo sopranos.

This free bonus content includes the choruses from Dunedin Consort's recording of the Small Chorus Version which recreates the sonority heard at the work's premiere in 1743 (as suggested by the research of Donald Burrows), which consists of the soloists alone.

 
Related Artists