Filters
Haydn 2032, Vol. 12: Les jeux et les plaisirs
Haydn 2032, Vol. 12: Les jeux et les plaisirs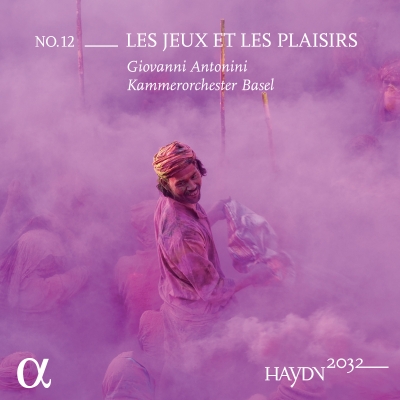 Inlay available for download
Booklet available for download
Symphony No. 61 in D Major, Hob.I:61: I. Vivace

Composer(s)

Franz Joseph Haydn

Artist(s)

Giovanni Antonini

Kammerorchester Basel

Symphony No. 61 in D Major, Hob.I:61: I. Vivace

$3.40

Symphony No. 61 in D Major, Hob.I:61: II. Adagio

Composer(s)

Franz Joseph Haydn

Artist(s)

Giovanni Antonini

Kammerorchester Basel

Symphony No. 61 in D Major, Hob.I:61: II. Adagio

$3.40

Symphony No. 61 in D Major, Hob.I:61: III. Menuet. Allegretto - Trio

Composer(s)

Franz Joseph Haydn

Artist(s)

Giovanni Antonini

Kammerorchester Basel

Symphony No. 61 in D Major, Hob.I:61: III. Menuet. Allegretto - Trio

$2.30

Symphony No. 61 in D Major, Hob.I:61: IV. Finale (Prestissimo)

Composer(s)

Franz Joseph Haydn

Artist(s)

Giovanni Antonini

Kammerorchester Basel

Symphony No. 61 in D Major, Hob.I:61: IV. Finale (Prestissimo)

$2.30

Symphony No. 66 in B-Flat Major, Hob.I:66: I. Allegro con brio

Composer(s)

Franz Joseph Haydn

Artist(s)

Giovanni Antonini

Kammerorchester Basel

Symphony No. 66 in B-Flat Major, Hob.I:66: I. Allegro con brio

$3.40

Symphony No. 66 in B-Flat Major, Hob.I:66: II. Adagio

Composer(s)

Franz Joseph Haydn

Artist(s)

Giovanni Antonini

Kammerorchester Basel

Symphony No. 66 in B-Flat Major, Hob.I:66: II. Adagio

$3.40

Symphony No. 66 in B-Flat Major, Hob.I:66: III. Minuet - Trio

Composer(s)

Franz Joseph Haydn

Artist(s)

Giovanni Antonini

Kammerorchester Basel

Symphony No. 66 in B-Flat Major, Hob.I:66: III. Minuet - Trio

$2.30

Symphony No. 66 in B-Flat Major, Hob.I:66: IV. Finale (Presto)

Composer(s)

Franz Joseph Haydn

Artist(s)

Giovanni Antonini

Kammerorchester Basel

Symphony No. 66 in B-Flat Major, Hob.I:66: IV. Finale (Presto)

$2.30

Toy Symphony in C Major, Hob.II:47: I. Allegro

Composer(s)

Franz Joseph Haydn

Artist(s)

Giovanni Antonini

Kammerorchester Basel

Toy Symphony in C Major, Hob.II:47: I. Allegro

$2.30

Toy Symphony in C Major, Hob.II:47: II. Menuetto - Trio

Composer(s)

Franz Joseph Haydn

Artist(s)

Giovanni Antonini

Kammerorchester Basel

Toy Symphony in C Major, Hob.II:47: II. Menuetto - Trio

$2.30

Toy Symphony in C Major, Hob.II:47: III. Finale (Allegro)

Composer(s)

Franz Joseph Haydn

Artist(s)

Giovanni Antonini

Kammerorchester Basel

Toy Symphony in C Major, Hob.II:47: III. Finale (Allegro)

$2.30

Symphony No. 69 in C Major, Hob.I:69: I. Allegro vivace

Composer(s)

Franz Joseph Haydn

Artist(s)

Giovanni Antonini

Kammerorchester Basel

Symphony No. 69 in C Major, Hob.I:69: I. Allegro vivace

$3.40

Symphony No. 69 in C Major, Hob.I:69: II. Un poco adagio più tosto andante

Composer(s)

Franz Joseph Haydn

Artist(s)

Giovanni Antonini

Kammerorchester Basel

Symphony No. 69 in C Major, Hob.I:69: II. Un poco adagio più tosto andante

$3.40

Symphony No. 69 in C Major, Hob.I:69: III. Minuet - Trio

Composer(s)

Franz Joseph Haydn

Artist(s)

Giovanni Antonini

Kammerorchester Basel

Symphony No. 69 in C Major, Hob.I:69: III. Minuet - Trio

$2.30

Symphony No. 69 in C Major, Hob.I:69: IV. Finale (Presto)

Composer(s)

Franz Joseph Haydn

Artist(s)

Giovanni Antonini

Kammerorchester Basel

Symphony No. 69 in C Major, Hob.I:69: IV. Finale (Presto)

$2.30
Total running time: 82 minutes.




Album information

Giovanni Antonini is reunited with the Kammerorchester Basel for the twelfth volume in the widely acclaimed Haydn2032 series which is  devoted to 'games and pleasures'.

The symphonies recorded here, nos. 61, 66 and 69, were composed for the daily theatrical performances held at Eszterháza Palace in the spring of 1776. For Haydn they marked the end of a festive period, before he had to return to the serious business of writing operas.

The 'Toy Symphony', attributed to Haydn for 200 years before it was discovered that it was in all probability composed by a Benedictine monk, completes the programme in a similarly light and cheerful atmosphere.
Related Artists
Reviews