Filters
Morricone: Cinema Suites for Violin and Orchestra
Morricone: Cinema Suites for Violin and Orchestra
Artist
Orchestra Haydn di Bolzano e Trento
Andrea Morricone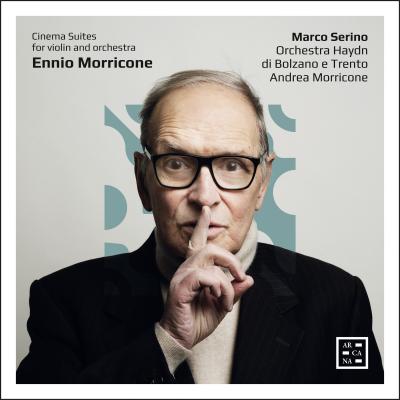 Inlay available for download
Booklet available for download
Sergio Leone Suite: I. Deborah's Theme from Once Upon a Time in America

Composer(s)

Ennio Morricone

Artist(s)

Andrea Morricone

Marco Serino

Orchestra Haydn di Bolzano e Trento

Sergio Leone Suite: I. Deborah's Theme from Once Upon a Time in America

$2.30

Sergio Leone Suite: II. Cockeye's Song from Once Upon a Time in America

Composer(s)

Ennio Morricone

Artist(s)

Andrea Morricone

Marco Serino

Orchestra Haydn di Bolzano e Trento

Sergio Leone Suite: II. Cockeye's Song from Once Upon a Time in America

$2.30

Sergio Leone Suite: III. Main Theme from Once Upon a Time in America

Composer(s)

Ennio Morricone

Artist(s)

Andrea Morricone

Marco Serino

Orchestra Haydn di Bolzano e Trento

Sergio Leone Suite: III. Main Theme from Once Upon a Time in America

$2.30

Sergio Leone Suite: IV. Main Theme from Once Upon a Time in the West

Composer(s)

Ennio Morricone

Artist(s)

Andrea Morricone

Marco Serino

Orchestra Haydn di Bolzano e Trento

Sergio Leone Suite: IV. Main Theme from Once Upon a Time in the West

$2.30

Sergio Leone Suite: V. The Ecstasy of Gold from The Good, the Bad and the Ugly

Composer(s)

Ennio Morricone

Artist(s)

Andrea Morricone

Marco Serino

Orchestra Haydn di Bolzano e Trento

Sergio Leone Suite: V. The Ecstasy of Gold from The Good, the Bad and the Ugly

$2.30

Canone inverso: I. Canone inverso I e II

Composer(s)

Ennio Morricone

Artist(s)

Andrea Morricone

Marco Serino

Orchestra Haydn di Bolzano e Trento

Canone inverso: I. Canone inverso I e II

$2.30

Canone inverso: II. March

Composer(s)

Ennio Morricone

Artist(s)

Andrea Morricone

Marco Serino

Orchestra Haydn di Bolzano e Trento

Canone inverso: II. March

$2.30

Canone inverso: III. Finale interrotto

Composer(s)

Ennio Morricone

Artist(s)

Andrea Morricone

Marco Serino

Orchestra Haydn di Bolzano e Trento

Canone inverso: III. Finale interrotto

$2.30

Giuseppe Tornatore Suite: I. Playing Love from The Legend of 1900

Composer(s)

Ennio Morricone

Artist(s)

Andrea Morricone

Marco Serino

Orchestra Haydn di Bolzano e Trento

Giuseppe Tornatore Suite: I. Playing Love from The Legend of 1900

$2.30

Giuseppe Tornatore Suite: II. Nostalgia from Cinema Paradiso

Composer(s)

Ennio Morricone

Artist(s)

Andrea Morricone

Marco Serino

Orchestra Haydn di Bolzano e Trento

Giuseppe Tornatore Suite: II. Nostalgia from Cinema Paradiso

$2.30

Giuseppe Tornatore Suite: III. Looking for You (Love Theme) from Cinema Paradiso

Composer(s)

Ennio Morricone

Artist(s)

Andrea Morricone

Marco Serino

Orchestra Haydn di Bolzano e Trento

Giuseppe Tornatore Suite: III. Looking for You (Love Theme) from Cinema Paradiso

$2.30

Giuseppe Tornatore Suite: IV. Main Theme from Malena

Composer(s)

Ennio Morricone

Artist(s)

Andrea Morricone

Marco Serino

Orchestra Haydn di Bolzano e Trento

Giuseppe Tornatore Suite: IV. Main Theme from Malena

$2.30

Giuseppe Tornatore Suite: V. Main Theme from A Pure Formality (Remembering)

Composer(s)

Ennio Morricone

Artist(s)

Andrea Morricone

Marco Serino

Orchestra Haydn di Bolzano e Trento

Giuseppe Tornatore Suite: V. Main Theme from A Pure Formality (Remembering)

$2.30

The Mission: I. Gabriel's Oboe

Composer(s)

Ennio Morricone

Artist(s)

Andrea Morricone

Marco Serino

Orchestra Haydn di Bolzano e Trento

The Mission: I. Gabriel's Oboe

$2.30

The Mission: II. The Falls

Composer(s)

Ennio Morricone

Artist(s)

Andrea Morricone

Marco Serino

Orchestra Haydn di Bolzano e Trento

The Mission: II. The Falls

$2.30

Brian De Palma Suite: I. Main Theme from Casualties of War

Composer(s)

Ennio Morricone

Artist(s)

Andrea Morricone

Marco Serino

Orchestra Haydn di Bolzano e Trento

Brian De Palma Suite: I. Main Theme from Casualties of War

$2.30

Brian De Palma Suite: II. Death Theme from The Untouchables

Composer(s)

Ennio Morricone

Artist(s)

Andrea Morricone

Marco Serino

Orchestra Haydn di Bolzano e Trento

Brian De Palma Suite: II. Death Theme from The Untouchables

$2.30

Moses and Marco Polo Suite: I. Journey from Moses

Composer(s)

Ennio Morricone

Artist(s)

Andrea Morricone

Marco Serino

Orchestra Haydn di Bolzano e Trento

Moses and Marco Polo Suite: I. Journey from Moses

$2.30

Moses and Marco Polo Suite: II. Theme from Moses

Composer(s)

Ennio Morricone

Artist(s)

Andrea Morricone

Marco Serino

Orchestra Haydn di Bolzano e Trento

Moses and Marco Polo Suite: II. Theme from Moses

$2.30

Moses and Marco Polo Suite: III. Main Theme from Marco Polo

Composer(s)

Ennio Morricone

Artist(s)

Andrea Morricone

Marco Serino

Orchestra Haydn di Bolzano e Trento

Moses and Marco Polo Suite: III. Main Theme from Marco Polo

$2.30

Per le antiche scale (from the Bolognini Movie)

Composer(s)

Ennio Morricone

Artist(s)

Andrea Morricone

Marco Serino

Orchestra Haydn di Bolzano e Trento

Per le antiche scale (from the Bolognini Movie)

$2.30
Total running time: 63 minutes.

Album information

Marco Serino is the soloist in this world premiere recording of Ennio Morricone's most famous scores in suites transcribed for violin and orchestra.

For twenty years Marco Serino was Ennio Morricone's violinist, the soloist on his film soundtracks and on world tours where they were reworked for the concert hall. In January 2020, after what proved to be his last public concert, at the Italian Senate in Rome, Morricone finished the transcription of this magnificent and unpublished collection, which recasts the themes of his most famous scores: Once Upon a Time in America, Cinema Paradiso, The Mission, The Untouchables and more. The work was carried out in close collaboration with Marco Serino and dedicated to him as a fruit of the artistic partnership between the two men.

The collection alternates between pieces already performed in concert and others that are heard in this version for the first time. A year and a half after the composer's death, this extraordinary document, a testimony to friendship and professional esteem, now becomes a recording project with the collaboration of Andrea Morricone, the composer's son, who conducts the Haydn Orchestra of Bolzano and Trento.
Related Artists
Reviews