Filters
Mozart, Beethoven and Brahms: Variations
Mozart, Beethoven and Brahms: Variations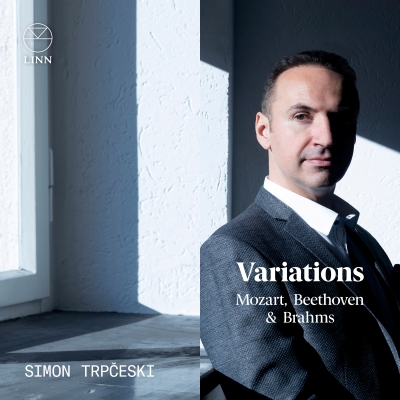 Inlay available for download
Booklet available for download
Variations on "Salve tu, Domine", K. 398

Composer(s)

Wolfgang Amadeus Mozart

Variations on "Salve tu, Domine", K. 398

$3.40

12 Variations on a Russian Dance, WoO 71

Composer(s)

Ludwig van Beethoven

12 Variations on a Russian Dance, WoO 71

$4.60

Variations on a Theme by Robert Schumann, Op. 9

Composer(s)

Johannes Brahms

Variations on a Theme by Robert Schumann, Op. 9

$6.00

Variations on "Come un agnello", K. 460

Composer(s)

Wolfgang Amadeus Mozart

Variations on "Come un agnello", K. 460

$4.60

32 Variations on an Original Theme in C Minor, WoO 80

Composer(s)

Ludwig van Beethoven

32 Variations on an Original Theme in C Minor, WoO 80

$3.40
Total running time: 61 minutes.


Album information

Following his 'glorious' Shostakovich concertos recording which was named a BBC Music Magazine Concerto Choice, Simon Trpčeski releases his first solo piano album for Linn.

Hailed for his powerful virtuosity, deeply expressive approach and charismatic stage presence, the pianist has recorded five sets of variations by Mozart, Brahms and Beethoven. In addition to Mozart's simple, elegant Variations on Salve tu Domine, and his practically unknown Variations on Come un agnello, the recital includes Brahms's multi-layered, highly romantic Variations on a Theme by Robert Schumann, Op. 9, plus Beethoven's Variations on the Russian Dance, whose classical style belies the composer's quintessential fierceness. Beethoven's substantial Variations on an Original Theme in C minor, whose eight-measure theme based on a descending chromatic bass sets off a whirlwind of uninterrupted variations, draws the recital to a close. The wide range of emotions expressed in these variations showcase Trpčeski's own extraordinary range.
Related Artists
Reviews