Filters
Mozart & Schubert Symphonies
Mozart & Schubert Symphonies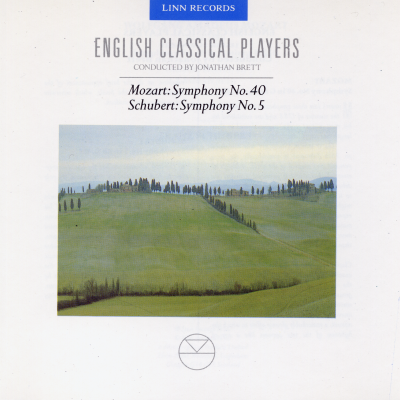 Symphony No. 40 in G Minor K. 550: I. Allegro Molto

Composer(s)

Wolfgang Amadeus Mozart

Symphony No. 40 in G Minor K. 550: I. Allegro Molto

$2.70

Symphony No. 40 in G Minor K. 550: II. Andante

Composer(s)

Wolfgang Amadeus Mozart

Symphony No. 40 in G Minor K. 550: II. Andante

$3.70

Symphony No. 40 in G Minor K. 550: III. Allegretto

Composer(s)

Wolfgang Amadeus Mozart

Symphony No. 40 in G Minor K. 550: III. Allegretto

$1.80

Symphony No. 40 in G Minor K. 550: IV. Allegro Assai

Composer(s)

Wolfgang Amadeus Mozart

Symphony No. 40 in G Minor K. 550: IV. Allegro Assai

$2.70

Symphony No. 5 in B-Flat D. 485: I. Allegro

Composer(s)

Franz Schubert

Symphony No. 5 in B-Flat D. 485: I. Allegro

$2.70

Symphony No. 5 in B-Flat D. 485: II. Andante Con Moto

Composer(s)

Franz Schubert

Symphony No. 5 in B-Flat D. 485: II. Andante Con Moto

$2.70

Symphony No. 5 in B-Flat D. 485: III. Allegro Molto

Composer(s)

Franz Schubert

Symphony No. 5 in B-Flat D. 485: III. Allegro Molto

$1.80

Symphony No. 5 in B-Flat D. 485: IV. Allegro Vivace

Composer(s)

Franz Schubert

Symphony No. 5 in B-Flat D. 485: IV. Allegro Vivace

$2.70
Total running time: 62 minutes.
Album information

Sonically stunning performances of Mozart's Symphony No. 40 and Schubert's Symphony No. 5. 

Mozart's last three symphonies were written in the summer of 1788 and are considered his most mature works, unprecedented in their length and complexity.

The G minor symphony was completed on 25th July and is undoubtedly the most personal and original of the three, although its essential character has remained a matter for debate ever since. Robert Schumann attributed to it a "Grecian lightness and grace", but this might be a serious understatement of it's expressive force, for an undercurrent of tension is maintained throughout which would perhaps more usually be associated with Beethoven rather than Mozart.

The quiet opening - extremely rare in a classical symphony - could be taken as an example of Schumann's "lightness and grace"; on the other hand it might be seen to have much greater significance, foeshadowing powerful emotions which surface later in the work, in the incredibly intense slow movement, and in the minuet, a remarkably gloomy affair in which the lightness of the trio appears like a ray of sunshine, as do the brief appearances of the second subject in the finale, which otherwise maintains a stormy outlook.
Related Artists
Reviews