Filters
Mozart: Serenade in C Minor, K. 388
Mozart: Serenade in C Minor, K. 388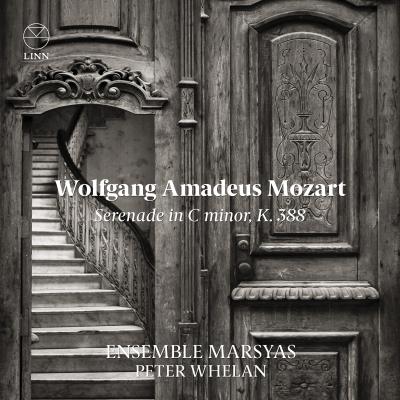 Inlay available for download
Booklet available for download
Serenade in C Minor, K. 388: I. Allegro

Composer(s)

Wolfgang Amadeus Mozart

Artist(s)

Peter Whelan

Ensemble Marsyas

Serenade in C Minor, K. 388: I. Allegro

$4.55

Serenade in C Minor, K. 388: II. Andante

Composer(s)

Wolfgang Amadeus Mozart

Artist(s)

Peter Whelan

Ensemble Marsyas

Serenade in C Minor, K. 388: II. Andante

$2.30

Serenade in C Minor, K. 388: III. Menuetto in canone

Composer(s)

Wolfgang Amadeus Mozart

Artist(s)

Peter Whelan

Ensemble Marsyas

Serenade in C Minor, K. 388: III. Menuetto in canone

$2.30

Serenade in C Minor, K. 388: IV. Allegro

Composer(s)

Wolfgang Amadeus Mozart

Artist(s)

Peter Whelan

Ensemble Marsyas

Serenade in C Minor, K. 388: IV. Allegro

$3.00
Total running time: 21 minutes.
Album information

Acclaimed for its historically-based approach, and specialising in music from the eighteenth century, the Edinburgh-based chamber ensemble performs Mozart's powerful Serenade in C minor, K. 388. 

This wind serenade (here with added double-bass) marks a shocking break from tradition, an unprecedented experiment into the genre's capability for dramatic sophistication. The work's Stygian tonality with sombre unisons and macabre intervals, banishes all preconceptions of Harmoniemusik as 'easy-listening'. The E flat major music in the Andante (a far more typical key for outdoor entertainments) provides a chiaroscuro foil to the Sturm und Drang. With its memorable dissonances and cleverly written mirror canon, the Menuetto in canone demands our full and immediate attention and demonstrates the ingenuity that characterises Mozart's writing. The final movement is a theme with eight variations, with the composer's operatic genius on full display; only at the eleventh hour, in the final variation, does the mask of C minor drop away – Mozart dusting his hands of his experiment and releasing the winds back into their natural habitat in a final C major outburst. 
Related Artists
Reviews