Filters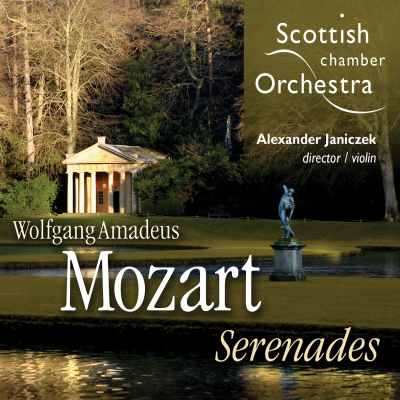 Inlay available for download
Booklet available for download
March, K. 189

Composer(s)

Wolfgang Amadeus Mozart

Artist(s)

Alexander Janiczek

Scottish Chamber Orchestra

March, K. 189

$2.30

Serenade in D major, K. 185 'Andretter' – I. Allegro assai

Composer(s)

Wolfgang Amadeus Mozart

Artist(s)

Alexander Janiczek

Scottish Chamber Orchestra

Serenade in D major, K. 185 'Andretter' – I. Allegro assai

$2.30

Serenade in D major, K. 185 'Andretter' – II. Andante

Composer(s)

Wolfgang Amadeus Mozart

Artist(s)

Alexander Janiczek

Scottish Chamber Orchestra

Serenade in D major, K. 185 'Andretter' – II. Andante

$3.40

Serenade in D major, K. 185 'Andretter' – III. Allegro

Composer(s)

Wolfgang Amadeus Mozart

Artist(s)

Alexander Janiczek

Scottish Chamber Orchestra

Serenade in D major, K. 185 'Andretter' – III. Allegro

$2.30

Serenade in D major, K. 185 'Andretter' – IV. Menuetto & Trio

Composer(s)

Wolfgang Amadeus Mozart

Artist(s)

Alexander Janiczek

Scottish Chamber Orchestra

Serenade in D major, K. 185 'Andretter' – IV. Menuetto & Trio

$2.30

Serenade in D major, K. 185 'Andretter' – V. Andante grazioso

Composer(s)

Wolfgang Amadeus Mozart

Artist(s)

Alexander Janiczek

Scottish Chamber Orchestra

Serenade in D major, K. 185 'Andretter' – V. Andante grazioso

$2.30

Serenade in D major, K. 185 'Andretter' – VI. Menuetto & Trio

Composer(s)

Wolfgang Amadeus Mozart

Artist(s)

Alexander Janiczek

Scottish Chamber Orchestra

Serenade in D major, K. 185 'Andretter' – VI. Menuetto & Trio

$2.30

Serenade in D major, K. 185 'Andretter' – VIII. Adagio, Allegro assai

Composer(s)

Wolfgang Amadeus Mozart

Artist(s)

Alexander Janiczek

Scottish Chamber Orchestra

Serenade in D major, K. 185 'Andretter' – VIII. Adagio, Allegro assai

$2.30

Rondo in C major, K. 373

Composer(s)

Wolfgang Amadeus Mozart

Artist(s)

Alexander Janiczek

Scottish Chamber Orchestra

Rondo in C major, K. 373

$2.30

Adagio in E major, K. 261

Composer(s)

Wolfgang Amadeus Mozart

Artist(s)

Alexander Janiczek

Scottish Chamber Orchestra

Adagio in E major, K. 261

$3.40

Rondo Concertante in B flat major, K. 269

Composer(s)

Wolfgang Amadeus Mozart

Artist(s)

Alexander Janiczek

Scottish Chamber Orchestra

Rondo Concertante in B flat major, K. 269

$2.30

Divertimento in E flat major, K. 113 – I. Allegro

Composer(s)

Wolfgang Amadeus Mozart

Artist(s)

Alexander Janiczek

Scottish Chamber Orchestra

Divertimento in E flat major, K. 113 – I. Allegro

$2.30

Divertimento in E flat major, K. 113 – II. Andante

Composer(s)

Wolfgang Amadeus Mozart

Artist(s)

Alexander Janiczek

Scottish Chamber Orchestra

Divertimento in E flat major, K. 113 – II. Andante

$2.30

Divertimento in E flat major, K. 113 – III. Menuetto & Trio

Composer(s)

Wolfgang Amadeus Mozart

Artist(s)

Alexander Janiczek

Scottish Chamber Orchestra

Divertimento in E flat major, K. 113 – III. Menuetto & Trio

$2.30

Divertimento in E flat major, K. 113 – IV. Allegro

Composer(s)

Wolfgang Amadeus Mozart

Artist(s)

Alexander Janiczek

Scottish Chamber Orchestra

Divertimento in E flat major, K. 113 – IV. Allegro

$2.30
Total running time: 69 minutes.
Album information

The Scottish Chamber Orchestra and Alexander Janiczek attentively re-discover the music produced during Mozart's years in Salzburg.

Director Alexander Janiczek proves the perfect choice to direct the music of his fellow Austrian as he delivers a superb performance in this, his second, recording with the Scottish Chamber Orchestra. A disc of wonderfully atmospheric music impressively and thoughtfully interpreted by the Scottish Chamber Orchestra with original cadenzas by Alexander Janiczek. 

K. 185, also known as the 'Andretter' Serenade, is notable for being the first Serenade to include a solo violin, played here by director Alexander Janiczek. The Divertimento, or Concerto, K. 113 is significant as the first time Mozart had written for the clarinet, an instrument that was to become highly significant in future compositions. 
Related Artists
Reviews