Filters
Mozart y Mambo: La Bella Cubana
Mozart y Mambo: La Bella Cubana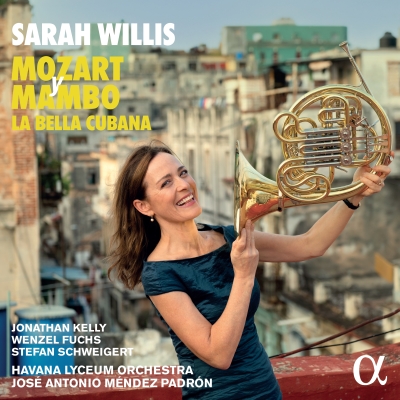 Inlay available for download
Booklet available for download
Horn Concerto in E-Flat Major, K.495: I. Allegro maestoso

Composer(s)

Wolfgang Amadeus Mozart

Artist(s)

Havana Lyceum Orchestra

José Antonio Méndez Padrón

Sarah Willis

Horn Concerto in E-Flat Major, K.495: I. Allegro maestoso

$3.40

Horn Concerto in E-Flat Major, K.495: II. Romance. Andante cantabile

Composer(s)

Wolfgang Amadeus Mozart

Artist(s)

Havana Lyceum Orchestra

José Antonio Méndez Padrón

Sarah Willis

Horn Concerto in E-Flat Major, K.495: II. Romance. Andante cantabile

$2.30

Horn Concerto in E-Flat Major, K.495: III. Rondo. Allegro vivace

Composer(s)

Wolfgang Amadeus Mozart

Artist(s)

Havana Lyceum Orchestra

José Antonio Méndez Padrón

Sarah Willis

Horn Concerto in E-Flat Major, K.495: III. Rondo. Allegro vivace

$2.30

Rondo alla Rumba

Composer(s)

Edgar Olivero

Artist(s)

The Sarahbanda

Sarah Willis

Rondo alla Rumba

$2.30

Sinfonia concertante in E-Flat Major, K.297b: I. Allegro

Composer(s)

Wolfgang Amadeus Mozart

Artist(s)

Havana Lyceum Orchestra

José Antonio Méndez Padrón

Sarah Willis

Jonathan Kelly

Wenzel Fuchs

Sinfonia concertante in E-Flat Major, K.297b: I. Allegro

$4.60

Sinfonia concertante in E-Flat Major, K.297b: II. Adagio

Composer(s)

Wolfgang Amadeus Mozart

Artist(s)

Havana Lyceum Orchestra

José Antonio Méndez Padrón

Sarah Willis

Jonathan Kelly

Wenzel Fuchs

Sinfonia concertante in E-Flat Major, K.297b: II. Adagio

$3.40

Sinfonia concertante in E-Flat Major, K.297b: III. Andante con variazioni

Composer(s)

Wolfgang Amadeus Mozart

Artist(s)

Havana Lyceum Orchestra

José Antonio Méndez Padrón

Sarah Willis

Jonathan Kelly

Wenzel Fuchs

Sinfonia concertante in E-Flat Major, K.297b: III. Andante con variazioni

$3.40

La Bella Cubana

Composer(s)

José White Lafitte

Artist(s)

Havana Lyceum Orchestra

José Antonio Méndez Padrón

Sarah Willis

Jonathan Kelly

Wenzel Fuchs

La Bella Cubana

$2.30

Guantanamera

Composer(s)

Joseíto Fernández

Artist(s)

Harold Madrigal Frías

Havana Lyceum Orchestra

Sarah Willis

José Antonio Méndez Padrón

The Sarahbanda

Guantanamera

$3.40
Total running time: 66 minutes.

Album information

My dream of recording all four of the Mozart horn concertos has been fulfilled at last. Little did I know that this long-held dream would come true in Cuba of all places and with a Cuban orchestra!

I have learned so much about Cuban music and how to dance Mozart along the way and, as a result, feel changed as a person and as a musician", says Sarah Willis. With this album - subtitled La Bella Cubana - the Mozart y Mambo trilogy is complete. After two critically acclaimed albums, three documentary films, two international tours and fundraising to help support classical musicians in Cuba, Sarah concludes this adventure of a lifetime with the Havana Lyceum Orchestra and their conductor, José Antonio Méndez Padrón by recording Mozart's Concerto No. 4 with its famous final Rondo. Also on the album, three of her colleagues from the Berlin Philharmonic Orchestra, Jonathan Kelly, Wenzel Fuchs and Stefan Schweigert, join her for more Mozart, performing the Sinfonia Concertante for four solo wind instruments and orchestra. Of course, no Mozart y Mambo album would be complete without the Sarahbanda ensemble, who once again fuse Mozart with Cuban dance rhythms in Rondo alla Rumba. And what better way to say goodbye than with the most famous Cuban song of all time, Guantanamera!  

Let the magic of Mozart y Mambo - this music, these musicians, their interpretation, their love for the project and for each other - get you up and dancing one more time!
Related Artists
Reviews