Filters
Nature and the Imagination
Nature and the Imagination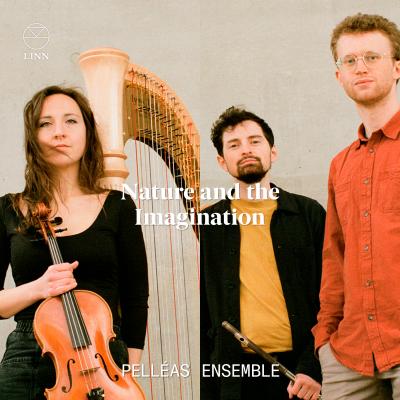 Inlay available for download
Booklet available for download
Sonata for Flute, Viola and Harp, L. 137: I. Pastorale

Composer(s)

Claude Debussy

Artist(s)

Pelléas Ensemble

Sonata for Flute, Viola and Harp, L. 137: I. Pastorale

$2.30

Sonata for Flute, Viola and Harp, L. 137: II. Interlude

Composer(s)

Claude Debussy

Artist(s)

Pelléas Ensemble

Sonata for Flute, Viola and Harp, L. 137: II. Interlude

$2.30

Sonata for Flute, Viola and Harp, L. 137: III. Finale

Composer(s)

Claude Debussy

Artist(s)

Pelléas Ensemble

Sonata for Flute, Viola and Harp, L. 137: III. Finale

$2.30

Deuxième Concert in G Major, RCT 8: I. La Laborde

Composer(s)

Jean-Philippe Rameau

Artist(s)

Pelléas Ensemble

Deuxième Concert in G Major, RCT 8: I. La Laborde

$2.30

Deuxième Concert in G Major, RCT 8: II. La Boucon

Composer(s)

Jean-Philippe Rameau

Artist(s)

Pelléas Ensemble

Deuxième Concert in G Major, RCT 8: II. La Boucon

$2.30

Deuxième Concert in G Major, RCT 8: III. L'Agaçante

Composer(s)

Jean-Philippe Rameau

Artist(s)

Pelléas Ensemble

Deuxième Concert in G Major, RCT 8: III. L'Agaçante

$2.30

Syrinx, L. 129

Composer(s)

Claude Debussy

Artist(s)

Pelléas Ensemble

Syrinx, L. 129

$2.30

Sonata after Syrinx

Composer(s)

Sir Richard Rodney Bennett

Artist(s)

Pelléas Ensemble

Sonata after Syrinx

$4.60

Elegiac Trio

Composer(s)

Sir Arnold Bax

Artist(s)

Pelléas Ensemble

Elegiac Trio

$3.40

Scherzo

Composer(s)

Benjamin Graves

Artist(s)

Pelléas Ensemble

Scherzo

$3.40

A Foggy Day / Love Walked In

Composer(s)

George Gershwin

Artist(s)

Pelléas Ensemble

A Foggy Day / Love Walked In

$2.30
Total running time: 67 minutes.
Album information

The Pelléas Ensemble's debut album illustrates the many possibilities offered by the unique combination of flute, viola and harp. It presents a rich and expressive collection of repertoire spanning three centuries.

Debussy, Rameau and Bax all shared an appreciation of science and nature which they combined in their art with elements of improvisation, mystery and spirituality. Sir Richard Rodney Bennett illustrates the myth of Syrinx – a story of unrequited love and metamorphosis – through his own transformation of the music of Debussy. Composed for the Pelléas Ensemble in 2017, and recorded here for the first time, Scherzo by Benjamin Graves provides a vibrant and original exploration of the dramatic possibilities of all three instruments.

The Pelléas Ensemble have made a name for themselves through their intimate, honest music-making, and ambitious programming. Through this album they demonstrate the versatility of the ensemble; each instrument has a chance to celebrate its distinctive voice, whilst multifarious textures and colours are afforded by the three together.
Related Artists
Reviews