Filters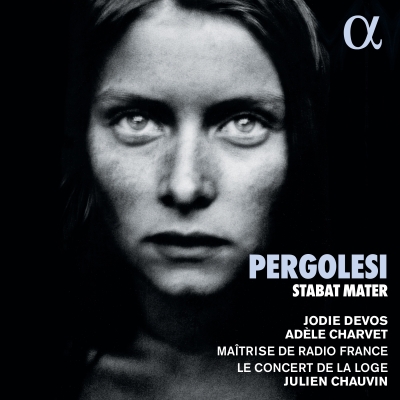 Inlay available for download
Booklet available for download
Stabat Mater in F Minor, P. 77: I. Stabat Mater dolorosa

Composer(s)

Giovanni Battista Pergolesi

Artist(s)

Julien Chauvin

Jodie Devos

Le Concert de la Loge

Adèle Charvet

Maîtrise de Radio France

Stabat Mater in F Minor, P. 77: I. Stabat Mater dolorosa

$2.30

Stabat Mater in F Minor, P. 77: II. Cujus animam gementem

Composer(s)

Giovanni Battista Pergolesi

Artist(s)

Julien Chauvin

Jodie Devos

Le Concert de la Loge

Stabat Mater in F Minor, P. 77: II. Cujus animam gementem

$2.30

Stabat Mater in F Minor, P. 77: III. O quam tristis et afflicta

Composer(s)

Giovanni Battista Pergolesi

Artist(s)

Julien Chauvin

Jodie Devos

Le Concert de la Loge

Adèle Charvet

Maîtrise de Radio France

Stabat Mater in F Minor, P. 77: III. O quam tristis et afflicta

$2.30

Stabat Mater in F Minor, P. 77: IV. Quae moerebat et dolebat

Composer(s)

Giovanni Battista Pergolesi

Artist(s)

Julien Chauvin

Le Concert de la Loge

Adèle Charvet

Stabat Mater in F Minor, P. 77: IV. Quae moerebat et dolebat

$2.30

Stabat Mater in F minor, P.77: V. Quis est homo qui non fleret

Composer(s)

Giovanni Battista Pergolesi

Artist(s)

Julien Chauvin

Jodie Devos

Le Concert de la Loge

Adèle Charvet

Maîtrise de Radio France

Stabat Mater in F minor, P.77: V. Quis est homo qui non fleret

$2.30

Stabat Mater in F Minor, P. 77: VI. Vidit suum dulcem natum

Composer(s)

Giovanni Battista Pergolesi

Artist(s)

Julien Chauvin

Jodie Devos

Le Concert de la Loge

Maîtrise de Radio France

Stabat Mater in F Minor, P. 77: VI. Vidit suum dulcem natum

$2.30

Stabat Mater in F Minor, P. 77: VII. Eja, Mater fons amoris

Composer(s)

Giovanni Battista Pergolesi

Artist(s)

Julien Chauvin

Le Concert de la Loge

Adèle Charvet

Maîtrise de Radio France

Stabat Mater in F Minor, P. 77: VII. Eja, Mater fons amoris

$2.30

Stabat Mater in F Minor, P. 77: VIII. Fac, ut ardeat cor meum

Composer(s)

Giovanni Battista Pergolesi

Artist(s)

Julien Chauvin

Le Concert de la Loge

Maîtrise de Radio France

Stabat Mater in F Minor, P. 77: VIII. Fac, ut ardeat cor meum

$2.30

Stabat Mater in F Minor, P. 77: IX. Sancta Mater, istud agas

Composer(s)

Giovanni Battista Pergolesi

Artist(s)

Julien Chauvin

Jodie Devos

Le Concert de la Loge

Adèle Charvet

Maîtrise de Radio France

Stabat Mater in F Minor, P. 77: IX. Sancta Mater, istud agas

$2.30

Stabat Mater in F Minor, P. 77: X. Fac, ut portem Christi moetem

Composer(s)

Giovanni Battista Pergolesi

Artist(s)

Julien Chauvin

Le Concert de la Loge

Adèle Charvet

Stabat Mater in F Minor, P. 77: X. Fac, ut portem Christi moetem

$2.30

Stabat Mater in F Minor, P.77: XI. Inflammatus et accensus

Composer(s)

Giovanni Battista Pergolesi

Artist(s)

Julien Chauvin

Jodie Devos

Le Concert de la Loge

Adèle Charvet

Maîtrise de Radio France

Stabat Mater in F Minor, P.77: XI. Inflammatus et accensus

$2.30

Stabat Mater in F Minor, P. 77: XII. Quando corpus morietur

Composer(s)

Giovanni Battista Pergolesi

Artist(s)

Julien Chauvin

Jodie Devos

Le Concert de la Loge

Adèle Charvet

Stabat Mater in F Minor, P. 77: XII. Quando corpus morietur

$2.30

Stabat Mater in F Minor, P. 77: XIII. Amen

Composer(s)

Giovanni Battista Pergolesi

Artist(s)

Julien Chauvin

Jodie Devos

Le Concert de la Loge

Adèle Charvet

Maîtrise de Radio France

Stabat Mater in F Minor, P. 77: XIII. Amen

$2.30

Symphony No. 49 in F Minor, Hob. I:49 "La Passione": I. Adagio

Composer(s)

Franz Joseph Haydn

Artist(s)

Julien Chauvin

Le Concert de la Loge

Symphony No. 49 in F Minor, Hob. I:49 "La Passione": I. Adagio

$3.40

Symphony No. 49 in F Minor, Hob. I:49 "La Passione": II. Allegro di molto

Composer(s)

Franz Joseph Haydn

Artist(s)

Julien Chauvin

Le Concert de la Loge

Symphony No. 49 in F Minor, Hob. I:49 "La Passione": II. Allegro di molto

$2.30

Symphony No .49 in F Minor, Hob. I:49 "La Passione": III. Menuet - Trio

Composer(s)

Franz Joseph Haydn

Artist(s)

Julien Chauvin

Le Concert de la Loge

Symphony No .49 in F Minor, Hob. I:49 "La Passione": III. Menuet - Trio

$2.30

Symphony No. 49 in F Minor, Hob. I:49 "La Passione": IV. Finale. Presto

Composer(s)

Franz Joseph Haydn

Artist(s)

Julien Chauvin

Le Concert de la Loge

Symphony No. 49 in F Minor, Hob. I:49 "La Passione": IV. Finale. Presto

$2.30
Total running time: 53 minutes.


Album information

Julien Chauvin directs Pergolesi's Stabat Mater featuring soloists Jodie Devos and Adèle Charvet.

Pergolesi's Stabat Mater has enjoyed enormous fame ever since the eighteenth century – Rousseau called its first movement 'the most perfect and touching that has ever come from the pen of any composer'. There were many arrangements of the work, by Bach or Hiller among others. It was performed more than eighty times at the Concert Spirituel in Paris between 1753 and 1790, in multiple versions, probably also with the participation of a choir.

After consulting several manuscripts and editions held at the Bibliothèque Nationale de France, Julien Chauvin has chosen to record it with soprano and mezzo soloists (the equivalent of the French dessus and bas-dessus) and a two-part children's choir: 'The choir can play a real role in the narration of so powerful and poignant a text', he says. This recording teams two emblematic singers of the Alpha label with the excellent Maîtrise de Radio France, of which Adèle was a member as a girl.

To complement the Neapolitan masterpiece, we have a 'sacred' symphony by Haydn, La Passione, probably written for Good Friday, and in the same key as the Stabat.
Related Artists
Reviews