Filters
Poétiques de l'instant II: Ravel & Mantovani
Poétiques de l'instant II: Ravel & Mantovani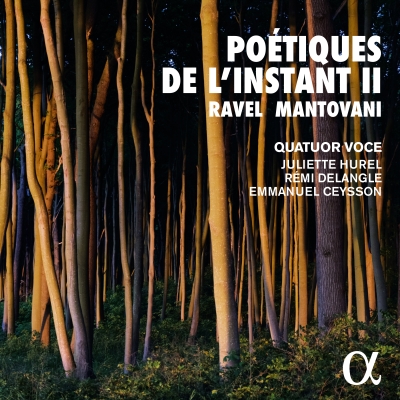 Inlay available for download
Booklet available for download
String Quartet in F Major, M. 35: I. Allegro moderato

Composer(s)

Maurice Ravel

String Quartet in F Major, M. 35: I. Allegro moderato

$3.40

String Quartet in F Major, M. 35: II. Assez vif. Très rythmé

Composer(s)

Maurice Ravel

String Quartet in F Major, M. 35: II. Assez vif. Très rythmé

$2.30

String Quartet in F Major, M. 35: III. Très lent

Composer(s)

Maurice Ravel

String Quartet in F Major, M. 35: III. Très lent

$3.40

String Quartet in F Major, M. 35: IV. Vif et agité

Composer(s)

Maurice Ravel

String Quartet in F Major, M. 35: IV. Vif et agité

$2.30

Ma mère l'Oye, M. 77: I. Pavane de la Belle au bois dormant

Composer(s)

Maurice Ravel

Artist(s)

Quatuor Voce

Emmanuel Ceysson

Juliette Hurel

Rémi Delangle

Ma mère l'Oye, M. 77: I. Pavane de la Belle au bois dormant

$2.30

Ma mère l'Oye, M. 77: II. Petit Poucet

Composer(s)

Maurice Ravel

Artist(s)

Quatuor Voce

Emmanuel Ceysson

Juliette Hurel

Rémi Delangle

Ma mère l'Oye, M. 77: II. Petit Poucet

$2.30

Ma mère l'Oye, M. 77: III. Laideronnette, Impératrice des pagodes

Composer(s)

Maurice Ravel

Artist(s)

Quatuor Voce

Emmanuel Ceysson

Juliette Hurel

Rémi Delangle

Ma mère l'Oye, M. 77: III. Laideronnette, Impératrice des pagodes

$2.30

Ma mère l'Oye, M. 77: IV. Les entretiens de la Belle et de la Bête

Composer(s)

Maurice Ravel

Artist(s)

Quatuor Voce

Emmanuel Ceysson

Juliette Hurel

Rémi Delangle

Ma mère l'Oye, M. 77: IV. Les entretiens de la Belle et de la Bête

$2.30

Ma mère l'Oye, M. 77: V. Le jardin féerique

Composer(s)

Maurice Ravel

Artist(s)

Quatuor Voce

Emmanuel Ceysson

Juliette Hurel

Rémi Delangle

Ma mère l'Oye, M. 77: V. Le jardin féerique

$2.30

String Quartet No. 5

Composer(s)

Bruno Mantovani

String Quartet No. 5

$3.40

Introduction et Allegro, M. 46

Composer(s)

Maurice Ravel

Artist(s)

Quatuor Voce

Emmanuel Ceysson

Juliette Hurel

Rémi Delangle

Introduction et Allegro, M. 46

$3.40
Total running time: 65 minutes.
Album information

This second instalment of Quatuor Voce's long-term project Poétiques de l'Instant (Poetry of the Moment) combines two masterly string quartets with a range of other instrumental colours, unpublished transcriptions and first performances. 

Alongside the famous Quartet by Ravel, Quatuor Voce have commissioned a new quartet from Bruno Mantovani – his fifth - which develops around a crucial note in Ravel's Quartet. They have also drawn on the multiple talents of harpist Emmanuel Ceysson, who enhances the programme with a magical chamber transcription of Ravel's famous Mother Goose suite. For this arrangement, as well as for Ravel's equally superb Introduction and Allegro for septet, Quatuor Voce are joined by three outstanding artists: flautist Juliette Hurel, clarinettist Rémi Delangle and harpist Emmanuel Ceysson.
Related Artists