Filters
Schoenberg: Pierrot lunaire
Schoenberg: Pierrot lunaire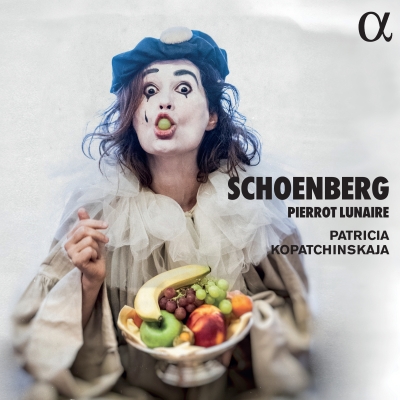 Inlay available for download
Booklet available for download
Pierrot Lunaire, Op. 21: I. Mondestrunken

Composer(s)

Arnold Schoenberg

Artist(s)

Patricia Kopatchinskaja

Joonas Ahonen

Julia Gallego

Meesun Hong

Pierrot Lunaire, Op. 21: I. Mondestrunken

$2.30

Pierrot Lunaire, Op. 21: II. Colombine

Composer(s)

Arnold Schoenberg

Artist(s)

Patricia Kopatchinskaja

Joonas Ahonen

Julia Gallego

Meesun Hong

Pierrot Lunaire, Op. 21: II. Colombine

$2.30

Pierrot Lunaire, Op. 21: III. Der Dandy

Composer(s)

Arnold Schoenberg

Artist(s)

Patricia Kopatchinskaja

Joonas Ahonen

Julia Gallego

Meesun Hong

Pierrot Lunaire, Op. 21: III. Der Dandy

$2.30

Pierrot Lunaire, Op. 21: IV. Eine blasse Wäscherin

Composer(s)

Arnold Schoenberg

Artist(s)

Patricia Kopatchinskaja

Joonas Ahonen

Julia Gallego

Meesun Hong

Pierrot Lunaire, Op. 21: IV. Eine blasse Wäscherin

$2.30

Pierrot Lunaire, Op. 21: V. Valse de Chopin

Composer(s)

Arnold Schoenberg

Artist(s)

Patricia Kopatchinskaja

Joonas Ahonen

Julia Gallego

Meesun Hong

Pierrot Lunaire, Op. 21: V. Valse de Chopin

$2.30

Pierrot Lunaire, Op. 21: VI. Madonna

Composer(s)

Arnold Schoenberg

Artist(s)

Patricia Kopatchinskaja

Joonas Ahonen

Julia Gallego

Meesun Hong

Pierrot Lunaire, Op. 21: VI. Madonna

$2.30

Pierrot Lunaire, Op. 21: VII. Der kranke Mond

Composer(s)

Arnold Schoenberg

Artist(s)

Patricia Kopatchinskaja

Joonas Ahonen

Julia Gallego

Meesun Hong

Pierrot Lunaire, Op. 21: VII. Der kranke Mond

$2.30

Pierrot Lunaire, Op. 21: VIII. Nacht (Passcaglia)

Composer(s)

Arnold Schoenberg

Artist(s)

Patricia Kopatchinskaja

Joonas Ahonen

Julia Gallego

Meesun Hong

Pierrot Lunaire, Op. 21: VIII. Nacht (Passcaglia)

$2.30

Pierrot Lunaire, Op. 21: IX. Gebet an Pierrot

Composer(s)

Arnold Schoenberg

Artist(s)

Patricia Kopatchinskaja

Joonas Ahonen

Julia Gallego

Meesun Hong

Pierrot Lunaire, Op. 21: IX. Gebet an Pierrot

$2.30

Pierrot Lunaire, Op. 21: X. Raub

Composer(s)

Arnold Schoenberg

Artist(s)

Patricia Kopatchinskaja

Joonas Ahonen

Julia Gallego

Meesun Hong

Pierrot Lunaire, Op. 21: X. Raub

$2.30

Pierrot Lunaire, Op. 21: XI. Rote Messe

Composer(s)

Arnold Schoenberg

Artist(s)

Patricia Kopatchinskaja

Joonas Ahonen

Julia Gallego

Meesun Hong

Pierrot Lunaire, Op. 21: XI. Rote Messe

$2.30

Pierrot Lunaire, Op. 21: XII. Galgenlied

Composer(s)

Arnold Schoenberg

Artist(s)

Patricia Kopatchinskaja

Joonas Ahonen

Julia Gallego

Meesun Hong

Pierrot Lunaire, Op. 21: XII. Galgenlied

$2.30

Pierrot Lunaire, Op. 21: XIII. Enthauptung

Composer(s)

Arnold Schoenberg

Artist(s)

Patricia Kopatchinskaja

Joonas Ahonen

Julia Gallego

Meesun Hong

Pierrot Lunaire, Op. 21: XIII. Enthauptung

$2.30

Pierrot Lunaire, Op. 21: XIV. Die Kreuze

Composer(s)

Arnold Schoenberg

Artist(s)

Patricia Kopatchinskaja

Joonas Ahonen

Julia Gallego

Meesun Hong

Pierrot Lunaire, Op. 21: XIV. Die Kreuze

$2.30

Pierrot Lunaire, Op. 21: XV. Heimweh

Composer(s)

Arnold Schoenberg

Artist(s)

Patricia Kopatchinskaja

Joonas Ahonen

Julia Gallego

Meesun Hong

Pierrot Lunaire, Op. 21: XV. Heimweh

$2.30

Pierrot Lunaire, Op. 21: XVI. Gemeinheit!

Composer(s)

Arnold Schoenberg

Artist(s)

Patricia Kopatchinskaja

Joonas Ahonen

Julia Gallego

Meesun Hong

Pierrot Lunaire, Op. 21: XVI. Gemeinheit!

$2.30

Pierrot Lunaire, Op. 21: XVII. Parodie

Composer(s)

Arnold Schoenberg

Artist(s)

Patricia Kopatchinskaja

Joonas Ahonen

Julia Gallego

Meesun Hong

Pierrot Lunaire, Op. 21: XVII. Parodie

$2.30

Pierrot Lunaire, Op. 21: XVIII. Der Mondfleck

Composer(s)

Arnold Schoenberg

Artist(s)

Patricia Kopatchinskaja

Joonas Ahonen

Julia Gallego

Meesun Hong

Pierrot Lunaire, Op. 21: XVIII. Der Mondfleck

$2.30

Pierrot Lunaire, Op. 21: XIX. Serenade

Composer(s)

Arnold Schoenberg

Artist(s)

Patricia Kopatchinskaja

Joonas Ahonen

Julia Gallego

Meesun Hong

Pierrot Lunaire, Op. 21: XIX. Serenade

$2.30

Pierrot Lunaire, Op. 21: XX. Heimfahrt (Barcarole)

Composer(s)

Arnold Schoenberg

Artist(s)

Patricia Kopatchinskaja

Joonas Ahonen

Julia Gallego

Meesun Hong

Pierrot Lunaire, Op. 21: XX. Heimfahrt (Barcarole)

$2.30

Pierrot Lunaire, Op. 21: XXI. O alter Duft

Composer(s)

Arnold Schoenberg

Artist(s)

Patricia Kopatchinskaja

Joonas Ahonen

Julia Gallego

Meesun Hong

Pierrot Lunaire, Op. 21: XXI. O alter Duft

$2.30

Emperor's Waltz, Op. 437

Composer(s)

Johann Strauss II

Artist(s)

Patricia Kopatchinskaja

Joonas Ahonen

Julia Gallego

Meesun Hong

Emperor's Waltz, Op. 437

$4.60

Phantasy for Violin and Piano, Op. 47

Composer(s)

Arnold Schoenberg

Artist(s)

Patricia Kopatchinskaja

Joonas Ahonen

Phantasy for Violin and Piano, Op. 47

$3.40

Four Pieces for Violin and Piano, Op. 7: I. Sehr langsam

Artist(s)

Patricia Kopatchinskaja

Joonas Ahonen

Four Pieces for Violin and Piano, Op. 7: I. Sehr langsam

$2.30

Four Pieces for Violin and Piano, Op. 7: II. Rasch

Artist(s)

Patricia Kopatchinskaja

Joonas Ahonen

Four Pieces for Violin and Piano, Op. 7: II. Rasch

$2.30

Four Pieces for Violin and Piano, Op. 7: III. Sehr langsam

Artist(s)

Patricia Kopatchinskaja

Joonas Ahonen

Four Pieces for Violin and Piano, Op. 7: III. Sehr langsam

$2.30

Four Pieces for Violin and Piano, Op. 7: IV. Bewegt

Artist(s)

Patricia Kopatchinskaja

Joonas Ahonen

Four Pieces for Violin and Piano, Op. 7: IV. Bewegt

$2.30

Little Viennese March

Composer(s)

Fritz Kreisler

Artist(s)

Patricia Kopatchinskaja

Joonas Ahonen

Little Viennese March

$2.30

Six Little Piano Pieces, Op. 19: I. Leicht, zart

Composer(s)

Arnold Schoenberg

Six Little Piano Pieces, Op. 19: I. Leicht, zart

$2.30

Six Little Piano Pieces, Op. 19: II. Langsam

Composer(s)

Arnold Schoenberg

Six Little Piano Pieces, Op. 19: II. Langsam

$2.30

Six Little Piano Pieces, Op. 19: III. Sehr Langsam

Composer(s)

Arnold Schoenberg

Six Little Piano Pieces, Op. 19: III. Sehr Langsam

$2.30

Six Little Piano Pieces, Op. 19: IV. Rasch, aber leicht

Composer(s)

Arnold Schoenberg

Six Little Piano Pieces, Op. 19: IV. Rasch, aber leicht

$2.30

Six Little Piano Pieces, Op. 19: V. Etwas rasch

Composer(s)

Arnold Schoenberg

Six Little Piano Pieces, Op. 19: V. Etwas rasch

$2.30

Six Little Piano Pieces, Op. 19: VI. Sehr langsam

Composer(s)

Arnold Schoenberg

Six Little Piano Pieces, Op. 19: VI. Sehr langsam

$2.30
Total running time: 72 minutes.

Album information

Patricia Kopatchinskaja performs the title role in Schoenberg's Pierrot lunaire plus works for violin by Schoenberg, Webern, Strauss and Kreisler, whilst pianist Joonas Ahonen contributes Six Little Piano Pieces op.19 by Schoenberg.

Pierrot lunaire, premiered in Berlin in 1912, is a series of twenty-one short melodramas for voice and five instruments on German translations of poems by Albert Giraud. Here the composer first introduces Sprechgesang (speech-song), a technique that revolutionised declamation. Schoenberg wanted the piece to be ironic, at once tender and grotesque, in the manner of cabaret songs. Patricia Kopatchinskaja, the violinist who is also an occasional actress, had long dreamt of playing and reciting this unique work. It was a pain in her arm preventing her from playing the violin that one day propelled her into the role of narrator: 'All my life I have felt that I was Pierrot. Every time I played this piece on the violin when I was a student, I would say the words in my head.' She has since played and performed Pierrot in many venues around the world, including the Berlin Philharmonie, several cities in the United States, the Netherlands, Switzerland and Sweden.

Now she has assembled a number of her musician friends and decided to record it for posterity. Schoenberg's Phantasy op.47 and Six Little Piano Pieces op.19 complete the programme, along with works by Webern (Four Pieces for violin and piano op.7) and Schoenberg's arrangement of Johann Strauss's Kaiser-Walzer (Emperor Waltz) op.437.
Related Artists
Reviews