Filters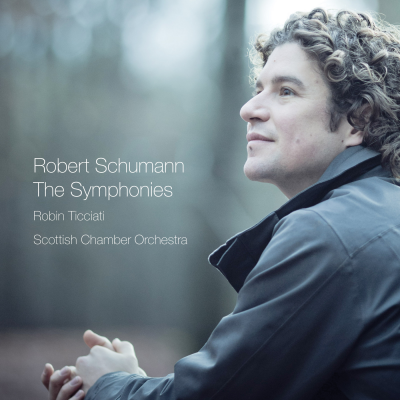 Inlay available for download
Booklet available for download
Symphony No. 1 in B flat Major, Op. 38 'Spring': I. Andante un poco maestoso - Allegro molto vivace

Composer(s)

Robert Schumann

Artist(s)

Robin Ticciati

Scottish Chamber Orchestra

Symphony No. 1 in B flat Major, Op. 38 'Spring': I. Andante un poco maestoso - Allegro molto vivace

$4.60

Symphony No. 1 in B flat Major, Op. 38 'Spring': II. Larghetto -

Composer(s)

Robert Schumann

Artist(s)

Robin Ticciati

Scottish Chamber Orchestra

Symphony No. 1 in B flat Major, Op. 38 'Spring': II. Larghetto -

$2.30

Symphony No. 1 in B flat Major, Op. 38 'Spring': III. Scherzo. Molto vivace

Composer(s)

Robert Schumann

Artist(s)

Robin Ticciati

Scottish Chamber Orchestra

Symphony No. 1 in B flat Major, Op. 38 'Spring': III. Scherzo. Molto vivace

$2.30

Symphony No. 1 in B flat Major, Op. 38 'Spring': IV. Allegro animato e grazioso

Composer(s)

Robert Schumann

Artist(s)

Robin Ticciati

Scottish Chamber Orchestra

Symphony No. 1 in B flat Major, Op. 38 'Spring': IV. Allegro animato e grazioso

$3.40

Symphony No. 2 in C Major, Op. 61: I. Sostenuto assai - Allegro ma non troppo

Composer(s)

Robert Schumann

Artist(s)

Robin Ticciati

Scottish Chamber Orchestra

Symphony No. 2 in C Major, Op. 61: I. Sostenuto assai - Allegro ma non troppo

$4.60

Symphony No. 2 in C Major, Op. 61: II. Scherzo. Allegro vivace

Composer(s)

Robert Schumann

Artist(s)

Robin Ticciati

Scottish Chamber Orchestra

Symphony No. 2 in C Major, Op. 61: II. Scherzo. Allegro vivace

$3.40

Symphony No. 2 in C Major, Op. 61: III. Adagio espressivo

Composer(s)

Robert Schumann

Artist(s)

Robin Ticciati

Scottish Chamber Orchestra

Symphony No. 2 in C Major, Op. 61: III. Adagio espressivo

$3.40

Symphony No. 2 in C Major, Op. 61: IV. Allegro molto vivace

Composer(s)

Robert Schumann

Artist(s)

Robin Ticciati

Scottish Chamber Orchestra

Symphony No. 2 in C Major, Op. 61: IV. Allegro molto vivace

$3.40

Symphony No. 3 in E flat Major, Op. 97 'Rhenish': I. Lebhaft

Composer(s)

Robert Schumann

Artist(s)

Robin Ticciati

Scottish Chamber Orchestra

Symphony No. 3 in E flat Major, Op. 97 'Rhenish': I. Lebhaft

$3.40

Symphony No. 3 in E flat Major, Op. 97 'Rhenish': II. Scherzo. Sehr massig

Composer(s)

Robert Schumann

Artist(s)

Robin Ticciati

Scottish Chamber Orchestra

Symphony No. 3 in E flat Major, Op. 97 'Rhenish': II. Scherzo. Sehr massig

$2.30

Symphony No. 3 in E flat Major, Op. 97 'Rhenish': III. Nicht schnell

Composer(s)

Robert Schumann

Artist(s)

Robin Ticciati

Scottish Chamber Orchestra

Symphony No. 3 in E flat Major, Op. 97 'Rhenish': III. Nicht schnell

$2.30

Symphony No. 3 in E flat Major, Op. 97 'Rhenish': IV. Feierlich

Composer(s)

Robert Schumann

Artist(s)

Robin Ticciati

Scottish Chamber Orchestra

Symphony No. 3 in E flat Major, Op. 97 'Rhenish': IV. Feierlich

$2.30

Symphony No. 3 in E flat Major, Op. 97 'Rhenish': V. Lebhaft

Composer(s)

Robert Schumann

Artist(s)

Robin Ticciati

Scottish Chamber Orchestra

Symphony No. 3 in E flat Major, Op. 97 'Rhenish': V. Lebhaft

$2.30

Symphony No. 4 in D Minor, Op. 120 (1851 version): I. Ziemlich langsam - Lebhaft -

Composer(s)

Robert Schumann

Artist(s)

Robin Ticciati

Scottish Chamber Orchestra

Symphony No. 4 in D Minor, Op. 120 (1851 version): I. Ziemlich langsam - Lebhaft -

$3.40

Symphony No. 4 in D Minor, Op. 120 (1851 version): II. Romanze: Ziemlich langsam -

Composer(s)

Robert Schumann

Artist(s)

Robin Ticciati

Scottish Chamber Orchestra

Symphony No. 4 in D Minor, Op. 120 (1851 version): II. Romanze: Ziemlich langsam -

$2.30

Symphony No. 4 in D Minor, Op. 120 (1851 version): III. Scherzo: Lebhaft -

Composer(s)

Robert Schumann

Artist(s)

Robin Ticciati

Scottish Chamber Orchestra

Symphony No. 4 in D Minor, Op. 120 (1851 version): III. Scherzo: Lebhaft -

$2.30

Symphony No. 4 in D Minor, Op. 120 (1851 version): IV. Langsam - Lebhaft

Composer(s)

Robert Schumann

Artist(s)

Robin Ticciati

Scottish Chamber Orchestra

Symphony No. 4 in D Minor, Op. 120 (1851 version): IV. Langsam - Lebhaft

$3.40
Total running time: 133 minutes.



Album information

Schumann: The Symphonies sees Robin Ticciati and the Scottish Chamber Orchestra embark upon their first symphonic cycle together in a programme that they performed in concerts across Scotland.

This is music that is very close to Robin Ticciati's heart; he describes Schumann as one of his favourite composers and has often spoken about how important poetry, colour and story are to Schumann's music.

Symphony No. 1 'Spring', blazes and sparkles with joy, Symphony No. 2 finds its way carefully through to the safe haven of its final movement, the much-loved Symphony No. 3 'Rhenish' moves with huge ease and assurance to a resonant and joyful conclusion. Symphony No. 4 is radical in the way each movement attacks the start of the next movement with barely a pause, and in its minute-and-a-half-long, shimmering and horn-call filled-transition to the finale. Under Ticciati and the SCO it is magnificent, the radical, soaring, disturbing and exhilarating symphony Schumann intended.

The SCO's smaller forces bring a lightness of touch and a clarity to the counterpoint; under Ticciati they achieve a sense of movement that no previous recording has.

This recording was met with critical acclaim: it was named #9 in The Sunday Times' 'Classical Album in the 100 Top Albums of 2014', #23 in the 'Best Albums of 2014' by Da Volkskrant, a 'Critics' Choice Pick of 2014' by  Andrew Ford on ABC Radio and won a 2015  'Discovery' Classic Edison Award. Sir Simon Rattle commented, "Robin makes a clear case for how the revised version can retain the radical edge of the 1841 version. Still it sounds like a fireball and I take my hat off to him."
Related Artists
Reviews