Filters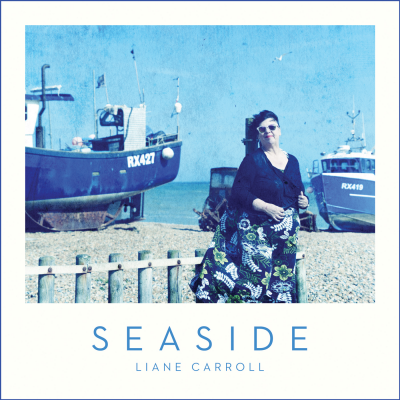 Inlay available for download
Booklet available for download
Seaside

Artist(s)

Liane Carroll

Steve Pearce - acoustic bass, Ian Thomas - drums, James McMillan - flugelhorn and keyboards, Evan Jolly - trumpet, cornet and flugelhorn, Andy Wood - euphonium and trombone

Seaside

$2.30

Almost Like Being In Love

Composer(s)

Alan Jay Lerner and Frederick Loewe

Artist(s)

Liane Carroll - vocals and piano, Steve Pearce - acoustic bass, Ian Thomas - drums

Almost Like Being In Love

$2.30

Bring Me Sunshine

Composer(s)

Arthur Kent and Silvia Dee

Artist(s)

Liane Carroll - vocals and piano, Steve Pearce - acoustic bass, Ian Thomas - drums, Mark Edwards - piano

Bring Me Sunshine

$2.30

Nobody's Fault But Mine

Composer(s)

Jimmy Page and Robert Plant

Artist(s)

Liane Carroll - vocals and piano, Steve Pearce - acoustic bass, Ian Thomas - drums, Mark James - guitar, Julian Siegel - tenor saxophone, James McMillan - keyboards and percussion

Nobody's Fault But Mine

$2.30

Get Me Through December

Composer(s)

Fred Lavery and Geordie Sampson

Artist(s)

Liane Carroll - vocals and piano, Ian Thomas - drums, Mark Edwards - piano, James MaMillan - bass and keyboards, Mark Jaimes - acoustic guitars

Get Me Through December

$2.30

Mercy Now

Composer(s)

Mary Gauthier

Artist(s)

Liane Carroll - vocals and piano, Steve Pearce - acoustic bass, Ian Thomas - drums, James McMillan - flugelhorn and keyboards, Evan Jolly - trumpet, cornet and flugelhorn, Andy Wood - trombone, Mark Jaimes - guitars, Rob Leake - saxophones

Mercy Now

$2.30

Wild Is The Wind

Composer(s)

Dimitri Tiomkin, Ned Washington

Artist(s)

Liane Carroll - vocals and piano, Malcolm Edmonstone - piano, James McMillan - flugelhorn, tenor horn and vibraphone

Wild Is The Wind

$2.30

I Cover The Waterfront

Composer(s)

Johnny Green, Edward Heyman

Artist(s)

Liane Carroll - vocals, Rob Luft - guitar

I Cover The Waterfront

$2.30

My Ship

Composer(s)

Kurt Weill, Ira Gershwin

Artist(s)

Liane Carroll - vocals and piano, Steve Pearce - acoustic bass, Ian Thomas - drums, Mark Edwards - piano

My Ship

$2.30

For Those In Peril On The Sea

Artist(s)

Liane Carroll - vocals, Mark Edwards - piano and organ, James McMillan - flugelhorn

For Those In Peril On The Sea

$2.30
Total running time: 42 minutes.

Album information

Liane Carroll's Seaside is a mix of original songs and covers broadly following a seashore theme, with sterling accompaniment comprising piano trio, guitar and brass. It was named 'Best New CD' at the 2015 British Jazz Awards.

Awarded 'Best British Vocalist' on more than one occasion, singer Liane Carroll has a 'deeply soulful' voice and a fearless approach to singing. Seaside was described as "Carroll's best disc" by The Herald and won the singer the 'Best New CD' accolade at the 2015 British Jazz Awards.

Liane brings a refreshing approach to Billie Halliday's 'I Cover The Waterfront', Kurt Weill's 'My Ship' and Nina Simone's 'Wild is the Wind', plus 'Almost Like Being In Love' – famous as the closing track to the blockbuster hit Groundhog Day. The title song, 'Seaside', was specially written for Liane by Joe Stilgoe which sees the singer return Liane's favour of guesting on his cover of Brian Wilson's 'I Just Wasn't Made For These Times' from his latest album New Songs For Old Souls.

The album reunites Liane with multi-GRAMMY nominated producer and trumpeter James McMillan who worked on her previous two albums. Liane's rhythm section comprises Malcolm Edmonstone (piano), Mark Edwards (piano), Ian Thomas (drums) and Steve Pearce (bass) with guest musicians Rob Luft (guitar) and Andy Wood (brass).
Related Artists
Reviews