Filters
Shostakovich: Chamber Symphony
Shostakovich: Chamber Symphony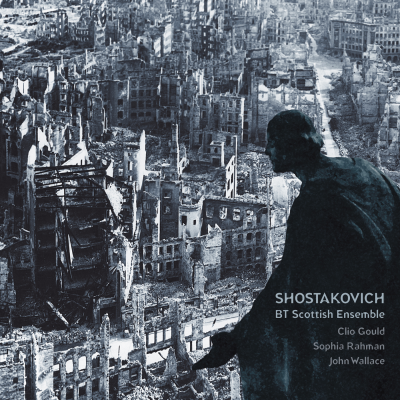 Inlay available for download
Booklet available for download
Chamber Symphony in C minor, Op. 110a: I. Largo

Composer(s)

Dmitri Shostakovich

Artist(s)

Clio Gould

Scottish Ensemble

Chamber Symphony in C minor, Op. 110a: I. Largo

$3.40

Chamber Symphony in C minor, Op. 110a: II. Allegro molto

Composer(s)

Dmitri Shostakovich

Artist(s)

Clio Gould

Scottish Ensemble

Chamber Symphony in C minor, Op. 110a: II. Allegro molto

$1.70

Chamber Symphony in C minor, Op. 110a: III. Allegretto

Composer(s)

Dmitri Shostakovich

Artist(s)

Clio Gould

Scottish Ensemble

Chamber Symphony in C minor, Op. 110a: III. Allegretto

$1.70

Chamber Symphony in C minor, Op. 110a: IV. Largo

Composer(s)

Dmitri Shostakovich

Artist(s)

Clio Gould

Scottish Ensemble

Chamber Symphony in C minor, Op. 110a: IV. Largo

$3.40

Chamber Symphony in C minor, Op. 110a: V. Largo

Composer(s)

Dmitri Shostakovich

Artist(s)

Clio Gould

Scottish Ensemble

Chamber Symphony in C minor, Op. 110a: V. Largo

$1.70

Piano Concerto No. 1 in C minor for piano, trumpet and strings, Op. 35: I. Allegro moderato

Composer(s)

Dmitri Shostakovich

Artist(s)

Clio Gould

John Wallace - trumpet, Sophia Rahman - piano

Scottish Ensemble

Piano Concerto No. 1 in C minor for piano, trumpet and strings, Op. 35: I. Allegro moderato

$3.40

Piano Concerto No. 1 in C minor for piano, trumpet and strings, Op. 35: II. Lento

Composer(s)

Dmitri Shostakovich

Artist(s)

Clio Gould

John Wallace - trumpet, Sophia Rahman - piano

Scottish Ensemble

Piano Concerto No. 1 in C minor for piano, trumpet and strings, Op. 35: II. Lento

$3.40

Piano Concerto No. 1 in C minor for piano, trumpet and strings, Op. 35: III. Moderato

Composer(s)

Dmitri Shostakovich

Artist(s)

Clio Gould

John Wallace - trumpet, Sophia Rahman - piano

Scottish Ensemble

Piano Concerto No. 1 in C minor for piano, trumpet and strings, Op. 35: III. Moderato

$1.70

Piano Concerto No. 1 in C minor for piano, trumpet and strings, Op. 35: IV. Allegro con brio

Composer(s)

Dmitri Shostakovich

Artist(s)

Clio Gould

John Wallace - trumpet, Sophia Rahman - piano

Scottish Ensemble

Piano Concerto No. 1 in C minor for piano, trumpet and strings, Op. 35: IV. Allegro con brio

$3.40

Two pieces for string octet, Op. 11: No. 1. Prelude. Adagio

Composer(s)

Dmitri Shostakovich

Artist(s)

Clio Gould

Scottish Ensemble

Two pieces for string octet, Op. 11: No. 1. Prelude. Adagio

$3.40

Two pieces for string octet, Op. 11: No. 2. Scherzo. Allegro molto

Composer(s)

Dmitri Shostakovich

Artist(s)

Clio Gould

Scottish Ensemble

Two pieces for string octet, Op. 11: No. 2. Scherzo. Allegro molto

$1.70
Total running time: 55 minutes.
Album information

A magnificent performance of Shostakovich's deeply personal Chamber Symphony featuring trumpeter John Wallace and pianist Sophia Rahman.

This is the premiere recording of a transcription by Rudolf Barshai of the composer's monument to 'the victims of fascism and war'. The Chamber Symphony is a gripping portrayal of the brutality of conflict. Its jagged, dynamic rhythms in the central sections are contrasted by elegiac outer movements that never fail to move the listener.

In contrast the Piano Concerto is one of the most exuberant examples of Shostakovich's wonderfully subversive sense of humour. Sophia Rahman and John Wallace are the highly accomplished soloists who excel in this repertoire. The programme concludes with the rarely heard Two pieces for string octet which includes the feverishly brilliant Scherzo.
Related Artists
Reviews