Filters
Shostakovich: Symphony No. 5
Shostakovich: Symphony No. 5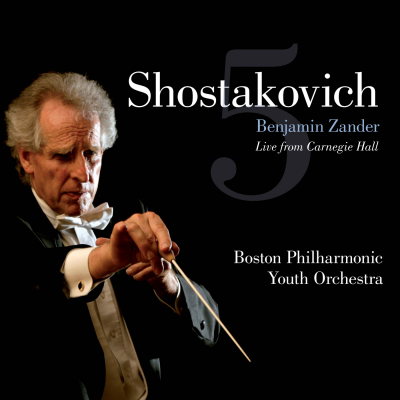 Booklet available for download
Conductor's introductory remarks

Artist(s)

Benjamin Zander

Conductor's introductory remarks

$0.00

Symphony No. 5 in D minor, Op. 47: I. Moderato. Allegro non troppo

Composer(s)

Dmitri Shostakovich

Artist(s)

Benjamin Zander

Boston Philharmonic Youth Orchestra

Symphony No. 5 in D minor, Op. 47: I. Moderato. Allegro non troppo

$5.75

Symphony No. 5 in D minor, Op. 47: II. Allegretto

Composer(s)

Dmitri Shostakovich

Artist(s)

Benjamin Zander

Boston Philharmonic Youth Orchestra

Symphony No. 5 in D minor, Op. 47: II. Allegretto

$2.30

Symphony No. 5 in D minor, Op. 47: III. Largo

Composer(s)

Dmitri Shostakovich

Artist(s)

Benjamin Zander

Boston Philharmonic Youth Orchestra

Symphony No. 5 in D minor, Op. 47: III. Largo

$4.60

Symphony No. 5 in D minor, Op. 47: IV. Allegro non troppo

Composer(s)

Dmitri Shostakovich

Artist(s)

Benjamin Zander

Boston Philharmonic Youth Orchestra

Symphony No. 5 in D minor, Op. 47: IV. Allegro non troppo

$4.60
Total running time: 56 minutes.
Album information

Benjamin Zander and the Boston Philharmonic Youth Orchestra present a bold and revelatory interpretation of Shostakovich's expansive Symphony No. 5.

The New York Times review of their Carnegie Hall debut noted that the members of BPYO "play with a maturity and cohesion well beyond their years," and described their performance of Shostakovich's Fifth as "a brilliantly played, fervently felt account, enriched with silken strings, robust brass and eloquent solos."

This recording perfectly demonstrates why Zander is renowned for coaxing professional-quality work from amateurs and for wringing fresh insights from even the most familiar works. Zander is committed to delivering an authentic performance and takes particular care to stay true to the original tempo markings, which are often ignored even in notable recordings. Following Shostakovich's directions Zander changes the finale from being a joyful celebration into a scream of pain, a crying out against a relentless and inhuman force.

This recording includes a talk by the conductor on the work.
Related Artists