Filters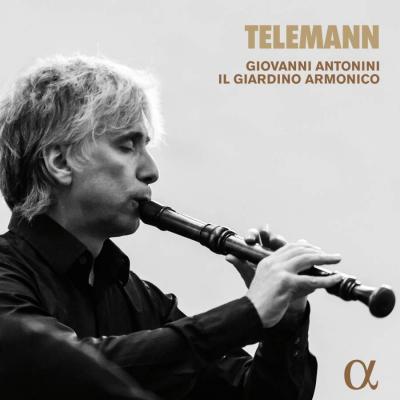 Inlay available for download
Booklet available for download
Prélude pour la flûte à bec, modulé simplement, "Tendrement sans lenteur"

Composer(s)

Jacques-Martin Hotteterre

Artist(s)

Giovanni Antonini

Prélude pour la flûte à bec, modulé simplement, "Tendrement sans lenteur"

$2.30

Suite in A Minor for Recorder, Strings & Continuo, TWV 55:A2: I. Ouverture

Composer(s)

Georg Philipp Telemann

Artist(s)

Giovanni Antonini

Enrico Onofri

Il Giardino Armonico

Suite in A Minor for Recorder, Strings & Continuo, TWV 55:A2: I. Ouverture

$2.30

Suite in A Minor for Recorder, Strings & Continuo, TWV 55:A2: II. Les plaisirs

Composer(s)

Georg Philipp Telemann

Artist(s)

Giovanni Antonini

Enrico Onofri

Il Giardino Armonico

Suite in A Minor for Recorder, Strings & Continuo, TWV 55:A2: II. Les plaisirs

$2.30

Suite in A Minor for Recorder, Strings & Continuo, TWV 55:A2: III. Air à l'italien (Largo, allegro, largo)

Composer(s)

Georg Philipp Telemann

Artist(s)

Giovanni Antonini

Enrico Onofri

Il Giardino Armonico

Suite in A Minor for Recorder, Strings & Continuo, TWV 55:A2: III. Air à l'italien (Largo, allegro, largo)

$2.30

Suite in A Minor for Recorder, Strings & Continuo, TWV 55:A2: IV. Menuet I & II (Alternativement)

Composer(s)

Georg Philipp Telemann

Artist(s)

Giovanni Antonini

Enrico Onofri

Il Giardino Armonico

Suite in A Minor for Recorder, Strings & Continuo, TWV 55:A2: IV. Menuet I & II (Alternativement)

$2.30

Suite in A Minor for Recorder, Strings & Continuo, TWV 55:A2: V. Réjouissance (Vite)

Composer(s)

Georg Philipp Telemann

Artist(s)

Giovanni Antonini

Enrico Onofri

Il Giardino Armonico

Suite in A Minor for Recorder, Strings & Continuo, TWV 55:A2: V. Réjouissance (Vite)

$2.30

Suite in A Minor for Recorder, Strings & Continuo, TWV 55:A2: VI. Passepieds I & II

Composer(s)

Georg Philipp Telemann

Artist(s)

Giovanni Antonini

Enrico Onofri

Il Giardino Armonico

Suite in A Minor for Recorder, Strings & Continuo, TWV 55:A2: VI. Passepieds I & II

$2.30

Suite in A Minor for Recorder, Strings & Continuo, TWV 55:A2: VII. Polonoise

Composer(s)

Georg Philipp Telemann

Artist(s)

Giovanni Antonini

Enrico Onofri

Il Giardino Armonico

Suite in A Minor for Recorder, Strings & Continuo, TWV 55:A2: VII. Polonoise

$2.30

Concerto in C Major for Recorder, Strings & Continuo, TWV 51:C1: I. Allegretto

Composer(s)

Georg Philipp Telemann

Artist(s)

Giovanni Antonini

Il Giardino Armonico

Concerto in C Major for Recorder, Strings & Continuo, TWV 51:C1: I. Allegretto

$2.30

Concerto in C Major for Recorder, Strings & Continuo, TWV 51:C1: II. Allegro

Composer(s)

Georg Philipp Telemann

Artist(s)

Giovanni Antonini

Il Giardino Armonico

Concerto in C Major for Recorder, Strings & Continuo, TWV 51:C1: II. Allegro

$2.30

Concerto in C Major for Recorder, Strings & Continuo, TWV 51:C1: III. Andante

Composer(s)

Georg Philipp Telemann

Artist(s)

Giovanni Antonini

Il Giardino Armonico

Concerto in C Major for Recorder, Strings & Continuo, TWV 51:C1: III. Andante

$2.30

Concerto in C Major for Recorder, Strings & Continuo, TWV 51:C1: IV. Tempo di menuet

Composer(s)

Georg Philipp Telemann

Artist(s)

Giovanni Antonini

Il Giardino Armonico

Concerto in C Major for Recorder, Strings & Continuo, TWV 51:C1: IV. Tempo di menuet

$2.30

Sonata in F Major for Two Chalumeaux, Violin & Continuo, TWV 43:F2: I. (Largo)

Composer(s)

Georg Philipp Telemann

Artist(s)

Giovanni Antonini

Tindaro Capuano

Il Giardino Armonico

Sonata in F Major for Two Chalumeaux, Violin & Continuo, TWV 43:F2: I. (Largo)

$2.30

Sonata in F Major for Two Chalumeaux, Violin & Continuo, TWV 43:F2: II. Allegro

Composer(s)

Georg Philipp Telemann

Artist(s)

Giovanni Antonini

Tindaro Capuano

Il Giardino Armonico

Sonata in F Major for Two Chalumeaux, Violin & Continuo, TWV 43:F2: II. Allegro

$2.30

Sonata in F Major for Two Chalumeaux, Violin & Continuo, TWV 43:F2: III. Grave

Composer(s)

Georg Philipp Telemann

Artist(s)

Giovanni Antonini

Tindaro Capuano

Il Giardino Armonico

Sonata in F Major for Two Chalumeaux, Violin & Continuo, TWV 43:F2: III. Grave

$2.30

Sonata in F Major for Two Chalumeaux, Violin & Continuo, TWV 43:F2: IV. Vivace

Composer(s)

Georg Philipp Telemann

Artist(s)

Giovanni Antonini

Tindaro Capuano

Il Giardino Armonico

Sonata in F Major for Two Chalumeaux, Violin & Continuo, TWV 43:F2: IV. Vivace

$2.30

Concerto di camera in G Minor for Recorder, Two Violins & Continuo, TWV 43:G3: I. (Allegro)

Composer(s)

Georg Philipp Telemann

Artist(s)

Giovanni Antonini

Il Giardino Armonico

Concerto di camera in G Minor for Recorder, Two Violins & Continuo, TWV 43:G3: I. (Allegro)

$2.30

Concerto di camera in G Minor for Recorder, Two Violins & Continuo, TWV 43:G3: II. Siciliana

Composer(s)

Georg Philipp Telemann

Artist(s)

Giovanni Antonini

Il Giardino Armonico

Concerto di camera in G Minor for Recorder, Two Violins & Continuo, TWV 43:G3: II. Siciliana

$3.40

Concerto di camera in G Minor for Recorder, Two Violins & Continuo, TWV 43:G3: III. Bourrée

Composer(s)

Georg Philipp Telemann

Artist(s)

Giovanni Antonini

Il Giardino Armonico

Concerto di camera in G Minor for Recorder, Two Violins & Continuo, TWV 43:G3: III. Bourrée

$2.30

Concerto di camera in G Minor for Recorder, Two Violins & Continuo, TWV 43:G3: IV. Menuet e Trio

Composer(s)

Georg Philipp Telemann

Artist(s)

Giovanni Antonini

Il Giardino Armonico

Concerto di camera in G Minor for Recorder, Two Violins & Continuo, TWV 43:G3: IV. Menuet e Trio

$2.30
Total running time: 74 minutes.



Album information

Released to mark the 250th anniversary of the death of Georg Philipp Telemann, one of the most prolific composers of the Baroque era.

Giovanni Antonini and Il Giardino Armonico took the opportunity to pay tribute to his eclecticism in a programme juxtaposing works that move constantly between French and Italian stylistic traditions.

On this recording, Giovanni Antonini not only directs the ensemble, but also returns to the recorder, his own instrument of choice (as it was the composer's), and performs the Suite in A minor, the Concerto in C major and the Concerto da camera in G minor. We will also discover a curiosity, a sonata for chalumeaux. This instrument of folk origins is comparable to the clarinet, and Telemann was the first composer to show an interest in it. 
Related Artists
Reviews