Filters
Veress: String Trio - Bartók: Piano Quintet
Veress: String Trio - Bartók: Piano Quintet
Artist
Vilde Frang
Lawrence Power
Barnabás Kelemen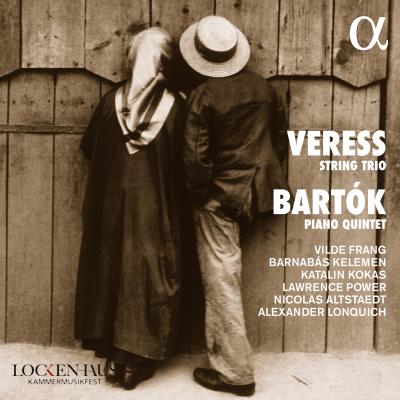 Inlay available for download
Booklet available for download
String Trio: I. Andante

Composer(s)

Sándor Veress

Artist(s)

Vilde Frang

Lawrence Power

Nicolas Altstaedt

String Trio: I. Andante

$3.40

String Trio: II. Allegro molto

Composer(s)

Sándor Veress

Artist(s)

Vilde Frang

Lawrence Power

Nicolas Altstaedt

String Trio: II. Allegro molto

$3.40

Piano Quintet in C major, SZ.23: I. Andante

Composer(s)

Béla Bartók

Alexander Lonquich

Artist(s)

Vilde Frang

Nicolas Altstaedt

Alexander Lonquich

Katalin Kokas

Piano Quintet in C major, SZ.23: I. Andante

$4.60

Piano Quintet in C major, SZ.23: II. Vivace. Scherzando

Composer(s)

Béla Bartók

Alexander Lonquich

Artist(s)

Vilde Frang

Nicolas Altstaedt

Barnabás Kelemen

Katalin Kokas

Piano Quintet in C major, SZ.23: II. Vivace. Scherzando

$3.40

Piano Quintet in C major, SZ.23: III. Adagio

Composer(s)

Béla Bartók

Alexander Lonquich

Artist(s)

Vilde Frang

Nicolas Altstaedt

Barnabás Kelemen

Katalin Kokas

Piano Quintet in C major, SZ.23: III. Adagio

$4.60

Piano Quintet in C major, SZ.23: IV. Poco a poco più vivace

Composer(s)

Béla Bartók

Alexander Lonquich

Artist(s)

Vilde Frang

Nicolas Altstaedt

Barnabás Kelemen

Katalin Kokas

Piano Quintet in C major, SZ.23: IV. Poco a poco più vivace

$3.40
Total running time: 61 minutes.






Album information

This recording of Bartók's Piano Quintet and the String Trio by his former student, Sándor Veress, won the 2020 'Chamber' Award from both BBC Music Magazine and Gramophone.

The Lockenhaus International Chamber Music Festival is regarded as one of Austria's most prestigious festivals: it was created by the violinist Gidon Kremer to offer a new vision of chamber music and the opportunity to create musical exchanges in an intimate setting. The cellist Nicolas Altstaedt succeeded Gidon Kremer in 2012 and now continues the spirit of the festival. For this first recording in partnership with Lockenhaus, he is joined by experienced partners, including the Norwegian violinist Vilde Frang, the Hungarian violinist Barnabás Kelemen, the German pianist Alexander Lonquich – whose Schubert double album was recently released on Alpha (Alpha 433) – and the British violist Lawrence Power. Together they have selected two works, the Piano Quintet of Béla Bartók, a demanding composition, rarely performed even though it is considered an intensely personal work, and the String Trio of Sándor Veress, a former student of Bartók. Nicolas Altstaedt has joined Alpha for several recording projects that will illustrate the full range of his talents, in a highly eclectic range of music.
Related Artists
Reviews