Filters
Victoria: Officium Defunctorum
Victoria: Officium Defunctorum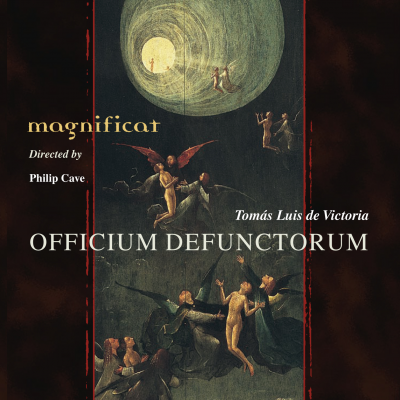 Inlay available for download
Booklet available for download
Taedet Animam Meam

Composer(s)

Tomas Luis de Victoria

Taedet Animam Meam

$1.80

Ego Sum Resurrectio

Composer(s)

Tomas Luis de Victoria

Ego Sum Resurrectio

$1.80

Benedictus Dominus Deus

Composer(s)

Tomas Luis de Victoria

Benedictus Dominus Deus

$1.80

Introitus: Requiem Aeternam

Composer(s)

Tomas Luis de Victoria

Introitus: Requiem Aeternam

$1.80

Kyrie Eleison

Composer(s)

Tomas Luis de Victoria

Kyrie Eleison

$1.80

Graduale: Requiem Aeternam

Composer(s)

Tomas Luis de Victoria

Graduale: Requiem Aeternam

$1.80

Offertorium: Domine Iesu Christe

Composer(s)

Tomas Luis de Victoria

Offertorium: Domine Iesu Christe

$1.80

Sanctus: Benedictus

Composer(s)

Tomas Luis de Victoria

Sanctus: Benedictus

$1.80

Agnus Dei

Composer(s)

Tomas Luis de Victoria

Agnus Dei

$1.80

Communio: Lux Aeterna

Composer(s)

Tomas Luis de Victoria

Communio: Lux Aeterna

$1.80

Motectum: Versa Est In Luctum

Composer(s)

Tomas Luis de Victoria

Motectum: Versa Est In Luctum

$1.80

Absolutio: Libera Me

Composer(s)

Tomas Luis de Victoria

Absolutio: Libera Me

$2.70
Total running time: 49 minutes.


Album information

Magnificat delivers a hypnotically gripping performance of Victoria's Requiem Mass, a work that remains an inspiration to listeners over 400 years since its composition.

Composed for the funeral of his employer, Victoria weaves a tender, glowing musical tribute to the Dowager Empress Maria around the ancient plainsong melodies of the Requiem Mass.

This recording of Victoria's Officium Defunctorum was named 'Critics' Choice' by Gramophone and chosen by The Rough Guide as one of its '100 Essential Classical CDs'.
Related Artists
Reviews