Filters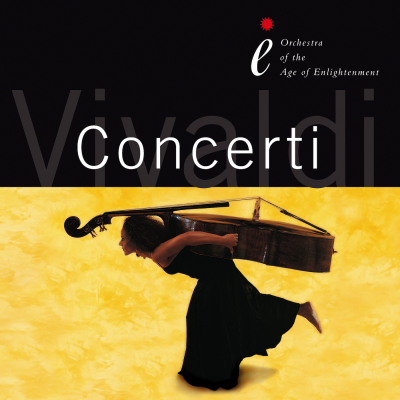 Inlay available for download
Booklet available for download
Concerto in F Major for two flutes, two oboes, violin, cello and harpsichord 'Il Proteo o sia il mondo al rovescio', RV 572: I. Allegro

Composer(s)

Antonio Vivaldi

Artist(s)

Lisa Beznosiuk, Neil McLaren, Anthony Robson, James Eastway, Margaret Faultless, David Watkin, Paul Nicholson

Concerto in F Major for two flutes, two oboes, violin, cello and harpsichord 'Il Proteo o sia il mondo al rovescio', RV 572: I. Allegro

$1.80

Concerto in F Major for two flutes, two oboes, violin, cello and harpsichord 'Il Proteo o sia il mondo al rovescio', RV 572: II. Largo

Composer(s)

Antonio Vivaldi

Artist(s)

Lisa Beznosiuk, Neil McLaren, Anthony Robson, James Eastway, Margaret Faultless, David Watkin, Paul Nicholson

Concerto in F Major for two flutes, two oboes, violin, cello and harpsichord 'Il Proteo o sia il mondo al rovescio', RV 572: II. Largo

$1.80

Concerto in F Major for two flutes, two oboes, violin, cello and harpsichord 'Il Proteo o sia il mondo al rovescio', RV 572: III. Allegro

Composer(s)

Antonio Vivaldi

Artist(s)

Lisa Beznosiuk, Neil McLaren, Anthony Robson, James Eastway, Margaret Faultless, David Watkin, Paul Nicholson

Concerto in F Major for two flutes, two oboes, violin, cello and harpsichord 'Il Proteo o sia il mondo al rovescio', RV 572: III. Allegro

$1.80

Concerto in D Minor for oboe, RV 454: I. Allegro

Composer(s)

Antonio Vivaldi

Concerto in D Minor for oboe, RV 454: I. Allegro

$1.80

Concerto in D Minor for oboe, RV 454: II. Largo

Composer(s)

Antonio Vivaldi

Concerto in D Minor for oboe, RV 454: II. Largo

$1.80

Concerto in D Minor for oboe, RV 454: III. Allegro

Composer(s)

Antonio Vivaldi

Concerto in D Minor for oboe, RV 454: III. Allegro

$1.80

Concerto in D Minor for two recorders, two oboes, bassoon and two violins, RV 566: I. Allegro assai

Composer(s)

Antonio Vivaldi

Artist(s)

Catherine Latham, Emma Murphy, Anthony Robson, James Eastaway, Andrew Watts, Alison Bury, Margaret Faultless

Concerto in D Minor for two recorders, two oboes, bassoon and two violins, RV 566: I. Allegro assai

$1.80

Concerto in D Minor for two recorders, two oboes, bassoon and two violins, RV 566: II. Largo

Composer(s)

Antonio Vivaldi

Artist(s)

Catherine Latham, Emma Murphy, Anthony Robson, James Eastaway, Andrew Watts, Alison Bury, Margaret Faultless

Concerto in D Minor for two recorders, two oboes, bassoon and two violins, RV 566: II. Largo

$1.80

Concerto in D Minor for two recorders, two oboes, bassoon and two violins, RV 566: III. Allegro

Composer(s)

Antonio Vivaldi

Artist(s)

Catherine Latham, Emma Murphy, Anthony Robson, James Eastaway, Andrew Watts, Alison Bury, Margaret Faultless

Concerto in D Minor for two recorders, two oboes, bassoon and two violins, RV 566: III. Allegro

$1.80

Concerto in F Major for two horns, RV 539: I. Allegro

Composer(s)

Antonio Vivaldi

Artist(s)

Andrew Clark, Roger Montgomery

Concerto in F Major for two horns, RV 539: I. Allegro

$1.80

Concerto in F Major for two horns, RV 539: II. Larghetto

Composer(s)

Antonio Vivaldi

Artist(s)

Andrew Clark, Roger Montgomery

Concerto in F Major for two horns, RV 539: II. Larghetto

$1.80

Concerto in F Major for two horns, RV 539: III. Allegro

Composer(s)

Antonio Vivaldi

Artist(s)

Andrew Clark, Roger Montgomery

Concerto in F Major for two horns, RV 539: III. Allegro

$1.80

Concerto in G Major for cello, RV 413: I. Allegro

Composer(s)

Antonio Vivaldi

Concerto in G Major for cello, RV 413: I. Allegro

$1.80

Concerto in G Major for cello, RV 413: II. Largo

Composer(s)

Antonio Vivaldi

Concerto in G Major for cello, RV 413: II. Largo

$1.80

Concerto in G Major for cello, RV 413: III. Allegro

Composer(s)

Antonio Vivaldi

Concerto in G Major for cello, RV 413: III. Allegro

$1.80

Chamber Concerto in G Minor for flute, oboe, bassoon, violin and continuo, RV 107: I. Allegro

Composer(s)

Antonio Vivaldi

Artist(s)

Lisa Beznosiuk, Anthony Robson, Andrew Watts, Alison Bury, John Toll, Elizabeth Kenny

Elizabeth Kenny

John Toll

Chamber Concerto in G Minor for flute, oboe, bassoon, violin and continuo, RV 107: I. Allegro

$1.80

Chamber Concerto in G Minor for flute, oboe, bassoon, violin and continuo, RV 107: II. Largo

Composer(s)

Antonio Vivaldi

Artist(s)

Lisa Beznosiuk, Anthony Robson, Andrew Watts, Alison Bury, John Toll, Elizabeth Kenny

Elizabeth Kenny

John Toll

Chamber Concerto in G Minor for flute, oboe, bassoon, violin and continuo, RV 107: II. Largo

$1.80

Chamber Concerto in G Minor for flute, oboe, bassoon, violin and continuo, RV 107: III. Allegro

Composer(s)

Antonio Vivaldi

Artist(s)

Lisa Beznosiuk, Anthony Robson, Andrew Watts, Alison Bury, John Toll, Elizabeth Kenny

Elizabeth Kenny

John Toll

Chamber Concerto in G Minor for flute, oboe, bassoon, violin and continuo, RV 107: III. Allegro

$1.80

Concerto in G Minor for flute 'La Notte', RV 439: I. Largo - Allegro - Largo - Allegro

Composer(s)

Antonio Vivaldi

Concerto in G Minor for flute 'La Notte', RV 439: I. Largo - Allegro - Largo - Allegro

$1.80

Concerto in G Minor for flute 'La Notte', RV 439: II. Largo

Composer(s)

Antonio Vivaldi

Concerto in G Minor for flute 'La Notte', RV 439: II. Largo

$1.80

Concerto in G Minor for flute 'La Notte', RV 439: III. Allegro

Composer(s)

Antonio Vivaldi

Concerto in G Minor for flute 'La Notte', RV 439: III. Allegro

$1.80

Concerto in D Minor for lute and viola d'amore, RV 540: I. Allegro

Composer(s)

Antonio Vivaldi

Artist(s)

Elizabeth Kenny, Catherine Mackintosh

Elizabeth Kenny

Concerto in D Minor for lute and viola d'amore, RV 540: I. Allegro

$1.80

Concerto in D Minor for lute and viola d'amore, RV 540: II. Largo

Composer(s)

Antonio Vivaldi

Artist(s)

Elizabeth Kenny, Catherine Mackintosh

Elizabeth Kenny

Concerto in D Minor for lute and viola d'amore, RV 540: II. Largo

$1.80

Concerto in D Minor for lute and viola d'amore, RV 540: III. Allegro

Composer(s)

Antonio Vivaldi

Artist(s)

Elizabeth Kenny, Catherine Mackintosh

Elizabeth Kenny

Concerto in D Minor for lute and viola d'amore, RV 540: III. Allegro

$1.80
Total running time: 74 minutes.


Album information

The popular Orchestra of the Age of Enlightenment presents a fantastic and exuberantly played selection of Vivaldi.

Named a 'Choice' recording by Gramophone upon release, the OAE joyfully celebrate some of Vivaldi's finest instrumental writing.

The soloists are drawn from within the distinguished ranks of the OAE including Anthony Robson (oboe), Andrew Clark (horn), Roger Montgomery (horn), David Watkin (cello), Lisa Beznosiuk (flute), Elizabeth Kenny (lute) and Catherine Mackintosh (viola). The concertos assembled on this disc afford the listener a glimpse of Vivaldi's originality, not only as a sensitive colourist and master of form, but also as a felicitous melodist whose harmonies and phraseology are charged with heady atmosphere. The dancing rhythms and distinctive characters of these concerti together with the variety of instrumental combinations and sparkling performances make this a fresh and constantly engaging listen. 
Related Artists
Reviews