Filters
Artist
Konzerthaus Orchester Berlin
Christoph Eschenbach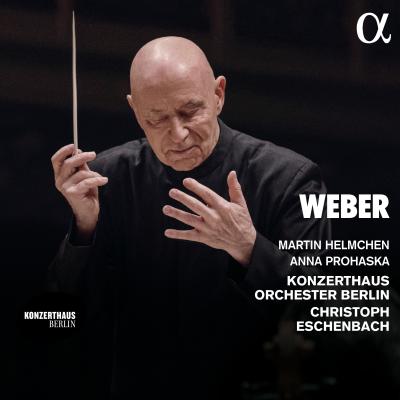 Inlay available for download
Booklet available for download
Der Beherrscher der Geister, Op. 27

Composer(s)

Carl Maria von Weber

Artist(s)

Christoph Eschenbach

Konzerthaus Orchester Berlin

Der Beherrscher der Geister, Op. 27

$2.30

Konzertstück in F Minor, Op. 79: Larghetto affettuoso - Allegro passionato - Tempo di marcia - Presto assai

Composer(s)

Carl Maria von Weber

Artist(s)

Christoph Eschenbach

Martin Helmchen

Konzerthaus Orchester Berlin

Konzertstück in F Minor, Op. 79: Larghetto affettuoso - Allegro passionato - Tempo di marcia - Presto assai

$7.00

Der Freischütz, Op. 77: Overture

Composer(s)

Carl Maria von Weber

Artist(s)

Christoph Eschenbach

Konzerthaus Orchester Berlin

Der Freischütz, Op. 77: Overture

$4.00

Der Freischütz, Op. 77, Act 3: XIII. Romance, Recitativo & Aria "Einst träumte meiner sel'gen Base"

Composer(s)

Carl Maria von Weber

Artist(s)

Christoph Eschenbach

Anna Prohaska

Konzerthaus Orchester Berlin

Der Freischütz, Op. 77, Act 3: XIII. Romance, Recitativo & Aria "Einst träumte meiner sel'gen Base"

$2.60

Der Freischütz, Op. 77, Act 2: VII. Arietta "Kommt ein schlanker Bursch gegangen"

Composer(s)

Carl Maria von Weber

Artist(s)

Christoph Eschenbach

Anna Prohaska

Konzerthaus Orchester Berlin

Der Freischütz, Op. 77, Act 2: VII. Arietta "Kommt ein schlanker Bursch gegangen"

$2.30

Oberon, J. 306: Overture

Composer(s)

Carl Maria von Weber

Artist(s)

Christoph Eschenbach

Konzerthaus Orchester Berlin

Oberon, J. 306: Overture

$4.00
Total running time: 53 minutes.

Album information

2021 marks the bicentennial of the Konzerthaus Berlin, a milestone which is celebrated by Konzerthausorchester Berlin, Christoph Eschenbach, Anna Prohaska and pianist Martin Helmchen. This special programme features overtures, arias and famous concert pieces by Carl Maria von Weber.

200 years ago, on May 26th 1821, today's Berlin Concert Hall was inaugurated as "Königliches Schauspielhaus". Destroyed as "Preußisches Staatstheater" during World War II, the building, located in eastern Berlin, was rebuilt during GDR times and reopened as "Konzerthaus" in 1984. The premiere of Carl Maria von Weber's Der Freischütz on June 18th 1821 was a highlight of the opening year. The work became his most popular opera and one of the key works of the 19th century. A few days later, the composer (who died at the age of only 40 in 1826), had another piece premiered at the "Königliches Schauspielhaus": his brilliant "Concert Piece for Piano and Orchestra op.79".

This year the Konzerthausorchester Berlin, with its principal conductor Christoph Eschenbach, will be celebrating these historic events. Weber holds a special place in the life of the great German conductor and pianist, as Der Freischütz was the first opera he saw at the age of ten. Eschenbach is being joined in this program, which combines overtures, arias and the famous concert piece, by two artists who reside at the Konzerthaus Berlin and are also Alpha artists: soprano Anna Prohaska and pianist Martin Helmchen.
Related Artists
Reviews