Filters
Ysaÿe: Six Sonatas For Solo Violin, Op. 27
Ysaÿe: Six Sonatas For Solo Violin, Op. 27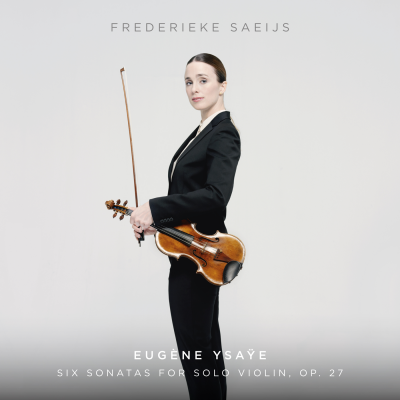 Inlay available for download
Booklet available for download
Sonata for Solo Violin No. 1 in G Minor, Op. 27: I. Grave. Lento assai

Artist(s)

Frederieke Saeijs

Sonata for Solo Violin No. 1 in G Minor, Op. 27: I. Grave. Lento assai

$2.30

Sonata for Solo Violin No. 1 in G Minor, Op. 27: II. Fugato. Molto moderato

Artist(s)

Frederieke Saeijs

Sonata for Solo Violin No. 1 in G Minor, Op. 27: II. Fugato. Molto moderato

$2.30

Sonata for Solo Violin No. 1 in G Minor, Op. 27: III. Allegretto poco scherzoso. Amabile

Artist(s)

Frederieke Saeijs

Sonata for Solo Violin No. 1 in G Minor, Op. 27: III. Allegretto poco scherzoso. Amabile

$2.30

Sonata for Solo Violin No. 1 in G Minor, Op. 27: IV. Finale con brio. Allegro fermo

Artist(s)

Frederieke Saeijs

Sonata for Solo Violin No. 1 in G Minor, Op. 27: IV. Finale con brio. Allegro fermo

$2.30

Sonata for Solo Violin No. 2 in A Minor, Op. 27: I. Obsession. Prelude. Poco vivace

Artist(s)

Frederieke Saeijs

Sonata for Solo Violin No. 2 in A Minor, Op. 27: I. Obsession. Prelude. Poco vivace

$2.30

Sonata for Solo Violin No. 2 in A Minor, Op. 27: II. Malinconia. Poco lento

Artist(s)

Frederieke Saeijs

Sonata for Solo Violin No. 2 in A Minor, Op. 27: II. Malinconia. Poco lento

$2.30

Sonata for Solo Violin No. 2 in A Minor, Op. 27: III. Danse des ombres. Sarabande. Lento

Artist(s)

Frederieke Saeijs

Sonata for Solo Violin No. 2 in A Minor, Op. 27: III. Danse des ombres. Sarabande. Lento

$2.30

Sonata for Solo Violin No. 2 in A Minor, Op. 27: IV. Les Furies. Allegro furioso

Artist(s)

Frederieke Saeijs

Sonata for Solo Violin No. 2 in A Minor, Op. 27: IV. Les Furies. Allegro furioso

$2.30

Sonata No. 3 for Solo Violin in D Minor, Op. 27 "Ballade"

Artist(s)

Frederieke Saeijs

Sonata No. 3 for Solo Violin in D Minor, Op. 27 "Ballade"

$3.40

Sonata for Solo Violin No. 4 in E Minor, Op. 27: I. Allemanda. Lento maestoso

Artist(s)

Frederieke Saeijs

Sonata for Solo Violin No. 4 in E Minor, Op. 27: I. Allemanda. Lento maestoso

$3.40

Sonata for Solo Violin No. 4 in E Minor, Op. 27: II. Sarabande. Quasi lento

Artist(s)

Frederieke Saeijs

Sonata for Solo Violin No. 4 in E Minor, Op. 27: II. Sarabande. Quasi lento

$2.30

Sonata for Solo Violin No. 4 in E Minor, Op. 27: II. Finale. Presto ma non troppo

Artist(s)

Frederieke Saeijs

Sonata for Solo Violin No. 4 in E Minor, Op. 27: II. Finale. Presto ma non troppo

$2.30

Sonata for Solo Violin No. 5 in G Major, Op. 27: I. L'Aurore. Lento assai

Artist(s)

Frederieke Saeijs

Sonata for Solo Violin No. 5 in G Major, Op. 27: I. L'Aurore. Lento assai

$2.30

Sonata for Solo Violin No. 5 in G Major, Op. 27: II. Danse rustique

Artist(s)

Frederieke Saeijs

Sonata for Solo Violin No. 5 in G Major, Op. 27: II. Danse rustique

$2.30

Sonata No. 6 for Solo Violin in E Major, Op. 27

Artist(s)

Frederieke Saeijs

Sonata No. 6 for Solo Violin in E Major, Op. 27

$3.40
Total running time: 77 minutes.
Album information

Frederieke Saeijs' Linn debut sees the Dutch violinist realize a lifelong ambition to put her personal stamp on Ysaÿe's homage to her chosen instrument and its celebrated virtuosos.

With inspiration drawn from the great violin masters, Ysaÿe's Op. 27 has in turn inspired many violinists to transcend technical boundaries and claim their own position among the greats. In a career-defining recording Saeijs delivers a wholly immersive performance full of colour and flair.

Overflowing with poetry and imagination Ysaÿe's sonatas balance thrilling pyrotechnics with lyrical expression, emotional challenges with ferocious technique. Utilizing a broad palette of tones and dynamics Saeijs' powerful emotional narrative captures the distinct characterisation of each dedicatee: Joseph Szigeti, Jacques Thibaud, Georges Enesco, Fritz Kreisler, Mathieu Crickboom and Manuel Quiroga.

Saeijs performs on her beloved Guarneri violin, which is named after Queen Elisabeth of Belgium 'Ex Reine Elisabeth', who herself played the violin and was taught by Ysaÿe.  
Related Artists
Reviews