Filters
SCO - Mozart Divertimento & Oboe Quartet - International Record Review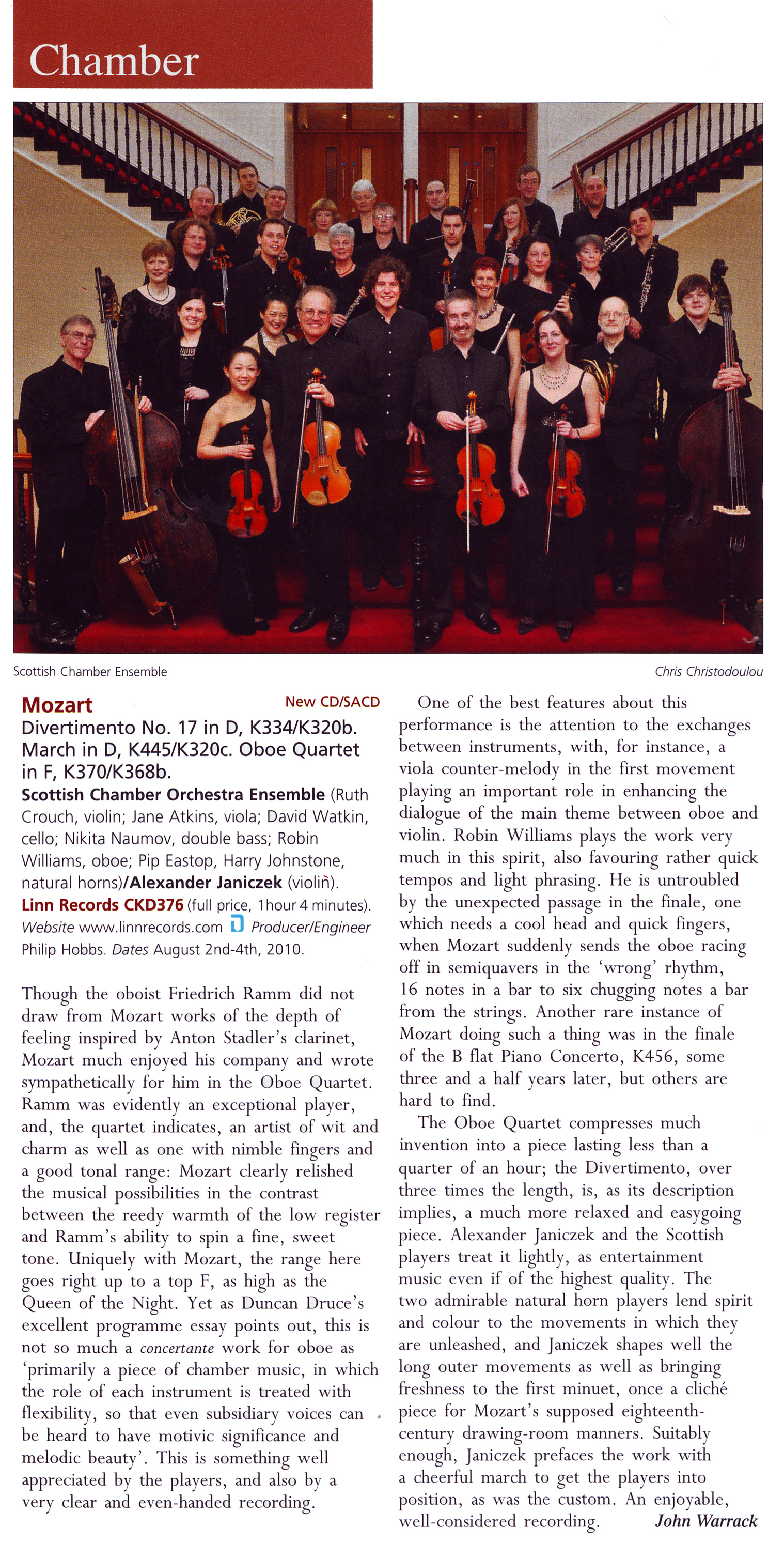 Though the oboist Friedrich Ramm did not draw from Mozart works of the depth of feeling inspired by Anton Stadler's clarinet, Mozart much enjoyed his company and wrote sympathetically for him in the Oboe Quartet.
Ramm was evidently an exceptional player, and, the quartet indicates, an artist of wit and charm as well as one with nimble fingers and a good tonal range: Mozart clearly relished the musical possibilities in the contrast between the reedy warmth of the low register and Ramm's ability to spin a fine, sweet tone. Uniquely with Mozart, the range here goes right up to a top F, as high as the Queen of the Night. Yet as Duncan Druce's excellent programme essay points out, this is not so much a concertante work for oboe as 'primarily a piece of chamber music, in which the role of each instrument is treated with flexibility, so that even subsidiary voices can be heard to have motivic significance and melodic beauty'. This is something well appreciated by the players, and also by a very clear and even-handed recording.
One of the best features about this performance is the attention to the exchanges between instruments, with, for instance, a viola counter-melody in the first movement playing an important role in enhancing the dialogue of the main theme between oboe and violin. Robin Williams plays the work very much in this spirit, also favouring rather quick tempos and light phrasing. He is untroubled by the unexpected passage in the finale, one which needs a cool head and quick fingers, when Mozart suddenly sends the oboe racing off in semiquavers in the 'wrong' rhythm, 16 notes in a bar r to six chugging notes a bar from the strings. Another rare instance of Mozart doing such a thing was in the finale of the B flat Piano Concerto, K456, some three and a half years later, but others are hard to find.
The Oboe Quartet compresses much invention into a piece lasting less than a quarter of an hour; the Divertimento, over three times the length, is, as its description implies, a much more relaxed and easygoing piece. Alexander Janiczek and the Scottish players treat it lightly, as entertainment music even if of the highest quality. The two admiral natural horn players lend spirit and colour to the movements in which they are unleashed, and Janiczek shapes well the long outer movements as well as brining freshness to the first minuet, once a cliché piece for Mozart's supposed eighteenth - century drawing-room manners. Suitably enough. Janiczek prefaces the work with a cheerful march to get the players into position, as was the custom.
An enjoyable well- considered recording.