Filters
Allegri & Monteverdi: Anamorfosi
Allegri & Monteverdi: Anamorfosi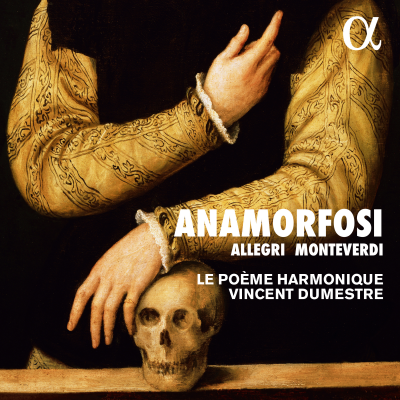 Inlay available for download
Booklet available for download
Miserere: I. Miserere mei, Deus

Composer(s)

Gregorio Allegri

Artist(s)

Vincent Dumestre

Le Poème Harmonique

Miserere: I. Miserere mei, Deus

$2.30

Miserere: II. Tibi soli peccavi

Composer(s)

Gregorio Allegri

Artist(s)

Vincent Dumestre

Le Poème Harmonique

Miserere: II. Tibi soli peccavi

$2.30

Miserere: III. Auditui meo

Composer(s)

Gregorio Allegri

Artist(s)

Vincent Dumestre

Le Poème Harmonique

Miserere: III. Auditui meo

$2.30

Miserere: IV. Redde mihi laetitiam

Composer(s)

Gregorio Allegri

Artist(s)

Vincent Dumestre

Le Poème Harmonique

Miserere: IV. Redde mihi laetitiam

$2.30

Miserere: V. Quoniam si voluisses sacrificium

Composer(s)

Gregorio Allegri

Artist(s)

Vincent Dumestre

Le Poème Harmonique

Miserere: V. Quoniam si voluisses sacrificium

$2.30

Un allato messagier

Artist(s)

Vincent Dumestre

Le Poème Harmonique

Un allato messagier

$3.40

Si dolce è 'l martire

Composer(s)

Claudio Monteverdi

Artist(s)

Vincent Dumestre

Le Poème Harmonique

Si dolce è 'l martire

$2.30

Domine, ne in furore tuo: I. Domine in furore tuo

Artist(s)

Vincent Dumestre

Le Poème Harmonique

Domine, ne in furore tuo: I. Domine in furore tuo

$2.30

Domine, ne in furore tuo: II. Non est sanitas carni meae

Artist(s)

Vincent Dumestre

Le Poème Harmonique

Domine, ne in furore tuo: II. Non est sanitas carni meae

$2.30

Domine, ne in furore tuo: III. Adflictus sum

Artist(s)

Vincent Dumestre

Le Poème Harmonique

Domine, ne in furore tuo: III. Adflictus sum

$2.30

Breve è la vita nostra

Composer(s)

Domenico Mazzocchi

Artist(s)

Vincent Dumestre

Le Poème Harmonique

Breve è la vita nostra

$2.30

La comica del cielo: Sinfonia

Composer(s)

Antonio Maria Abbatini

Artist(s)

Vincent Dumestre

Le Poème Harmonique

La comica del cielo: Sinfonia

$2.30

Chi fà: I. Odimi, il passo arresta

Composer(s)

Marco Marazzoli

Artist(s)

Vincent Dumestre

Le Poème Harmonique

Chi fà: I. Odimi, il passo arresta

$2.30

Chi fà: II. Chi fà che ritorni

Composer(s)

Marco Marazzoli

Artist(s)

Vincent Dumestre

Le Poème Harmonique

Chi fà: II. Chi fà che ritorni

$2.30

Un sonno ohimè

Composer(s)

Marco Marazzoli

Artist(s)

Vincent Dumestre

Le Poème Harmonique

Un sonno ohimè

$2.30

Maria, quid ploras

Composer(s)

Claudio Monteverdi

Artist(s)

Vincent Dumestre

Le Poème Harmonique

Maria, quid ploras

$2.30

Pascha concelebranda: I. Pascha concelebranda

Composer(s)

Claudio Monteverdi

Artist(s)

Vincent Dumestre

Le Poème Harmonique

Pascha concelebranda: I. Pascha concelebranda

$2.30

Pascha concelebranda: II. Nunc ubi est o mors Victoria

Composer(s)

Claudio Monteverdi

Artist(s)

Vincent Dumestre

Le Poème Harmonique

Pascha concelebranda: II. Nunc ubi est o mors Victoria

$2.30
Total running time: 73 minutes.



Album information

Allegri's Miserere, its heartbreaking harmonies, its verses alternately chanted and ornamented, its seraphic voices: sheer Baroque magic.

Since its composition in Rome in 1630, the work has constantly been transformed. Le Poème Harmonique approaches the score through the prism of its metamorphoses, the ornaments and transpositions added since the time when Mozart himself transcribed the piece, then jealously guarded by the Vatican, which punished publication of it with anathema. From the Renaissance onwards, musicians dressed up the finest secular tunes of their time in sacred words. The most famous example of all, the Pianto della Madonna, in which Monteverdi transferred to the Virgin Mary the mournful strains of his Lamento d'Arianna, illustrates these exchanges between repertories. Similarly, his famous Sì dolce è 'l tormento is here transformed into Sì dolce è 'l martire with the help of the mysterious Virgilio Albanese. Other masters of the period, such as Rossi, Mazzocchi and Marazzoli, also adapted their works to sacred texts.

With this programme, which builds on the experience of the album Nova Metamorfosi (ALPHA 039), one of Le Poème Harmonique's major triumphs, Vincent Dumestre celebrates the twentieth anniversary of his ensemble.
Related Artists
Reviews