Filters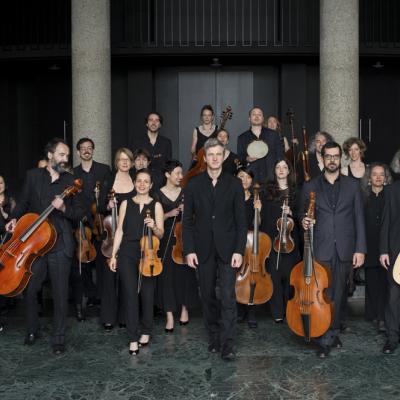 Founded by Vincent Dumestre in 1998, Le Poème Harmonique is an ensemble of enthusiastic musicians dedicated to the performance of 17th and 18th century music.
Biography

Enjoying a strong presence on the French and international scenes, its inventive and demanding programmes reflect a knowledgeable approach to the musical repertoire and an in-depth appreciation of vocal and instrumental textures.

It performs familiar and less familiar pieces by Lalande, Lully, Couperin, Clérambault, Charpentier and others, which once set the pace for life at Versailles, its routines and ceremonies, along with works from Baroque Italy, including by Monteverdi and Pergolesi, and English pieces by Purcell and Clarke, among others.
It also paints vast operatic frescoes ; its ongoing collaboration with director Benjamin Lazar, sealed by a mutual appreciation for Lully, has resulted in widely acclaimed shows (including Le Bourgeois gentilhomme, Cadmus and Hermione and the recent Phaéton, performed in Perm and Versailles with musicAeterna), as other shows in which music meets other artistic disciplines – puppetry, circus and dance, theater –, Caligula, a puppet opera by G.M. Pagliardi, the Baroque Carnival with Cécile Roussat & Julien Lubek and To be or not to be, a show written by Ivan Alexandre and staged by Vincent Huguet.

A familiar name at leading music festivals and venues including Philharmonie de Paris,  Opéra-Comique, Théâtre des Champs-Élysées, Royal Opera of Versailles, Festivals of Ambronay, of Beaune, and of Sablé, Wigmore Hall (London), Forbidden City Hall in Beijing, Wiener Konzerthaus, Concertgebouw of Amsterdam, BOZAR – Centre of Fine Arts of Brussels, Oji Hall (Tokyo), Columbia University (New York), Teatro San Carlo of Naples, Accademia Santa Cecilia of Rome, Philharmonie of Saint Petersburg Philharmonia, and the BBC Proms…,  Le Poème Harmonique is also strongly committed to Normandy, its residency region.

Le Poème Harmonique is celebrating its 20th anniversary in 2019 and offered, for its thousandth concert, creations including Élévations, concert-performance in collaboration with circus artist Mathurin Bolze (Cirque-Théâtre of Elbeuf, Theater of Caen), the Musiche di Castaldi program, recreation of the first recording released by the ensemble created in Normandy and performed in 2020 at the Salle Gaveau (Paris) with mezzo-soprano Eva Zaïcik, the Coronis zarzuela by Sebastián Durón staged by Omar Porras (Theater of Caen), in tour in 2020 at the Opera of Rouen Normany, Opera of Limoges, Opera of Lille and the Maison de la Culture of Amiens.

In 2020, the Anamorfosi program will also be in tour at the Zaryadye Hall of Moscow (Russia), the Concertgebouw of Bruges Belgium), the Auditorium du Louvre (Paris) and at the De Biljoke music center in Gent (Belgium), and the program French Overture, around the emergence of the orchestra in France and in Europe, will be created at the Auditorium of Radio France

2019 has also been marked by the release of a DVD of Phaéton and two albums – Airs de cour and Anamorfosi rewarded with : "Recording of the month" from Gramophone,  "Diapason d'Or" and a "Choc" from Classica magazine).
Reviews