Filters
António Pereira da Costa: Concerti Grossi
António Pereira da Costa: Concerti Grossi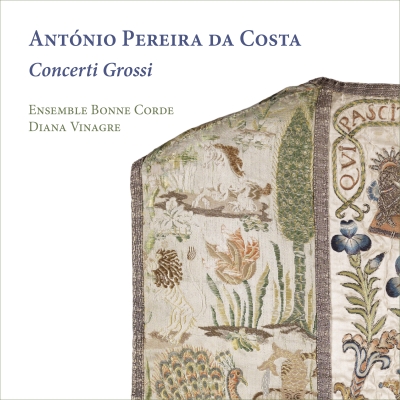 Inlay available for download
Booklet available for download
Concerto VII in F Major: I. Preludio. Largo - Allegro

Composer(s)

António Pereira da Costa

Artist(s)

Diana Vinagre

Ensemble Bonne Corde

Concerto VII in F Major: I. Preludio. Largo - Allegro

$2.30

Concerto VII in F Major: II. Corrente

Composer(s)

António Pereira da Costa

Artist(s)

Diana Vinagre

Ensemble Bonne Corde

Concerto VII in F Major: II. Corrente

$2.30

Concerto VII in F Major: III. Adagio

Composer(s)

António Pereira da Costa

Artist(s)

Diana Vinagre

Ensemble Bonne Corde

Concerto VII in F Major: III. Adagio

$2.30

Concerto VII in F Major: IV. Allegro

Composer(s)

António Pereira da Costa

Artist(s)

Diana Vinagre

Ensemble Bonne Corde

Concerto VII in F Major: IV. Allegro

$2.30

Concerto VII in F Major: V. Allemanda

Composer(s)

António Pereira da Costa

Artist(s)

Diana Vinagre

Ensemble Bonne Corde

Concerto VII in F Major: V. Allemanda

$2.30

Concerto VIII in C Minor: I. Adagio

Composer(s)

António Pereira da Costa

Artist(s)

Diana Vinagre

Ensemble Bonne Corde

Concerto VIII in C Minor: I. Adagio

$2.30

Concerto VIII in C Minor: II. Allegro

Composer(s)

António Pereira da Costa

Artist(s)

Diana Vinagre

Ensemble Bonne Corde

Concerto VIII in C Minor: II. Allegro

$2.30

Concerto VIII in C Minor: III. Corrente

Composer(s)

António Pereira da Costa

Artist(s)

Diana Vinagre

Ensemble Bonne Corde

Concerto VIII in C Minor: III. Corrente

$2.30

Concerto VIII in C Minor: IV. Adagio

Composer(s)

António Pereira da Costa

Artist(s)

Diana Vinagre

Ensemble Bonne Corde

Concerto VIII in C Minor: IV. Adagio

$2.30

Concerto VIII in C Minor: V. Gavotta

Composer(s)

António Pereira da Costa

Artist(s)

Diana Vinagre

Ensemble Bonne Corde

Concerto VIII in C Minor: V. Gavotta

$2.30

Concerto VIII in C Minor: VI. Minuetto. Allegro

Composer(s)

António Pereira da Costa

Artist(s)

Diana Vinagre

Ensemble Bonne Corde

Concerto VIII in C Minor: VI. Minuetto. Allegro

$2.30

Concerto IX in A Major: I. Grave

Composer(s)

António Pereira da Costa

Artist(s)

Diana Vinagre

Ensemble Bonne Corde

Concerto IX in A Major: I. Grave

$2.30

Concerto IX in A Major: II. Allegro - Adagio

Composer(s)

António Pereira da Costa

Artist(s)

Diana Vinagre

Ensemble Bonne Corde

Concerto IX in A Major: II. Allegro - Adagio

$2.30

Concerto IX in A Major: III. Allegro

Composer(s)

António Pereira da Costa

Artist(s)

Diana Vinagre

Ensemble Bonne Corde

Concerto IX in A Major: III. Allegro

$2.30

Concerto IX in A Major: IV. Grave

Composer(s)

António Pereira da Costa

Artist(s)

Diana Vinagre

Ensemble Bonne Corde

Concerto IX in A Major: IV. Grave

$2.30

Concerto IX in A Major: V. Allegro

Composer(s)

António Pereira da Costa

Artist(s)

Diana Vinagre

Ensemble Bonne Corde

Concerto IX in A Major: V. Allegro

$2.30

Concerto IX in A Major: VI. Vivace

Composer(s)

António Pereira da Costa

Artist(s)

Diana Vinagre

Ensemble Bonne Corde

Concerto IX in A Major: VI. Vivace

$2.30

Concerto VI in B Minor: I. Largo

Composer(s)

António Pereira da Costa

Artist(s)

Diana Vinagre

Ensemble Bonne Corde

Concerto VI in B Minor: I. Largo

$2.30

Concerto VI in B Minor: II. Allegro

Composer(s)

António Pereira da Costa

Artist(s)

Diana Vinagre

Ensemble Bonne Corde

Concerto VI in B Minor: II. Allegro

$2.30

Concerto VI in B Minor: III. Allegro

Composer(s)

António Pereira da Costa

Artist(s)

Diana Vinagre

Ensemble Bonne Corde

Concerto VI in B Minor: III. Allegro

$2.30

Concerto VI in B Minor: IV. Adagio

Composer(s)

António Pereira da Costa

Artist(s)

Diana Vinagre

Ensemble Bonne Corde

Concerto VI in B Minor: IV. Adagio

$2.30

Concerto VI in B Minor: V. Allegro

Composer(s)

António Pereira da Costa

Artist(s)

Diana Vinagre

Ensemble Bonne Corde

Concerto VI in B Minor: V. Allegro

$2.30

Concerto VI in B Minor: VI. Giga

Composer(s)

António Pereira da Costa

Artist(s)

Diana Vinagre

Ensemble Bonne Corde

Concerto VI in B Minor: VI. Giga

$2.30

Concerto V in G Minor: I. Preludio. Largo - Allegro

Composer(s)

António Pereira da Costa

Artist(s)

Diana Vinagre

Ensemble Bonne Corde

Concerto V in G Minor: I. Preludio. Largo - Allegro

$2.30

Concerto V in G Minor: II. Corrente

Composer(s)

António Pereira da Costa

Artist(s)

Diana Vinagre

Ensemble Bonne Corde

Concerto V in G Minor: II. Corrente

$2.30

Concerto V in G Minor: III. Grave

Composer(s)

António Pereira da Costa

Artist(s)

Diana Vinagre

Ensemble Bonne Corde

Concerto V in G Minor: III. Grave

$2.30

Concerto V in G Minor: IV. Allegro - Adagio

Composer(s)

António Pereira da Costa

Artist(s)

Diana Vinagre

Ensemble Bonne Corde

Concerto V in G Minor: IV. Allegro - Adagio

$2.30

Concerto V in G Minor: V. Minuetto. Allegro

Composer(s)

António Pereira da Costa

Artist(s)

Diana Vinagre

Ensemble Bonne Corde

Concerto V in G Minor: V. Minuetto. Allegro

$2.30

Concerto X in C Major: I. Adagio - Vivace - Allegro

Composer(s)

António Pereira da Costa

Artist(s)

Diana Vinagre

Ensemble Bonne Corde

Concerto X in C Major: I. Adagio - Vivace - Allegro

$2.30

Concerto X in C Major: II. Allegro

Composer(s)

António Pereira da Costa

Artist(s)

Diana Vinagre

Ensemble Bonne Corde

Concerto X in C Major: II. Allegro

$2.30

Concerto X in C Major: III. Adagio

Composer(s)

António Pereira da Costa

Artist(s)

Diana Vinagre

Ensemble Bonne Corde

Concerto X in C Major: III. Adagio

$2.30

Concerto X in C Major: IV. Allegro - Adagio

Composer(s)

António Pereira da Costa

Artist(s)

Diana Vinagre

Ensemble Bonne Corde

Concerto X in C Major: IV. Allegro - Adagio

$2.30

Concerto X in C Major: V. Marcia. Allegro

Composer(s)

António Pereira da Costa

Artist(s)

Diana Vinagre

Ensemble Bonne Corde

Concerto X in C Major: V. Marcia. Allegro

$2.30
Total running time: 70 minutes.
Album information

Very little is known about António Pereira da Costa (c. 1697–1770), though the exceptional quality of his only surviving compositions – 12 Concerti grossi – earns him pride of place. 

He held the post of Chapel Master of the Cathedral of Funchal, the highest musical position in the Portuguese island of Madeira. Pereira da Costa's Concerti are the only set of Concerti grossi of Portuguese provenance identified to date. They were largely inspired by Corelli's, but frequently reveal an unmistakable "Iberian" flavour. These works embody the charm and freshness of a truly exquisite "tropical Baroque". Ensemble Bonne Corde presents the first recording of these pieces, which are a milestone in Portuguese eighteenth century instrumental music.
Related Artists