Filters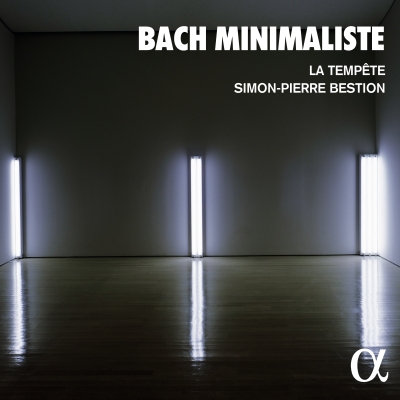 Inlay available for download
Booklet available for download
Harpsichord Concerto No. 1 in D Minor, BWV 1052: I. Allegro

Composer(s)

Johann Sebastian Bach

Artist(s)

Louis-Noël Bestion de Camboulas

Simon-Pierre Bestion

La Tempête

Harpsichord Concerto No. 1 in D Minor, BWV 1052: I. Allegro

$2.30

Harpsichord Concerto, Op. 40: I. Allegro molto

Composer(s)

Henryk Mikołaj Górecki

Artist(s)

Louis-Noël Bestion de Camboulas

Simon-Pierre Bestion

La Tempête

Harpsichord Concerto, Op. 40: I. Allegro molto

$2.30

Immortal Bach, Op. 153

Artist(s)

Simon-Pierre Bestion

La Tempête

Immortal Bach, Op. 153

$2.30

Shaker Loops: I. Shaking and Trembling

Artist(s)

Simon-Pierre Bestion

La Tempête

Shaker Loops: I. Shaking and Trembling

$3.40

Litanies, JA 119

Artist(s)

Louis-Noël Bestion de Camboulas

Simon-Pierre Bestion

La Tempête

Litanies, JA 119

$2.30

Shaker Loops: II. Hymning Slews

Artist(s)

Simon-Pierre Bestion

La Tempête

Shaker Loops: II. Hymning Slews

$2.30

Passacaglia in C Minor, BWV 582

Composer(s)

Johann Sebastian Bach

Artist(s)

Louis-Noël Bestion de Camboulas

Simon-Pierre Bestion

La Tempête

Passacaglia in C Minor, BWV 582

$3.40

Immortal Bach, Op. 153

Artist(s)

Simon-Pierre Bestion

La Tempête

Immortal Bach, Op. 153

$2.30

Harpsichord Concerto No. 1 in D Minor, BWV 1052: III. Allegro

Composer(s)

Johann Sebastian Bach

Artist(s)

Louis-Noël Bestion de Camboulas

Simon-Pierre Bestion

La Tempête

Harpsichord Concerto No. 1 in D Minor, BWV 1052: III. Allegro

$3.40

Harpsichord Concerto, Op. 40: II. Vivace marcatissimo

Composer(s)

Henryk Mikołaj Górecki

Artist(s)

Louis-Noël Bestion de Camboulas

Simon-Pierre Bestion

La Tempête

Harpsichord Concerto, Op. 40: II. Vivace marcatissimo

$2.30

Shaker Loops: III. Loops and Verses

Artist(s)

Simon-Pierre Bestion

La Tempête

Shaker Loops: III. Loops and Verses

$3.40

Shaker Loops: IV. A Final Shaking

Artist(s)

Simon-Pierre Bestion

La Tempête

Shaker Loops: IV. A Final Shaking

$2.30

Vor deinen Thron tret' ich, BWV 668

Composer(s)

Johann Sebastian Bach

Artist(s)

Simon-Pierre Bestion

La Tempête

Vor deinen Thron tret' ich, BWV 668

$2.30
Total running time: 75 minutes.
Album information

J. S. Bach's Harpsichord Concerto in D minor is the centrepiece of this programme: 'This music seems absolutely modern to me: a continuous, endlessly developing thread, giving it an almost hypnotic aspect... These adjectives also belong to the vocabulary of today's music, whether it is "popular", as in techno, or "art music", as in the so-called repetitive or minimalist movement', says Simon-Pierre Bestion.

Two hundred and thirty years after Bach, Górecki wrote a harpsichord concerto in the same key, using it 'as a very rhythmic and extremely stealthy instrument'. John Adams, a leading figure of the American minimalist movement, composed Shaker Loops in 1978: 'This masterpiece takes on a special interest because we play on instruments with gut strings. That gives the music a very special texture.' Bach's Passacaglia ('a single musical theme heard forty-one times') and Jehan Alain's Litanies complete this programme, which brings together the Bestion brothers, with Louis-Noël Bestion de Camboulas as soloist in the concertos.
Related Artists