Filters
Bach Transcriptions: Six Concertos for Violoncello Piccolo
Bach Transcriptions: Six Concertos for Violoncello Piccolo
Artist
Accademia dell'Annunciata
Riccardo Doni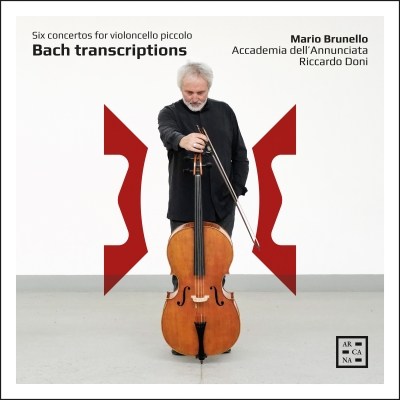 Inlay available for download
Booklet available for download
Harpsichord Concerto No. 3 in D Major, BWV 1054: I. Allegro

Composer(s)

Johann Sebastian Bach

Artist(s)

Accademia dell'Annunciata

Riccardo Doni

Mario Brunello

Harpsichord Concerto No. 3 in D Major, BWV 1054: I. Allegro

$3.40

Harpsichord Concerto No. 3 in D Major, BWV 1054: II. Adagio e piano sempre

Composer(s)

Johann Sebastian Bach

Artist(s)

Accademia dell'Annunciata

Riccardo Doni

Mario Brunello

Harpsichord Concerto No. 3 in D Major, BWV 1054: II. Adagio e piano sempre

$2.30

Harpsichord Concerto No. 3 in D Major, BWV 1054: III. Allegro

Composer(s)

Johann Sebastian Bach

Artist(s)

Accademia dell'Annunciata

Riccardo Doni

Mario Brunello

Harpsichord Concerto No. 3 in D Major, BWV 1054: III. Allegro

$2.30

Harpsichord Concerto in D Major, BWV 972: I. Allegro

Composer(s)

Johann Sebastian Bach

Artist(s)

Accademia dell'Annunciata

Riccardo Doni

Mario Brunello

Harpsichord Concerto in D Major, BWV 972: I. Allegro

$2.30

Harpsichord Concerto in D Major, BWV 972: II. Larghetto

Composer(s)

Johann Sebastian Bach

Artist(s)

Accademia dell'Annunciata

Riccardo Doni

Mario Brunello

Harpsichord Concerto in D Major, BWV 972: II. Larghetto

$2.30

Harpsichord Concerto in D Major, BWV 972: III. Allegro

Composer(s)

Johann Sebastian Bach

Artist(s)

Accademia dell'Annunciata

Riccardo Doni

Mario Brunello

Harpsichord Concerto in D Major, BWV 972: III. Allegro

$2.30

Violin Concerto in G Minor, BWV 1056R: I. [...]

Composer(s)

Johann Sebastian Bach

Artist(s)

Accademia dell'Annunciata

Riccardo Doni

Mario Brunello

Violin Concerto in G Minor, BWV 1056R: I. [...]

$2.30

Violin Concerto in G Minor, BWV 1056R: II. Largo

Composer(s)

Johann Sebastian Bach

Artist(s)

Accademia dell'Annunciata

Riccardo Doni

Mario Brunello

Violin Concerto in G Minor, BWV 1056R: II. Largo

$2.30

Violin Concerto in G Minor, BWV 1056R: III. Presto

Composer(s)

Johann Sebastian Bach

Artist(s)

Accademia dell'Annunciata

Riccardo Doni

Mario Brunello

Violin Concerto in G Minor, BWV 1056R: III. Presto

$2.30

Harpsichord Concerto in D Minor, BWV 974: I. Andante

Composer(s)

Johann Sebastian Bach

Artist(s)

Accademia dell'Annunciata

Riccardo Doni

Mario Brunello

Harpsichord Concerto in D Minor, BWV 974: I. Andante

$2.30

Harpsichord Concerto in D Minor, BWV 974: II. Adagio

Composer(s)

Johann Sebastian Bach

Artist(s)

Accademia dell'Annunciata

Riccardo Doni

Mario Brunello

Harpsichord Concerto in D Minor, BWV 974: II. Adagio

$2.30

Harpsichord Concerto in D Minor, BWV 974: III: Presto

Composer(s)

Johann Sebastian Bach

Artist(s)

Accademia dell'Annunciata

Riccardo Doni

Mario Brunello

Harpsichord Concerto in D Minor, BWV 974: III: Presto

$2.30

Oboe d'amore Concerto in A Major, BWV 1055R: I. [...]

Composer(s)

Johann Sebastian Bach

Artist(s)

Accademia dell'Annunciata

Riccardo Doni

Mario Brunello

Oboe d'amore Concerto in A Major, BWV 1055R: I. [...]

$2.30

Oboe d'amore Concerto in A Major, BWV 1055R: II. Larghetto

Composer(s)

Johann Sebastian Bach

Artist(s)

Accademia dell'Annunciata

Riccardo Doni

Mario Brunello

Oboe d'amore Concerto in A Major, BWV 1055R: II. Larghetto

$2.30

Oboe d'amore Concerto in A Major, BWV 1055R: III. Allegro ma non tanto

Composer(s)

Johann Sebastian Bach

Artist(s)

Accademia dell'Annunciata

Riccardo Doni

Mario Brunello

Oboe d'amore Concerto in A Major, BWV 1055R: III. Allegro ma non tanto

$2.30

Italian Concerto in F Major, BWV 971: I. [...]

Composer(s)

Johann Sebastian Bach

Artist(s)

Accademia dell'Annunciata

Riccardo Doni

Mario Brunello

Italian Concerto in F Major, BWV 971: I. [...]

$2.30

Italian Concerto in F Major, BWV 971: II. Andante

Composer(s)

Johann Sebastian Bach

Artist(s)

Accademia dell'Annunciata

Riccardo Doni

Mario Brunello

Italian Concerto in F Major, BWV 971: II. Andante

$2.30

Italian Concerto in F Major, BWV 971: III. Presto

Composer(s)

Johann Sebastian Bach

Artist(s)

Accademia dell'Annunciata

Riccardo Doni

Mario Brunello

Italian Concerto in F Major, BWV 971: III. Presto

$2.30
Total running time: 79 minutes.
Album information

Performing on a beautiful four-string violoncello piccolo, Mario Brunello presents the concluding instalment in his trilogy dedicated to Bach's music, celebrating the imagination and genius of Bach in a luminous explosion of sound.

After the success of their Tartini disc (Arcana 478, Diapason d'or, 5 stars from Musica), Mario Brunello and the Accademia dell'Annunciata return for an ingenious collection of six concertos, all of which are transcriptions of other works. Not only do we hear the keyboard arrangements of Venetian concertos such as Marcello's famous oboe concerto and Vivaldi's Violin Concerto RV230, but also reconstructed concertos by Bach such as those for oboe and oboe d'amore (BWV 1056 and 1055) and those that have come down to us in their original version — from the Violin Concerto BWV 1042 up to and including the renowned Concerto nach Italienischen Gusto BWV 971. The dialogue between the tutti and the solo passages in the latter work, only imagined in its keyboard version, here finds its full realisation in Riccardo Doni's brilliant transcription for piccolo cello and strings, supported here by the energy and passion of the Accademia dell'Annunciata. Bach Transcriptions is a surprising labyrinth of sound presenting works to which we listen afresh thanks to the expressive potential of the piccolo cello, an instrument that Bach himself had particularly appreciated.
Related Artists