Filters
The Complete Works of Ravel Vol. 1
The Complete Works of Ravel Vol. 1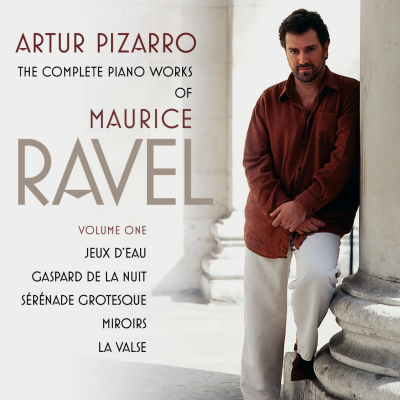 Booklet available for download
Jeux d'eau

Composer(s)

Maurice Ravel

Artist(s)

Artur Pizarro - piano

Jeux d'eau

$2.30

Gaspard de la nuit - Ondine

Composer(s)

Maurice Ravel

Artist(s)

Artur Pizarro - piano

Gaspard de la nuit - Ondine

$2.30

Gaspard de la nuit - Le Gibet

Composer(s)

Maurice Ravel

Artist(s)

Artur Pizarro - piano

Gaspard de la nuit - Le Gibet

$2.30

Gaspard de la nuit - Scarbo

Composer(s)

Maurice Ravel

Artist(s)

Artur Pizarro - piano

Gaspard de la nuit - Scarbo

$3.40

Sérénade grotesque

Composer(s)

Maurice Ravel

Artist(s)

Artur Pizarro - piano

Sérénade grotesque

$2.30

Miroirs - Noctuelles

Composer(s)

Maurice Ravel

Artist(s)

Artur Pizarro - piano

Miroirs - Noctuelles

$2.30

Miroirs - Oiseaux tristes

Composer(s)

Maurice Ravel

Artist(s)

Artur Pizarro - piano

Miroirs - Oiseaux tristes

$2.30

Miroirs - Une barque sur l'océan

Composer(s)

Maurice Ravel

Artist(s)

Artur Pizarro - piano

Miroirs - Une barque sur l'océan

$3.40

Miroirs - Alborada del gracioso

Composer(s)

Maurice Ravel

Artist(s)

Artur Pizarro - piano

Miroirs - Alborada del gracioso

$2.30

Miroirs - La vallée des cloches

Composer(s)

Maurice Ravel

Artist(s)

Artur Pizarro - piano

Miroirs - La vallée des cloches

$2.30

La Valse

Composer(s)

Maurice Ravel

Artist(s)

Artur Pizarro - piano

La Valse

$4.60
Total running time: 74 minutes.
Album information

This challenging programme, including Gaspard de la nuit, well known for being one of the most demanding works in the piano literature, highlights Pizarro as an accomplished Ravel interpreter.

Renowned for his lyrical poeticism and outstanding virtuosity, pianist Artur Pizarro now turns to the music of the French impressionist Maurice Ravel for his fifth recording with Linn Records. The Complete Works of Ravel Vol. 1 follows celebrated albums of repertoire by Chopin and Beethoven and was complemented by Volume 2 in 2008.

In 2006 Artur Pizarro embarked on the complete solo works of Ravel & Debussy in a series of live performances at St John's, Smith Square in London, as well as in Lisbon and Århus, that met with critical success: "Ravel's La Valse concluded this important undertaking by such a very gifted artist, for its virtuosic difficulties are manifold...his technique and musical qualities were fully up to the astounding demands of the piece" (Musical Opinion). 
Related Artists
Reviews