Filters
Albéniz Iberia and Granados Goyescas
Albéniz Iberia and Granados Goyescas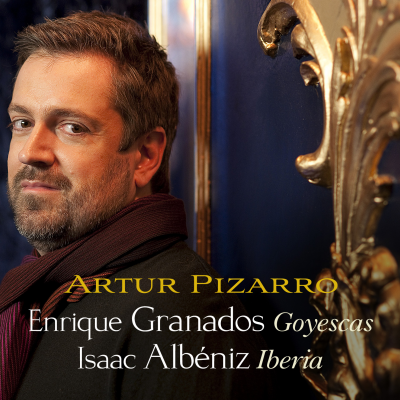 Inlay available for download
Booklet available for download
Goyescas: I. Los Requiebros

Composer(s)

Enrique Granados

Goyescas: I. Los Requiebros

$3.40

Goyescas: II. Coloquio en la reja

Composer(s)

Enrique Granados

Goyescas: II. Coloquio en la reja

$4.60

Goyescas: III. El Fandango del Candil

Composer(s)

Enrique Granados

Goyescas: III. El Fandango del Candil

$2.30

Goyescas: IV. Quejas, o la Maja y el Ruisenor

Composer(s)

Enrique Granados

Goyescas: IV. Quejas, o la Maja y el Ruisenor

$3.40

Goyescas: V. El amor y la muerte

Composer(s)

Enrique Granados

Goyescas: V. El amor y la muerte

$4.60

Goyescas: VI. Epilogo

Composer(s)

Enrique Granados

Goyescas: VI. Epilogo

$3.40

Iberia, Book 1: No. 1 Evocacion

Composer(s)

Isaac Albéniz

Iberia, Book 1: No. 1 Evocacion

$2.30

Iberia, Book 1: No. 2 El Puerto

Composer(s)

Isaac Albéniz

Iberia, Book 1: No. 2 El Puerto

$2.30

Iberia, Book 1: No. 3 Fete-Dieu a Seville

Composer(s)

Isaac Albéniz

Iberia, Book 1: No. 3 Fete-Dieu a Seville

$3.40

Iberia, Book 2: No. 1 Rondena

Composer(s)

Isaac Albéniz

Iberia, Book 2: No. 1 Rondena

$3.40

Iberia, Book 2: No. 2 Almeria

Composer(s)

Isaac Albéniz

Iberia, Book 2: No. 2 Almeria

$3.40

Iberia, Book 2: No. 3 Triana

Composer(s)

Isaac Albéniz

Iberia, Book 2: No. 3 Triana

$2.30

Iberia, Book 3: No. 1 El Albaicin

Composer(s)

Isaac Albéniz

Iberia, Book 3: No. 1 El Albaicin

$3.40

Iberia, Book 3: No. 2 El Polo

Composer(s)

Isaac Albéniz

Iberia, Book 3: No. 2 El Polo

$3.40

Iberia, Book 3: No. 3 Lavapies

Composer(s)

Isaac Albéniz

Iberia, Book 3: No. 3 Lavapies

$2.30

Iberia, Book 4: No. 1 Malaga

Composer(s)

Isaac Albéniz

Iberia, Book 4: No. 1 Malaga

$2.30

Iberia, Book 4: No. 2 Jerez

Composer(s)

Isaac Albéniz

Iberia, Book 4: No. 2 Jerez

$3.40

Iberia, Book 4: No. 3 Eritana

Composer(s)

Isaac Albéniz

Iberia, Book 4: No. 3 Eritana

$2.30
Total running time: 146 minutes.

Album information

Artur Pizarro explores the piano works of Spanish greats Albéniz and Granados.

Piano enthusiasts will be delighted with the release of Enrique Granados's Goyescas & Isaac Albéniz's Iberia from prize-winning pianist Artur Pizarro. Pizarro has a natural affinity to this music: the legacy of great Spanish composers permeates the Portuguese pianist's musical education and upbringing. In addition to being two of the most important piano works written in the twentieth century, these works represent the pinnacle of piano composition in Spain.  

Enrique Granados composed Goyescas, his 'crowning achievement', in 1911. This suite for piano would later be transformed into an opera; the vocally-inspired writing and the romantically stylized love story would perfectly suit opera's requirements. Inspired by the works of Goya, Goyescas paints a picture of a Madrid of the past: the technically demanding, almost improvisatory flavour and Spanish-inspired melodies and harmonies create a sound world reminiscent of the city.

Also renowned for its great difficulty, Isaac Albéniz's Iberia was completed in 1909, with Olivier Messiaen stating "Iberia is the wonder for the piano; it is perhaps on the highest place among the more brilliant pieces for the king of the instruments." Each individual piece is a perceptive portrait of a different area or characteristic of Spain: hear the rhythms of a southern fandango and northern jota in 'Evocación'; the Andalusian flamenco sounds in 'Málaga'; and the evocative coplas in 'Jerez'.  
Related Artists
Reviews