Filters
Da Palestrina: Song of Songs
Da Palestrina: Song of Songs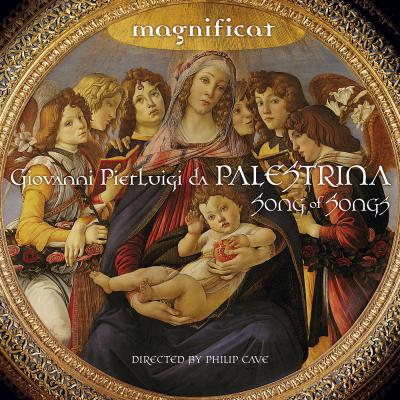 Inlay available for download
Booklet available for download
Osculetur me

Composer(s)

Giovanni Pierluigi da Palestrina

Osculetur me

$1.80

Trahe me post te

Composer(s)

Giovanni Pierluigi da Palestrina

Trahe me post te

$1.80

Nigra sum sed formosa

Composer(s)

Giovanni Pierluigi da Palestrina

Nigra sum sed formosa

$1.80

Vineam mean non custodivi

Composer(s)

Giovanni Pierluigi da Palestrina

Vineam mean non custodivi

$1.80

Si ignoras te, O pulchra

Composer(s)

Giovanni Pierluigi da Palestrina

Si ignoras te, O pulchra

$1.80

Pulchrae sunt genae tuae

Composer(s)

Giovanni Pierluigi da Palestrina

Pulchrae sunt genae tuae

$1.80

Fasciculus myrrhae dilectus meus

Composer(s)

Giovanni Pierluigi da Palestrina

Fasciculus myrrhae dilectus meus

$1.80

Ecce tu pulcher es

Composer(s)

Giovanni Pierluigi da Palestrina

Ecce tu pulcher es

$1.80

Tota pulchra es, amica mea

Composer(s)

Giovanni Pierluigi da Palestrina

Tota pulchra es, amica mea

$1.80

Vulnerasti cor meum

Composer(s)

Giovanni Pierluigi da Palestrina

Vulnerasti cor meum

$1.80

Sicut lilium inter spinas

Composer(s)

Giovanni Pierluigi da Palestrina

Sicut lilium inter spinas

$1.80

Introduxit me rex

Composer(s)

Giovanni Pierluigi da Palestrina

Introduxit me rex

$1.80

Laeva eius sub capite meo

Composer(s)

Giovanni Pierluigi da Palestrina

Laeva eius sub capite meo

$1.80

Vox dilecti mei

Composer(s)

Giovanni Pierluigi da Palestrina

Vox dilecti mei

$1.80

Surge propera, amica mea

Composer(s)

Giovanni Pierluigi da Palestrina

Surge propera, amica mea

$1.80

Surge amica mea, speciosa mea

Composer(s)

Giovanni Pierluigi da Palestrina

Surge amica mea, speciosa mea

$1.80

Dilectus meus mihi

Composer(s)

Giovanni Pierluigi da Palestrina

Dilectus meus mihi

$1.80

Surgam et circuibo civitatem

Composer(s)

Giovanni Pierluigi da Palestrina

Surgam et circuibo civitatem

$1.80

Adiuro vos filiae Hierusalem

Composer(s)

Giovanni Pierluigi da Palestrina

Adiuro vos filiae Hierusalem

$1.80

Caput eius aurum optimum

Composer(s)

Giovanni Pierluigi da Palestrina

Caput eius aurum optimum

$1.80

Dilectus meus descendit

Composer(s)

Giovanni Pierluigi da Palestrina

Dilectus meus descendit

$1.80

Pulchra es amica mea

Composer(s)

Giovanni Pierluigi da Palestrina

Pulchra es amica mea

$1.80

Quae est ista quae progreditur

Composer(s)

Giovanni Pierluigi da Palestrina

Quae est ista quae progreditur

$1.80

Descendi in hortum nucum

Composer(s)

Giovanni Pierluigi da Palestrina

Descendi in hortum nucum

$1.80

Quam pulchri sunt gressus tui

Composer(s)

Giovanni Pierluigi da Palestrina

Quam pulchri sunt gressus tui

$1.80

Duo ubera tua

Composer(s)

Giovanni Pierluigi da Palestrina

Duo ubera tua

$1.80

Quam pulchra es et quam decora

Composer(s)

Giovanni Pierluigi da Palestrina

Quam pulchra es et quam decora

$1.80

Guttur tuum sicut vinum optimum

Composer(s)

Giovanni Pierluigi da Palestrina

Guttur tuum sicut vinum optimum

$1.80

Veni dilecte mi

Composer(s)

Giovanni Pierluigi da Palestrina

Veni dilecte mi

$1.80
Total running time: 78 minutes.
Album information

An exuberant performance of Da Palestrina's cycle of motets by the virtuosic choir Magnificat.

Full of strikingly sensuous passages, both literary and musical, Magnificat's one-voice-per-part performance allows Da Palestrina's music to speak with clarity and intimacy - a carefully considered balance of poise and passion.

No ordinary collection of motets, the Song of Songs sets the most sensual and openly erotic sections of the Old Testament which led Da Palestrina to employ "a style of music a little more lively than normally used in other sacred compositions".
Related Artists
Reviews