Filters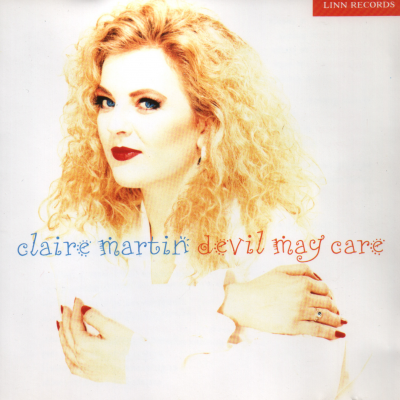 Devil May Care

Composer(s)

Bob Dorough, TP Kirk

Artist(s)

Claire Martin - vocals, Jim Mullen - guitar, Arnie Somogyi - bass, Clark Tracey - drums, tabla, African drums

Nigel Hitchcock - alto saxophone, Iain Ballamy - tenor and soprano saxophones, rick taylor - trombone, percussion

Devil May Care

$1.80

Victim Of Circumstance

Composer(s)

David Newton , Claire Martin

Claire Martin

David Newton

Artist(s)

Claire Martin - vocals, Jim Mullen - guitar, Arnie Somogyi - bass, Clark Tracey - drums, tabla, African drums

Nigel Hitchcock - alto saxophone, Iain Ballamy - tenor and soprano saxophones, rick taylor - trombone, percussion

Victim Of Circumstance

$1.80

If Love Were All

Artist(s)

Claire Martin - vocals, Jim Mullen - guitar, Arnie Somogyi - bass, Clark Tracey - drums, tabla, African drums

Nigel Hitchcock - alto saxophone, Iain Ballamy - tenor and soprano saxophones, rick taylor - trombone, percussion

If Love Were All

$1.80

Devil's Gonna Get You

Composer(s)

Rick Taylor, Claire Martin

Claire Martin

Artist(s)

Claire Martin - vocals, Jim Mullen - guitar, Arnie Somogyi - bass, Clark Tracey - drums, tabla, African drums

Nigel Hitchcock - alto saxophone, Iain Ballamy - tenor and soprano saxophones, rick taylor - trombone, percussion

Devil's Gonna Get You

$1.80

By Myself

Composer(s)

Arthur Schwartz, Howard Dietz

Artist(s)

Claire Martin - vocals, Jim Mullen - guitar, Arnie Somogyi - bass, Clark Tracey - drums, tabla, African drums

Nigel Hitchcock - alto saxophone, Iain Ballamy - tenor and soprano saxophones, rick taylor - trombone, percussion

By Myself

$1.80

Close Enough For Love

Composer(s)

Paul H Williams, John Mandel

Artist(s)

Claire Martin - vocals, Jim Mullen - guitar, Arnie Somogyi - bass, Clark Tracey - drums, tabla, African drums

Nigel Hitchcock - alto saxophone, Iain Ballamy - tenor and soprano saxophones, rick taylor - trombone, percussion

Close Enough For Love

$1.80

Can't Give Enough

Composer(s)

Rick Taylor, Claire Martin , Steve Howlett, Dave Richie

Claire Martin

Artist(s)

Claire Martin - vocals, Jim Mullen - guitar, Arnie Somogyi - bass, Clark Tracey - drums, tabla, African drums

Nigel Hitchcock - alto saxophone, Iain Ballamy - tenor and soprano saxophones, rick taylor - trombone, percussion

Can't Give Enough

$1.80

The Sun Was Falling From The Sky

Composer(s)

Jonathan Blair

Artist(s)

Claire Martin - vocals, Jim Mullen - guitar, Arnie Somogyi - bass, Clark Tracey - drums, tabla, African drums

Nigel Hitchcock - alto saxophone, Iain Ballamy - tenor and soprano saxophones, rick taylor - trombone, percussion

The Sun Was Falling From The Sky

$1.80

October Thoughts

Composer(s)

Jonathan Gee, Claire Martin

Claire Martin

Artist(s)

Claire Martin - vocals, Jim Mullen - guitar, Arnie Somogyi - bass, Clark Tracey - drums, tabla, African drums

Nigel Hitchcock - alto saxophone, Iain Ballamy - tenor and soprano saxophones, rick taylor - trombone, percussion

October Thoughts

$1.80

On Thin Ice

Composer(s)

Claire Martin

Artist(s)

Claire Martin - vocals, Jim Mullen - guitar, Arnie Somogyi - bass, Clark Tracey - drums, tabla, African drums

Nigel Hitchcock - alto saxophone, Iain Ballamy - tenor and soprano saxophones, rick taylor - trombone, percussion

On Thin Ice

$1.80

Save Your Love for Me

Composer(s)

Buddy Johnson

Artist(s)

Claire Martin - vocals, Jim Mullen - guitar, Arnie Somogyi - bass, Clark Tracey - drums, tabla, African drums

Nigel Hitchcock - alto saxophone, Iain Ballamy - tenor and soprano saxophones, rick taylor - trombone, percussion

Save Your Love for Me

$1.80
Total running time: 49 minutes.
Album information

An early gem from the now-established 'First Lady' of UK jazz.

Devil May Care is the second studio album from Claire Martin, a jazz singer who found her voice early on in her career. True to form Claire Martin does not turn to the obvious repertoire instead Devil May Care is a blend of original tunes and material by such diverse figures as Noel Coward and sixties hipster Bob Dorough.

The session was produced by Rick Taylor whom Claire had met when working with Wet Wet Wet at the Albert Hall. Mixing pop and jazz idioms, the album helped Claire to success in the 'Rising Stars' category of the 1994 British Jazz Awards. One of the tracks 'On Thin Ice' - written by Claire herself - was used on the soundtrack of the British feature film, 'Jack and Sarah', released in 1995.
Related Artists
Reviews