Filters
We've Got A World That Swings
We've Got A World That Swings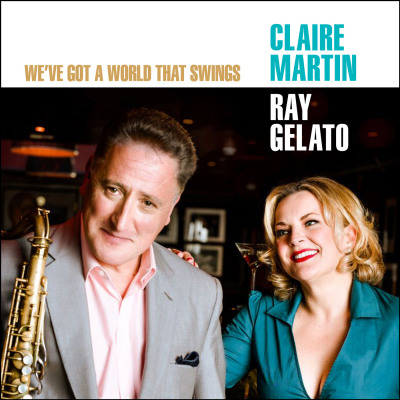 Inlay available for download
Booklet available for download
We've Got A World That Swings

Composer(s)

Lil Mattis, Louis Brown

Artist(s)

Claire Martin & Ray Gelato

We've Got A World That Swings

$2.30

This Could Be The Start Of Something Big

Artist(s)

Claire Martin & Ray Gelato

This Could Be The Start Of Something Big

$2.30

Now Baby Or Never

Composer(s)

Curtis Reginald Lewis

Billie Holiday

Artist(s)

Claire Martin & Ray Gelato

Now Baby Or Never

$2.30

More Than You Know

Composer(s)

Vincent Youmans

Billy Rose, Edward Eliscu

Artist(s)

Claire Martin & Ray Gelato

More Than You Know

$2.30

C'est Si Bon!

Composer(s)

Henri Betti

Andre Hornez, Jerry Seelen

Artist(s)

Claire Martin & Ray Gelato

C'est Si Bon!

$2.30

A Swingin' Affair

Artist(s)

Claire Martin & Ray Gelato

A Swingin' Affair

$2.30

All I Do Is Dream Of You

Composer(s)

Nacio Herb Brown

Arthur Freed

Artist(s)

Claire Martin & Ray Gelato

All I Do Is Dream Of You

$2.30

Come Dance With Me

Composer(s)

Jimmy Van Heusen

Sammy Cahn

Artist(s)

Claire Martin & Ray Gelato

Come Dance With Me

$2.30

The Coffee Song

Composer(s)

Dick Miles

Bob Hilliard

Artist(s)

Claire Martin & Ray Gelato

The Coffee Song

$2.30

Ornithology

Composer(s)

Charlie Parker, Benny Harris

Babs Gonzales

Artist(s)

Claire Martin & Ray Gelato

Ornithology

$2.30

You Came A Long Way From St. Louis

Composer(s)

John Benson Brooks

Bob Russell

Artist(s)

Claire Martin & Ray Gelato

You Came A Long Way From St. Louis

$2.30

Something's Gotta Give

Composer(s)

Johnny Mercer

Artist(s)

Claire Martin & Ray Gelato

Something's Gotta Give

$2.30

Smack Dab In The Middle

Composer(s)

Charles Calhoun

Artist(s)

Claire Martin & Ray Gelato

Smack Dab In The Middle

$2.30
Total running time: 45 minutes.
Album information

Claire Martin and Ray Gelato are artists at the top of their game; with a wealth of bestselling jazz albums, extensive UK tours and established fan bases, this recording is a tour de force.

Following sellout tour dates of their new swing show, the duo took to the studio; Ray's jumpin' vocals and sax provide an ideal foil for Claire's velvety voice. The result is irresistible and earned the album a listing on the Hi-Fi News 'Year's Best Albums' list in 2016.

The song selection is a delicious serving of some of the most sumptuous morsels in the Great American Songbook including a classy R&B treatment of Billie Holiday's 'Now Baby Or Never'. The breadth of Claire's stylistic and vocal range is perfectly displayed among these tracks: listen to her boogaloo take on 'You Came A Long Way From St. Louis' or her interpretation of the melody on 'More Than You Know', which is a vocal masterclass.

Ray's brilliant original 'A Swingin' Affair' sets the tone for an album that is the perfect antidote to twenty-first century life. The duo is accompanied by a trio of world-class musicians: pianist David Newton (Stacey Kent), bassist Dave Whitford (Bobby Wellins Quartet) and drummer Sébastian de Krom (Jamie Cullum).

 
Related Artists
Reviews