Filters
Galanterie. The Autumn of the Viola da Gamba
Galanterie. The Autumn of the Viola da Gamba
Artist
Jadran Duncumb
Emil Duncumb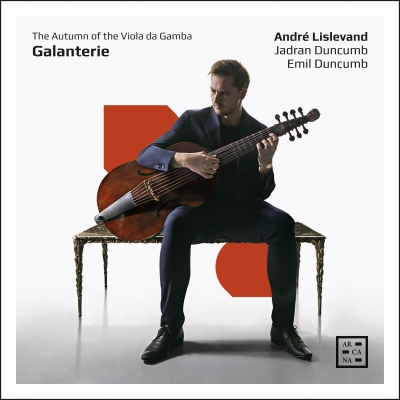 Inlay available for download
Booklet available for download
Allegro in D Major, A18

Composer(s)

Carl Friedrich Abel

Artist(s)

André Lislevand

Allegro in D Major, A18

$2.30

Sonata in C Major, Wq 136: I. Andante

Composer(s)

Carl Philipp Emanuel Bach

Artist(s)

Emil Duncumb

André Lislevand

Sonata in C Major, Wq 136: I. Andante

$2.30

Sonata in C Major, Wq 136: II. Allegretto

Composer(s)

Carl Philipp Emanuel Bach

Artist(s)

André Lislevand

Emil Duncumb

Jadran Duncumb

Sonata in C Major, Wq 136: II. Allegretto

$3.40

Sonata in C Major, Wq 136: III. Arioso

Composer(s)

Carl Philipp Emanuel Bach

Artist(s)

Emil Duncumb

André Lislevand

Sonata in C Major, Wq 136: III. Arioso

$2.30

Rondo II in C Minor, Wq 59/4

Composer(s)

Carl Philipp Emanuel Bach

Rondo II in C Minor, Wq 59/4

$2.30

Sonata in A Minor, B93: I. Allegro

Composer(s)

Carl Friedrich Abel

Artist(s)

André Lislevand

Emil Duncumb

Jadran Duncumb

Sonata in A Minor, B93: I. Allegro

$2.30

Sonata in A Minor, B93: II. Adagio

Composer(s)

Carl Friedrich Abel

Artist(s)

André Lislevand

Emil Duncumb

Jadran Duncumb

Sonata in A Minor, B93: II. Adagio

$2.30

Sonata in A Minor, B93: III. Allegro

Composer(s)

Carl Friedrich Abel

Artist(s)

André Lislevand

Emil Duncumb

Jadran Duncumb

Sonata in A Minor, B93: III. Allegro

$2.30

Fantasia XI in D Minor, TWV 40:36: I. Allegro

Composer(s)

Georg Philipp Telemann

Artist(s)

André Lislevand

Fantasia XI in D Minor, TWV 40:36: I. Allegro

$2.30

Fantasia XI in D Minor, TWV 40:36: II. Grave

Composer(s)

Georg Philipp Telemann

Artist(s)

André Lislevand

Fantasia XI in D Minor, TWV 40:36: II. Grave

$2.30

Fantasia XI in D Minor, TWV 40:36: III. Allegro

Composer(s)

Georg Philipp Telemann

Artist(s)

André Lislevand

Fantasia XI in D Minor, TWV 40:36: III. Allegro

$2.30

Suite in A Major, BWV 1025: I. Fantasia

Composer(s)

Johann Sebastian Bach

Artist(s)

André Lislevand

Jadran Duncumb

Suite in A Major, BWV 1025: I. Fantasia

$2.30

Suite in A Major, BWV 1025: II. Courante

Composer(s)

Johann Sebastian Bach

Artist(s)

André Lislevand

Jadran Duncumb

Suite in A Major, BWV 1025: II. Courante

$2.30

Suite in A Major, BWV 1025: IV. Sarabande

Composer(s)

Johann Sebastian Bach

Artist(s)

André Lislevand

Jadran Duncumb

Suite in A Major, BWV 1025: IV. Sarabande

$2.30

Suite in A Major, BWV 1025: VI. Allegro

Composer(s)

Johann Sebastian Bach

Artist(s)

André Lislevand

Jadran Duncumb

Suite in A Major, BWV 1025: VI. Allegro

$2.30

Andante in D Major, A10

Composer(s)

Carl Friedrich Abel

Artist(s)

André Lislevand

Andante in D Major, A10

$2.30
Total running time: 61 minutes.
Album information

Awarded a Diapason Découverte, André Lislevand's debut album Forqueray Unchained celebrated one of moments of greatest splendor for the viola da gamba: that of the ancien régime in France. In this repertoire, the young musician proved to be "absolutely on top of his game and not afraid to explore the extremes of his instrument's aesthetic world, though without ever losing touch with le bon goût" (Early Music Review).  

The same youthful freshness and energy can be found in his second album, though here he explores the German repertoire of the central decades of the 18th century, a period that witnessed the gradual decline of the instrument, but was still capable of expressing unexpected treasures and developing an idiom that often seems to anticipate the years to come. In the program are sonatas for gamba and basso continuo (C.P.E. Bach's WQ 136 and C.F. Abel's B93 in A minor), Telemann's Fantasia XI for solo viol, two pieces by Abel from the Drexel Manuscript, and finally, the lesser-known Suite BWV 1025 by J.S. Bach, presented here in a version for viola da gamba and concertante lute. Also featured and playing a vital role in this project are the Duncumb brothers, two extraordinary chamber musicians: Emil on the fortepiano and Jadran, who already played on the debut album, on the lute.
Related Artists