Filters
Hammerschmidt: Ach Jesus stirbt
Hammerschmidt: Ach Jesus stirbt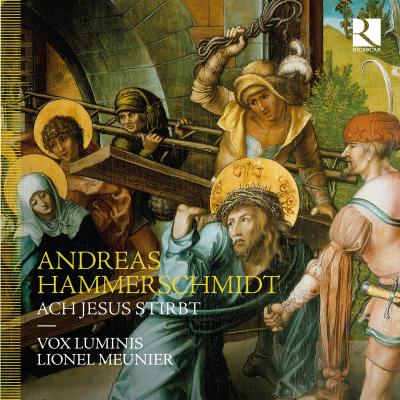 Inlay available for download
Booklet available for download
Ach Jesus stirbt

Composer(s)

Andreas Hammerschmidt

Artist(s)

Lionel Meunier

Vox Luminis

Ach Jesus stirbt

$2.30

O barmherziger Vater

Composer(s)

Andreas Hammerschmidt

Artist(s)

Lionel Meunier

Vox Luminis

O barmherziger Vater

$2.30

Warum betrübst du dich, mein Herz

Composer(s)

Andreas Hammerschmidt

Artist(s)

Lionel Meunier

Vox Luminis

Warum betrübst du dich, mein Herz

$2.30

Ach Gott, warum hast du mein vergessen

Composer(s)

Andreas Hammerschmidt

Artist(s)

Lionel Meunier

Vox Luminis

Ach Gott, warum hast du mein vergessen

$2.30

Erbarm dich mein

Composer(s)

Andreas Hammerschmidt

Artist(s)

Lionel Meunier

Vox Luminis

Erbarm dich mein

$2.30

Bis hin an des Creutzes Stamm

Composer(s)

Andreas Hammerschmidt

Artist(s)

Lionel Meunier

Vox Luminis

Clematis

Bis hin an des Creutzes Stamm

$2.30

Christ lag in Todesbanden

Composer(s)

Andreas Hammerschmidt

Artist(s)

Lionel Meunier

Vox Luminis

Christ lag in Todesbanden

$2.30

Vater unser

Composer(s)

Andreas Hammerschmidt

Artist(s)

Lionel Meunier

Vox Luminis

Clematis

Vater unser

$2.30

Ich bin gewiß, das weder Tod

Composer(s)

Andreas Hammerschmidt

Artist(s)

Lionel Meunier

Vox Luminis

Ich bin gewiß, das weder Tod

$2.30

Triumph, Triumph, Victoria

Composer(s)

Andreas Hammerschmidt

Artist(s)

Lionel Meunier

Vox Luminis

Triumph, Triumph, Victoria

$2.30

Die mit Tränen säen

Composer(s)

Andreas Hammerschmidt

Artist(s)

Lionel Meunier

Vox Luminis

Die mit Tränen säen

$2.30

Wer wälzet uns den Stein

Composer(s)

Andreas Hammerschmidt

Artist(s)

Lionel Meunier

Vox Luminis

Clematis

Wer wälzet uns den Stein

$2.30

Ist nicht Ephraim mein theurer Sohn

Composer(s)

Andreas Hammerschmidt

Artist(s)

Lionel Meunier

Vox Luminis

Ist nicht Ephraim mein theurer Sohn

$2.30

Ich fahre auf zu meinem Vater

Composer(s)

Andreas Hammerschmidt

Artist(s)

Lionel Meunier

Vox Luminis

Ich fahre auf zu meinem Vater

$2.30

Siehe, wie fein und lieblich ists

Composer(s)

Andreas Hammerschmidt

Artist(s)

Lionel Meunier

Vox Luminis

Siehe, wie fein und lieblich ists

$2.30
Total running time: 70 minutes.


Album information

For this musical portrait of Andreas Hammerschmidt, Vox Luminis has drawn on several of these collections in order to offer as rounded a picture as possible of the variety of the composer's styles.

Hammerschmidt is undoubtedly the most unjustly neglected composer of seventeenth-century Lutheran Germany. Very few recordings have been devoted to him, even though his music was widely published during his lifetime.

The fifteen or so published collections offer a great variety of works, which, like those of his famous contemporary Heinrich Schütz, illustrate the fusion between the Lutheran polyphonic tradition and the various stylistic influences of the Italian Baroque. The entire programme is structured around texts for Passiontide and Easter, introduced by an intensely moving madrigalian motet on the death of Christ, Ach Jesus stirbt.
Related Artists
Reviews