Filters
Haydn 2032, Vol. 6: Lamentatione
Haydn 2032, Vol. 6: Lamentatione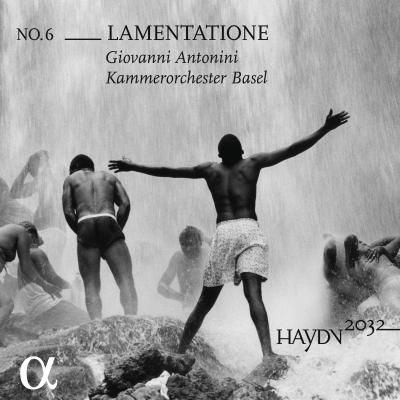 Inlay available for download
Booklet available for download
Symphony No. 3 in G Major, Hob.I:3: I. Allegro

Composer(s)

Franz Joseph Haydn

Artist(s)

Giovanni Antonini

Kammerorchester Basel

Symphony No. 3 in G Major, Hob.I:3: I. Allegro

$2.30

Symphony No. 3 in G Major, Hob.I:3: II. Andante moderato

Composer(s)

Franz Joseph Haydn

Artist(s)

Giovanni Antonini

Kammerorchester Basel

Symphony No. 3 in G Major, Hob.I:3: II. Andante moderato

$2.30

Symphony No. 3 in G Major, Hob.I:3: III. Minuet - Trio

Composer(s)

Franz Joseph Haydn

Artist(s)

Giovanni Antonini

Kammerorchester Basel

Symphony No. 3 in G Major, Hob.I:3: III. Minuet - Trio

$2.30

Symphony No. 3 in G Major, Hob.I:3: IV. Finale. Presto

Composer(s)

Franz Joseph Haydn

Artist(s)

Giovanni Antonini

Kammerorchester Basel

Symphony No. 3 in G Major, Hob.I:3: IV. Finale. Presto

$2.30

Symphony No. 26 in D Minor, Hob.I:26 "Lamentatione": I. Allegro assai con spirito

Composer(s)

Franz Joseph Haydn

Artist(s)

Giovanni Antonini

Kammerorchester Basel

Symphony No. 26 in D Minor, Hob.I:26 "Lamentatione": I. Allegro assai con spirito

$2.30

Symphony No. 26 in D Minor, Hob.I:26 "Lamentatione": II. Adagio

Composer(s)

Franz Joseph Haydn

Artist(s)

Giovanni Antonini

Kammerorchester Basel

Symphony No. 26 in D Minor, Hob.I:26 "Lamentatione": II. Adagio

$3.40

Symphony No. 26 in D Minor, Hob.I:26 "Lamentatione": III. Minuet - Trio

Composer(s)

Franz Joseph Haydn

Artist(s)

Giovanni Antonini

Kammerorchester Basel

Symphony No. 26 in D Minor, Hob.I:26 "Lamentatione": III. Minuet - Trio

$2.30

Symphony No. 79 in F Major, Hob.I:79: I. Allegro con spirito

Composer(s)

Franz Joseph Haydn

Artist(s)

Giovanni Antonini

Kammerorchester Basel

Symphony No. 79 in F Major, Hob.I:79: I. Allegro con spirito

$3.40

Symphony No. 79 in F Major, Hob.I:79: II. Adagio cantabile

Composer(s)

Franz Joseph Haydn

Artist(s)

Giovanni Antonini

Kammerorchester Basel

Symphony No. 79 in F Major, Hob.I:79: II. Adagio cantabile

$2.30

Symphony No. 79 in F Major, Hob.I:79: Un poco allegro

Composer(s)

Franz Joseph Haydn

Artist(s)

Giovanni Antonini

Kammerorchester Basel

Symphony No. 79 in F Major, Hob.I:79: Un poco allegro

$2.30

Symphony No. 79 in F Major, Hob.I:79: III. Minuet - Trio

Composer(s)

Franz Joseph Haydn

Artist(s)

Giovanni Antonini

Kammerorchester Basel

Symphony No. 79 in F Major, Hob.I:79: III. Minuet - Trio

$2.30

Symphony No. 79 in F Major, Hob.I:79: IV. Finale. Vivace

Composer(s)

Franz Joseph Haydn

Artist(s)

Giovanni Antonini

Kammerorchester Basel

Symphony No. 79 in F Major, Hob.I:79: IV. Finale. Vivace

$2.30

Symphony No. 30 in C Major Hob. I:30 "Alleluia": I. Allegro

Composer(s)

Franz Joseph Haydn

Artist(s)

Giovanni Antonini

Kammerorchester Basel

Symphony No. 30 in C Major Hob. I:30 "Alleluia": I. Allegro

$2.30

Symphony No. 30 in C Major Hob. I:30 "Alleluia": II. Andante

Composer(s)

Franz Joseph Haydn

Artist(s)

Giovanni Antonini

Kammerorchester Basel

Symphony No. 30 in C Major Hob. I:30 "Alleluia": II. Andante

$2.30

Symphony No. 30 in C Major Hob. I:30 "Alleluia": III. Finale, Tempo di Minuet. Più tosto allegretto

Composer(s)

Franz Joseph Haydn

Artist(s)

Giovanni Antonini

Kammerorchester Basel

Symphony No. 30 in C Major Hob. I:30 "Alleluia": III. Finale, Tempo di Minuet. Più tosto allegretto

$2.30
Total running time: 67 minutes.


Album information

For the sixth volume of the ambitious Haydn 2032 project, released in 2018, the Milanese conductor is again joined by the Kammerorchester Basel. 

The year 2017 was a vintage one for Giovanni Antonini: he was awarded an Echo Klassik, two Gramophone Awards and a Diapason d'Or de l'année for his recent releases. Two of these prizes distinguished Il Distratto, Volume 4 of the complete recording of the Haydn symphonies on which he embarked for Alpha in 2014.

This volume focuses on symphonies with a 'sacred' inspiration: the Symphony No. 26, 'Lamentatione', was composed in 1768 for Holy Week, and No. 30 was nicknamed 'Alleluja' after the plainchant melody Haydn uses in it. Symphony No. 41 was written in 1769.
Related Artists
Reviews