Filters
Haydn 2032, Vol. 9: L'Addio
Haydn 2032, Vol. 9: L'Addio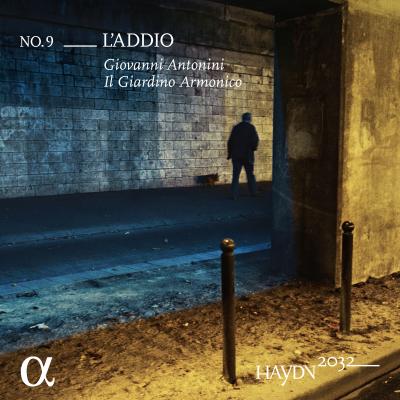 Inlay available for download
Booklet available for download
Symphony No.35 in B-Flat Major, Hob. I:35: I. Allegro di molto

Composer(s)

Franz Joseph Haydn

Artist(s)

Giovanni Antonini

Il Giardino Armonico

Symphony No.35 in B-Flat Major, Hob. I:35: I. Allegro di molto

$2.30

Symphony No.35 in B-Flat Major, Hob. I:35: II. Andante

Composer(s)

Franz Joseph Haydn

Artist(s)

Giovanni Antonini

Il Giardino Armonico

Symphony No.35 in B-Flat Major, Hob. I:35: II. Andante

$2.30

Symphony No.35 in B-Flat Major, Hob. I:35: III. Menuet. Un poco allegretto - Trio

Composer(s)

Franz Joseph Haydn

Artist(s)

Giovanni Antonini

Il Giardino Armonico

Symphony No.35 in B-Flat Major, Hob. I:35: III. Menuet. Un poco allegretto - Trio

$2.30

Symphony No.35 in B-Flat Major, Hob. I:35: IV. Finale. Presto

Composer(s)

Franz Joseph Haydn

Artist(s)

Giovanni Antonini

Il Giardino Armonico

Symphony No.35 in B-Flat Major, Hob. I:35: IV. Finale. Presto

$2.30

Symphony No.45 in F-Sharp Minor, Hob. I:45 'Farewell': I. Allegro Assai

Composer(s)

Franz Joseph Haydn

Artist(s)

Giovanni Antonini

Il Giardino Armonico

Symphony No.45 in F-Sharp Minor, Hob. I:45 'Farewell': I. Allegro Assai

$3.40

Symphony No.45 in F-Sharp Minor, Hob. I:45 'Farewell': II. Adagio

Composer(s)

Franz Joseph Haydn

Artist(s)

Giovanni Antonini

Il Giardino Armonico

Symphony No.45 in F-Sharp Minor, Hob. I:45 'Farewell': II. Adagio

$3.40

Symphony No.45 in F-Sharp Minor, Hob. I:45 'Farewell': III. Menuet. Allegretto - Trio

Composer(s)

Franz Joseph Haydn

Artist(s)

Giovanni Antonini

Il Giardino Armonico

Symphony No.45 in F-Sharp Minor, Hob. I:45 'Farewell': III. Menuet. Allegretto - Trio

$2.30

Symphony No.45 in F-Sharp Minor, Hob. I:45 'Farewell': IV. Finale. Presto

Composer(s)

Franz Joseph Haydn

Artist(s)

Giovanni Antonini

Il Giardino Armonico

Symphony No.45 in F-Sharp Minor, Hob. I:45 'Farewell': IV. Finale. Presto

$2.30

Symphony No.45 in F-Sharp Minor, Hob. I:45 'Farewell': V. Adagio

Composer(s)

Franz Joseph Haydn

Artist(s)

Giovanni Antonini

Il Giardino Armonico

Symphony No.45 in F-Sharp Minor, Hob. I:45 'Farewell': V. Adagio

$2.30

Scena di Berenice, Hob. XXVIA:10: Recitativo 'Berenice, che fai?'

Composer(s)

Franz Joseph Haydn

Artist(s)

Giovanni Antonini

Sandrine Piau

Il Giardino Armonico

Scena di Berenice, Hob. XXVIA:10: Recitativo 'Berenice, che fai?'

$2.30

Scena di Berenice, Hob. XXVIA:10: [Cavatina e] Recitativo: 'Non partir… Me infelice'

Composer(s)

Franz Joseph Haydn

Artist(s)

Giovanni Antonini

Sandrine Piau

Il Giardino Armonico

Scena di Berenice, Hob. XXVIA:10: [Cavatina e] Recitativo: 'Non partir… Me infelice'

$2.30

Scena di Berenice, Hob. XXVIA:10: [Aria] 'Perche! se tanti siete'

Composer(s)

Franz Joseph Haydn

Artist(s)

Giovanni Antonini

Sandrine Piau

Il Giardino Armonico

Scena di Berenice, Hob. XXVIA:10: [Aria] 'Perche! se tanti siete'

$2.30

Symphony No.15 in D Major, Hob. I:15: I. Adagio - Presto - Adagio

Composer(s)

Franz Joseph Haydn

Artist(s)

Giovanni Antonini

Il Giardino Armonico

Symphony No.15 in D Major, Hob. I:15: I. Adagio - Presto - Adagio

$3.40

Symphony No.15 in D Major, Hob. I:15: II. Menuet - Trio

Composer(s)

Franz Joseph Haydn

Artist(s)

Giovanni Antonini

Il Giardino Armonico

Symphony No.15 in D Major, Hob. I:15: II. Menuet - Trio

$2.30

Symphony No.15 in D Major, Hob. I:15: III. Andante

Composer(s)

Franz Joseph Haydn

Artist(s)

Giovanni Antonini

Il Giardino Armonico

Symphony No.15 in D Major, Hob. I:15: III. Andante

$2.30

Symphony No.15 in D Major, Hob. I:15: IV. Finale. Presto

Composer(s)

Franz Joseph Haydn

Artist(s)

Giovanni Antonini

Il Giardino Armonico

Symphony No.15 in D Major, Hob. I:15: IV. Finale. Presto

$2.30
Total running time: 77 minutes.





Album information

This ninth volume of the Haydn2032 series focuses on the composer's psychological subtlety in its focus on a central work: his Symphony no.45, known as the 'Abschieds-Symphonie' ('Farewell' Symphony), composed in 1772. This recording won the 2021 Orchestral Edison Award.

It is said to have got its nickname from a symbolic message Haydn conveyed to Prince Esterházy when he and his orchestra were required to stay longer than planned in the Prince's summer residence. On the occasion of the symphony's first performance, Haydn had arranged for the musicians to leave their places one by one during the final Adagio. The day after the concert, all the musicians were able to return to their families and bid farewell to the Prince, who had obviously taken the point of this poetic request for 'liberation' expressed in music.

The programme is completed by Symphonies nos. 15 and 35 and a cantata sung by Sandrine Piau, the heart-rending 'Berenice, che fai?' on a text by Metastasio that was a real 'hit' of the eighteenth century, set by some forty composers.
Related Artists
Reviews