Filters
Ives: The Celestial Country
Ives: The Celestial Country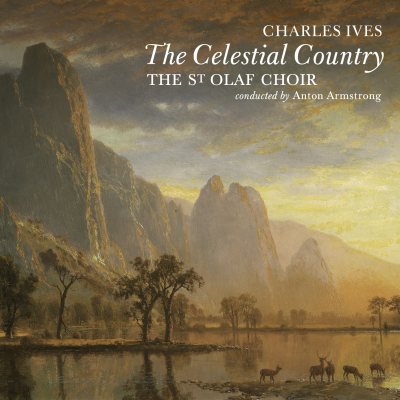 Booklet available for download
The Celestial Country<i> Introduction</i>

Artist(s)

Anton Armstrong

Dan Dressen - tenor, Michael Jorgenson - baritone, John Ferguson - organ

Charles Gray - violin, Lucinda Marvin - violin, Annalee Wolf - viola, David Carter - cello

The Celestial Country Introduction

$1.80

The Celestial Country<i> No. 1 Prelude, Trio and Chorus</i>

Artist(s)

Anton Armstrong

Dan Dressen - tenor, Michael Jorgenson - baritone, John Ferguson - organ

Charles Gray - violin, Lucinda Marvin - violin, Annalee Wolf - viola, David Carter - cello

The Celestial Country No. 1 Prelude, Trio and Chorus

$1.80

The Celestial Country<i> Prelude before No. 2</i>

Artist(s)

Anton Armstrong

Dan Dressen - tenor, Michael Jorgenson - baritone, John Ferguson - organ

Charles Gray - violin, Lucinda Marvin - violin, Annalee Wolf - viola, David Carter - cello

The Celestial Country Prelude before No. 2

$1.80

The Celestial Country<i> No. 2 for Baritone</i>

Artist(s)

Anton Armstrong

Dan Dressen - tenor, Michael Jorgenson - baritone, John Ferguson - organ

Charles Gray - violin, Lucinda Marvin - violin, Annalee Wolf - viola, David Carter - cello

The Celestial Country No. 2 for Baritone

$1.80

The Celestial Country<i> No. 3 Quartet, Accompanied</i>

Artist(s)

Anton Armstrong

Dan Dressen - tenor, Michael Jorgenson - baritone, John Ferguson - organ

Charles Gray - violin, Lucinda Marvin - violin, Annalee Wolf - viola, David Carter - cello

The Celestial Country No. 3 Quartet, Accompanied

$1.80

The Celestial Country<i> Interlude before No. 4</i>

Artist(s)

Anton Armstrong

Dan Dressen - tenor, Michael Jorgenson - baritone, John Ferguson - organ

Charles Gray - violin, Lucinda Marvin - violin, Annalee Wolf - viola, David Carter - cello

The Celestial Country Interlude before No. 4

$1.80

The Celestial Country Intermezzo for string quartet

Artist(s)

Anton Armstrong

Dan Dressen - tenor, Michael Jorgenson - baritone, John Ferguson - organ

Charles Gray - violin, Lucinda Marvin - violin, Annalee Wolf - viola, David Carter - cello

The Celestial Country Intermezzo for string quartet

$1.80

The Celestial Country<i> Interlude after No. 4</i>

Artist(s)

Anton Armstrong

Dan Dressen - tenor, Michael Jorgenson - baritone, John Ferguson - organ

Charles Gray - violin, Lucinda Marvin - violin, Annalee Wolf - viola, David Carter - cello

The Celestial Country Interlude after No. 4

$1.80

The Celestial Country No. 5 Double chorus, a cappella

Artist(s)

Anton Armstrong

Dan Dressen - tenor, Michael Jorgenson - baritone, John Ferguson - organ

Charles Gray - violin, Lucinda Marvin - violin, Annalee Wolf - viola, David Carter - cello

The Celestial Country No. 5 Double chorus, a cappella

$1.80

The Celestial Country<i> No. 6 Aria for Tenor</i>

Artist(s)

Anton Armstrong

Dan Dressen - tenor, Michael Jorgenson - baritone, John Ferguson - organ

Charles Gray - violin, Lucinda Marvin - violin, Annalee Wolf - viola, David Carter - cello

The Celestial Country No. 6 Aria for Tenor

$1.80

The Celestial Country<i> Introduction to No. 7</i>

Artist(s)

Anton Armstrong

Dan Dressen - tenor, Michael Jorgenson - baritone, John Ferguson - organ

Charles Gray - violin, Lucinda Marvin - violin, Annalee Wolf - viola, David Carter - cello

The Celestial Country Introduction to No. 7

$1.80

The Celestial Country<i> No. 7 Chorale and Finale</i>

Artist(s)

Anton Armstrong

Dan Dressen - tenor, Michael Jorgenson - baritone, John Ferguson - organ

Charles Gray - violin, Lucinda Marvin - violin, Annalee Wolf - viola, David Carter - cello

The Celestial Country No. 7 Chorale and Finale

$1.80

Silence Accompanied<i> Adagio Sostentuto</i>

Artist(s)

Anton Armstrong

Martha Hart - mezzo-soprano

Mark S. Johnson - piano, Cynthia Stokes - alto-flute, Charles Gray - violin.

Silence Accompanied Adagio Sostentuto

$1.80

Silence Accompanied<i> Evening</i>

Artist(s)

Anton Armstrong

Martha Hart - mezzo-soprano .

Mark S. Johnson - piano, Cynthia Stokes - alto-flute, Charles Gray - violin.

Silence Accompanied Evening

$1.80

Silence Accompanied<i> Afterglow</i>

Artist(s)

Anton Armstrong

Martha Hart - mezzo-soprano

Mark S. Johnson - piano, Cynthia Stokes - alto-flute, Charles Gray - violin.

Silence Accompanied Afterglow

$1.80

Silence Accompanied<i> The Collection</i>

Artist(s)

Anton Armstrong

Martha Hart - mezzo-soprano

Mark S. Johnson - piano, Cynthia Stokes - alto-flute, Charles Gray - violin.

Silence Accompanied The Collection

$1.80

Silence Accompanied<i> Duty/Vita</i>

Artist(s)

Anton Armstrong

Martha Hart - mezzo-soprano

Mark S. Johnson - piano, Cynthia Stokes - alto-flute, Charles Gray - violin.

Silence Accompanied Duty/Vita

$1.80

Silence Accompanied<i> Carol</i>

Artist(s)

Anton Armstrong

Martha Hart - mezzo-soprano

Mark S. Johnson - piano, Cynthia Stokes - alto-flute, Charles Gray - violin.

Silence Accompanied Carol

$1.80

Silence Accompanied<i> Sunrise</i>

Artist(s)

Anton Armstrong

Martha Hart - mezzo-soprano

Mark S. Johnson - piano, Cynthia Stokes - alto-flute, Charles Gray - violin.

Silence Accompanied Sunrise

$1.80

Silence Accompanied<i> Hymn</i>

Artist(s)

Anton Armstrong

Martha Hart - mezzo-soprano

Mark S. Johnson - piano, Cynthia Stokes - alto-flute, Charles Gray - violin.

Silence Accompanied Hymn

$1.80

Silence Accompanied<i> Mists</i>

Artist(s)

Anton Armstrong

Martha Hart - mezzo-soprano .

Mark S. Johnson - piano, Cynthia Stokes - alto-flute, Charles Gray - violin.

Silence Accompanied Mists

$1.80
Total running time: 60 minutes.
Album information

A breathtakingly beautiful recording of Ives' choral music by the accomplished St Olaf Choir.

The twentieth century has seen the coming of age of American music. The great names still with us - like Gershwin, Bernstein and Copland or innovators like Cage and Reich - have emerged out of a century filled with the impact of many central European composers relocating to the New World. But before the First World War an entirely different musical landscape predominated. Boston - not New York, Philadelphia, Chicago or Los Angeles - was the most important location with its great orchestra playing the latest music from Europe. It was also the platform for the latest domestic music on interest, such as that of the most well-known composer of late nineteenth century America, Edward MacDowell, who had spent nearly a decade in Europe before returning home. But the composer who almost single-handedly broke the umbilical ties with European composition was Charles Ives.
Related Artists
Reviews