Filters
J.S. Bach: The Well-Tempered Consort – III
J.S. Bach: The Well-Tempered Consort – III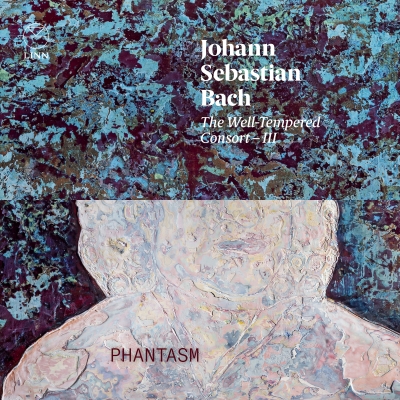 Inlay available for download
Booklet available for download
Inventions and Sinfonias: Sinfonia No. 1 in C Major, BWV 787

Composer(s)

Johann Sebastian Bach

Artist(s)

Laurence Dreyfus

Phantasm

Inventions and Sinfonias: Sinfonia No. 1 in C Major, BWV 787

$2.30

Clavier-Übung III: Christ, unser Herr, zum Jordan kam, BWV 684

Composer(s)

Johann Sebastian Bach

Artist(s)

Laurence Dreyfus

Phantasm

Clavier-Übung III: Christ, unser Herr, zum Jordan kam, BWV 684

$2.30

The Well-Tempered Clavier, Book 2: Fugue No. 3 in C Sharp Major, BWV 872

Composer(s)

Johann Sebastian Bach

Artist(s)

Laurence Dreyfus

Phantasm

The Well-Tempered Clavier, Book 2: Fugue No. 3 in C Sharp Major, BWV 872

$2.30

Clavier-Übung III: Christe, aller Welt Trost, BWV 673

Composer(s)

Johann Sebastian Bach

Artist(s)

Laurence Dreyfus

Phantasm

Clavier-Übung III: Christe, aller Welt Trost, BWV 673

$2.30

The Well-Tempered Clavier, Book 2: Fugue No. 24 in B Minor, BWV 893

Composer(s)

Johann Sebastian Bach

Artist(s)

Laurence Dreyfus

Phantasm

The Well-Tempered Clavier, Book 2: Fugue No. 24 in B Minor, BWV 893

$2.30

Clavier-Übung III: Wir glauben all' an einen Gott, BWV 680

Composer(s)

Johann Sebastian Bach

Artist(s)

Laurence Dreyfus

Phantasm

Clavier-Übung III: Wir glauben all' an einen Gott, BWV 680

$2.30

The Well-Tempered Clavier, Book 2: Fugue No. 15 in G Major, BWV 884

Composer(s)

Johann Sebastian Bach

Artist(s)

Laurence Dreyfus

Phantasm

The Well-Tempered Clavier, Book 2: Fugue No. 15 in G Major, BWV 884

$2.30

The Well-Tempered Clavier, Book 1: Prelude No. 18 in G Sharp Minor, BWV 863

Composer(s)

Johann Sebastian Bach

Artist(s)

Laurence Dreyfus

Phantasm

The Well-Tempered Clavier, Book 1: Prelude No. 18 in G Sharp Minor, BWV 863

$2.30

The Well-Tempered Clavier, Book 1: Fugue No. 18 in G Sharp Minor, BWV 863

Composer(s)

Johann Sebastian Bach

Artist(s)

Laurence Dreyfus

Phantasm

The Well-Tempered Clavier, Book 1: Fugue No. 18 in G Sharp Minor, BWV 863

$2.30

Clavier-Übung III: Fughetta super: Dies sind die heil'gen zehn Gebot, BWV 679

Composer(s)

Johann Sebastian Bach

Artist(s)

Laurence Dreyfus

Phantasm

Clavier-Übung III: Fughetta super: Dies sind die heil'gen zehn Gebot, BWV 679

$2.30

The Well-Tempered Clavier, Book 1: Fugue No. 2 in C Minor, BWV 847

Composer(s)

Johann Sebastian Bach

Artist(s)

Laurence Dreyfus

Phantasm

The Well-Tempered Clavier, Book 1: Fugue No. 2 in C Minor, BWV 847

$2.30

The Well-Tempered Clavier, Book 2: Prelude No. 12 in F Minor, BWV 881

Composer(s)

Johann Sebastian Bach

Artist(s)

Laurence Dreyfus

Phantasm

The Well-Tempered Clavier, Book 2: Prelude No. 12 in F Minor, BWV 881

$2.30

The Well-Tempered Clavier, Book 2: Fugue No. 12 in F Minor, BWV 881

Composer(s)

Johann Sebastian Bach

Artist(s)

Laurence Dreyfus

Phantasm

The Well-Tempered Clavier, Book 2: Fugue No. 12 in F Minor, BWV 881

$2.30

Inventions and Sinfonias: Sinfonia No. 8 in F Major, BWV 794

Composer(s)

Johann Sebastian Bach

Artist(s)

Laurence Dreyfus

Phantasm

Inventions and Sinfonias: Sinfonia No. 8 in F Major, BWV 794

$2.30

The Well-Tempered Clavier, Book 2: Fugue No. 23 in B Major, BWV 892

Composer(s)

Johann Sebastian Bach

Artist(s)

Laurence Dreyfus

Phantasm

The Well-Tempered Clavier, Book 2: Fugue No. 23 in B Major, BWV 892

$2.30

The Well-Tempered Clavier, Book 2: Fugue No. 11 in F Major, BWV 880

Composer(s)

Johann Sebastian Bach

Artist(s)

Laurence Dreyfus

Phantasm

The Well-Tempered Clavier, Book 2: Fugue No. 11 in F Major, BWV 880

$2.30

Clavier-Übung III: Fuga super: Jesus Christus, unser Heiland, BWV 689

Composer(s)

Johann Sebastian Bach

Artist(s)

Laurence Dreyfus

Phantasm

Clavier-Übung III: Fuga super: Jesus Christus, unser Heiland, BWV 689

$2.30

The Well-Tempered Clavier, Book 1: Fugue No. 21 in B Flat Major, BWV 866

Composer(s)

Johann Sebastian Bach

Artist(s)

Laurence Dreyfus

Phantasm

The Well-Tempered Clavier, Book 1: Fugue No. 21 in B Flat Major, BWV 866

$2.30

Clavier-Übung III: Kyrie, Gott Vater in Ewigkeit, BWV 669

Composer(s)

Johann Sebastian Bach

Artist(s)

Laurence Dreyfus

Phantasm

Clavier-Übung III: Kyrie, Gott Vater in Ewigkeit, BWV 669

$2.30

The Well-Tempered Clavier, Book 2: Fugue No. 18 in G Sharp Minor, BWV 887

Composer(s)

Johann Sebastian Bach

Artist(s)

Laurence Dreyfus

Phantasm

The Well-Tempered Clavier, Book 2: Fugue No. 18 in G Sharp Minor, BWV 887

$2.30

Clavier-Übung III: Kyrie, Gott Vater in Ewigkeit, alio modo, BWV 672

Composer(s)

Johann Sebastian Bach

Artist(s)

Laurence Dreyfus

Phantasm

Clavier-Übung III: Kyrie, Gott Vater in Ewigkeit, alio modo, BWV 672

$2.30

Clavier-Übung III: Kyrie, Gott heiliger Geist, BWV 674

Composer(s)

Johann Sebastian Bach

Artist(s)

Laurence Dreyfus

Phantasm

Clavier-Übung III: Kyrie, Gott heiliger Geist, BWV 674

$2.30

The Well-Tempered Clavier, Book 2: Fugue No. 20 in A Minor, BWV 889

Composer(s)

Johann Sebastian Bach

Artist(s)

Laurence Dreyfus

Phantasm

The Well-Tempered Clavier, Book 2: Fugue No. 20 in A Minor, BWV 889

$2.30

Clavier-Übung III: Fughetta super: Allein Gott in der Höh' sei Ehr, BWV 677

Composer(s)

Johann Sebastian Bach

Artist(s)

Laurence Dreyfus

Phantasm

Clavier-Übung III: Fughetta super: Allein Gott in der Höh' sei Ehr, BWV 677

$2.30

The Well-Tempered Clavier, Book 2: Fugue No. 8 in D Sharp Minor, BWV 877

Composer(s)

Johann Sebastian Bach

Artist(s)

Laurence Dreyfus

Phantasm

The Well-Tempered Clavier, Book 2: Fugue No. 8 in D Sharp Minor, BWV 877

$2.30

The Well-Tempered Clavier, Book 1: Fugue No. 5 in D Major, BWV 850

Composer(s)

Johann Sebastian Bach

Artist(s)

Laurence Dreyfus

Phantasm

The Well-Tempered Clavier, Book 1: Fugue No. 5 in D Major, BWV 850

$2.30

Fantasia in G Major "Pièce d'orgue", BWV 572

Composer(s)

Johann Sebastian Bach

Artist(s)

Laurence Dreyfus

Phantasm

Fantasia in G Major "Pièce d'orgue", BWV 572

$2.30
Total running time: 65 minutes.



Album information

This is the third and final instalment of Phantasm's hugely popular Well-Tempered Consort series (5 Diapasons, Gramophone Editor's Choice, BBC Music Magazine Chamber Choice). This polyphonic feast is a fitting end to a remarkable journey.

In this programme devised by its director Laurence Dreyfus, the viol consort Phantasm continues to shine new light on the fugues from Bach's Well-Tempered Clavier interspersed with some of the composer's most harmonically adventurous experiments from the Clavierübung III. This recording also includes two works from the Inventions and Sinfonias as well as the Fantasia in G major BWV 572, or Pièce d'orgue as it is sometimes called, which boasts an extraordinary closing pedal point.
Related Artists
Reviews