Filters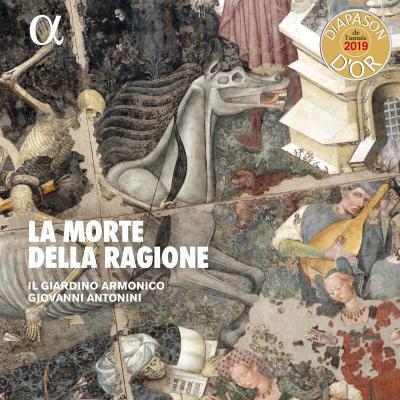 Inlay available for download
Booklet available for download
Preludio a flauto solo

Artist(s)

Giovanni Antonini

Preludio a flauto solo

$2.30

La morte della Ragione (Pavana)

Artist(s)

Giovanni Antonini

Il Giardino Armonico

La morte della Ragione (Pavana)

$2.30

Gagliarda

Composer(s)

Giorgio Mainerio

Artist(s)

Giovanni Antonini

Il Giardino Armonico

Gagliarda

$2.30

ln Nomine Crye

Composer(s)

Christopher Tye

Artist(s)

Giovanni Antonini

Il Giardino Armonico

ln Nomine Crye

$2.30

De tous biens plaine

Composer(s)

Hayne van Ghizeghem

Artist(s)

Giovanni Antonini

Il Giardino Armonico

De tous biens plaine

$2.30

De tous biens plaine

Composer(s)

Josquin Desprez

Artist(s)

Giovanni Antonini

Il Giardino Armonico

De tous biens plaine

$2.30

De tous bien plaine I

Composer(s)

Alexander Agricola

Artist(s)

Giovanni Antonini

Il Giardino Armonico

De tous bien plaine I

$2.30

De tous bien plaine II (a)

Composer(s)

Alexander Agricola

Artist(s)

Giovanni Antonini

Il Giardino Armonico

De tous bien plaine II (a)

$2.30

De tous bien plaine lll

Composer(s)

Alexander Agricola

Artist(s)

Giovanni Antonini

Il Giardino Armonico

De tous bien plaine lll

$2.30

De tous bien plaine II (b)

Composer(s)

Alexander Agricola

Artist(s)

Giovanni Antonini

Il Giardino Armonico

De tous bien plaine II (b)

$2.30

Puzzle Canon

Composer(s)

John Dunstable

Artist(s)

Giovanni Antonini

Il Giardino Armonico

Puzzle Canon

$2.30

Nymphes des bois (La déploration de la mort de Johannes Ockeghem)

Composer(s)

Josquin Desprez

Artist(s)

Giovanni Antonini

Il Giardino Armonico

Nymphes des bois (La déploration de la mort de Johannes Ockeghem)

$2.30

La Battaglia (Pavana)

Artist(s)

Giovanni Antonini

Il Giardino Armonico

La Battaglia (Pavana)

$2.30

Upon la mi re

Composer(s)

Thomas Preston

Artist(s)

Giovanni Antonini

Il Giardino Armonico

Upon la mi re

$2.30

Schiarazula Marazula, Ungarescha & Saltarello

Composer(s)

Giorgio Mainerio

Artist(s)

Giovanni Antonini

Il Giardino Armonico

Schiarazula Marazula, Ungarescha & Saltarello

$2.30

Sonata XIII a otto voci

Composer(s)

Giovanni Gabrieli

Artist(s)

Giovanni Antonini

Il Giardino Armonico

Sonata XIII a otto voci

$2.30

Seconda Stravaganza

Composer(s)

Giovanni de Macque

Artist(s)

Giovanni Antonini

Il Giardino Armonico

Seconda Stravaganza

$2.30

La Rose (Chanson)

Composer(s)

Nicolas Gombert

Artist(s)

Giovanni Antonini

Il Giardino Armonico

La Rose (Chanson)

$2.30

Sonata decimaquarta a 4

Composer(s)

Dario Castello

Artist(s)

Giovanni Antonini

Il Giardino Armonico

Sonata decimaquarta a 4

$2.30

Dormendo un giorno (Capriccio)

Composer(s)

Vincenzo Ruffo

Artist(s)

Giovanni Antonini

Il Giardino Armonico

Dormendo un giorno (Capriccio)

$2.30

La Napolitana (Sinfonia)

Composer(s)

Lodovico Grossi da Viadana

Artist(s)

Giovanni Antonini

Il Giardino Armonico

La Napolitana (Sinfonia)

$2.30

4 Vocum

Composer(s)

John Baldwine

Artist(s)

Giovanni Antonini

Il Giardino Armonico

4 Vocum

$2.30

Canzon Francese del Principe

Composer(s)

Carlo Gesualdo

Artist(s)

Giovanni Antonini

Il Giardino Armonico

Canzon Francese del Principe

$2.30

Tarantella

Composer(s)

Cristoforo Caresana

Artist(s)

Giovanni Antonini

Il Giardino Armonico

Tarantella

$2.30

Sonata VII Stravagante sull'Ave Maris Stella

Composer(s)

Giovan Pietro del Buono

Artist(s)

Giovanni Antonini

Il Giardino Armonico

Sonata VII Stravagante sull'Ave Maris Stella

$2.30

Fantasia & Echo

Composer(s)

Jacob van Eyck

Artist(s)

Giovanni Antonini

Fantasia & Echo

$2.30

Galliard Battaglia

Composer(s)

Samuel Scheidt

Artist(s)

Giovanni Antonini

Il Giardino Armonico

Galliard Battaglia

$2.30
Total running time: 72 minutes.




Album information

Giovanni Antonini, flautist and founder of the legendary Italian ensemble Il Giardino Armonico, enjoys a meandering musical voyage.

Antonini begins with an anonymous 16th century pavane, La Morte della Ragione (The Death of Reason), which he believes refers to In Praise of Folly, in which its author Erasmus distinguishes between two forms of madness: 'a sweet illusion of the spirit,' and a negative form, 'one that the vengeful Furies conjure up from hell...' This succession of 'musical pictures' leads us to the threshold of the baroque era, starting out with the Puzzle Canon by John Dunstable (1390- ca.1453), whose manuscript is an enigma, via the 'bizarre' style of Alexander Agricola (1446- ca.1506) and his obsessive, ostinato rhythm – almost an anticipation of minimalist music…to the improvisatory freedom of the Galliard Battaglia de Scheidt (1587-1654), a battle piece involving a great many diminutions or 'divisions', a common technique of improvisation in the Renaissance...

This grand instrumental musical fresco of time and space is a kind of self-portrait of Giovanni Antonini and his longstanding musical colleagues. To accompany this disc, a richly-illustrated booklet presents a free-ranging iconographical tour combining pictures and contemporary photos.

NB. Please note 176k Studio Master files are available to anyone who has purchased the album in Studio Master. Just email us with your order number and we will send them to you free of charge.
Related Artists
Reviews