Filters
Landini: L'Occhio del Cor
Landini: L'Occhio del Cor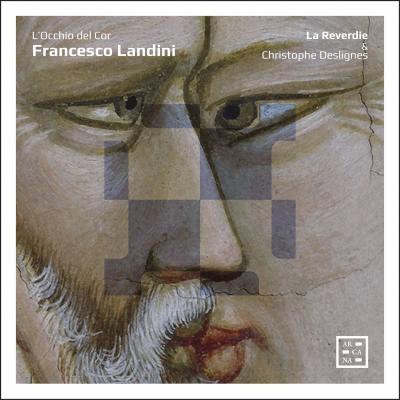 Inlay available for download
Booklet available for download
Poiché partir convienmi, donna cara

Composer(s)

Francesco Landini

Poiché partir convienmi, donna cara

$2.30

Tante belleçe in questa donna stanno

Composer(s)

Francesco Landini

Tante belleçe in questa donna stanno

$2.30

Che cosa è quest'amor che 'l ciel produce

Composer(s)

Francesco Landini

Che cosa è quest'amor che 'l ciel produce

$2.30

Nella tuo luce tien la vita mia

Composer(s)

Francesco Landini

Nella tuo luce tien la vita mia

$2.30

Non arà may pietà questa mia dona

Composer(s)

Francesco Landini

Artist(s)

Claudia Caffagni

Christophe Deslignes

Elisabetta De Mircovich

Non arà may pietà questa mia dona

$2.30

L'alma mie piang'e mai non può aver pace

Composer(s)

Francesco Landini

Artist(s)

Claudia Caffagni

Livia Caffagni

Elisabetta de Mircovich

L'alma mie piang'e mai non può aver pace

$2.30

Gram·piant'agli ochi, greve doglia al core

Composer(s)

Francesco Landini

Gram·piant'agli ochi, greve doglia al core

$2.30

Per un amante rio tal pena sento

Composer(s)

Francesco Landini

Per un amante rio tal pena sento

$2.30

Divennon gli ochi mie nel partir duro

Composer(s)

Francesco Landini

Divennon gli ochi mie nel partir duro

$2.30

Ochi dolenti mie che pur piangete

Composer(s)

Francesco Landini

Ochi dolenti mie che pur piangete

$2.30

Mostrommi Amor già fra le verdi fronde

Composer(s)

Francesco Landini

Artist(s)

Claudia Caffagni

Elisabetta de Mircovich

Mostrommi Amor già fra le verdi fronde

$2.30

Che pena è questa al cor

Composer(s)

Francesco Landini

Artist(s)

Livia Caffagni

Christophe Deslignes

Che pena è questa al cor

$2.30

Non per fallir di me tuo vista pia

Composer(s)

Francesco Landini

Non per fallir di me tuo vista pia

$2.30

Muort'oramai deh misero dolente

Composer(s)

Francesco Landini

Artist(s)

Claudia Caffagni

Elisabetta de Mircovich

Livia Caffagni

Muort'oramai deh misero dolente

$2.30

Guard'una volta incià verso 'l tuo servo

Composer(s)

Francesco Landini

Guard'una volta incià verso 'l tuo servo

$2.30
Total running time: 64 minutes.


Album information

La Reverdie and Christophe Deslignes explore the music of Francesco Landini with a recording that presents both well known masterpieces and pieces that have never been recorded before.

Francesco Landini was the most famous Florentine Trecento composer, known for being a multi-instrumentalist, notably a virtuoso on the organ. He lost his sight at the age of 7 but despite his disability he excelled in the study of music and all liberal arts.

Might the condition of blindness have affected the poetic production of Landini? This recording investigate this hypothesis searching signs that might be eventually impressed in the verses and the music of Magister Coecus by the loss of his sight. The reference to the eyes from literary topos becomes, in many of Landini's texts, a melancholic poetic expedient to express the distance, the absence or the loss of the beloved woman, that only "the heart's eye" (L'Occhio del Cor) is able to imagine.

A project which fills the recent recording void on a fundamental author at the sunset of the Middle Ages, reread through a perspective never explored until now. A passionate work on the strict bond between poetry and music, well explained by Davide Daolmi, is associated to a necessary musicological research about sources.
Related Artists
Reviews