Filters
Le Calme: Fernando Sor Late Works
Le Calme: Fernando Sor Late Works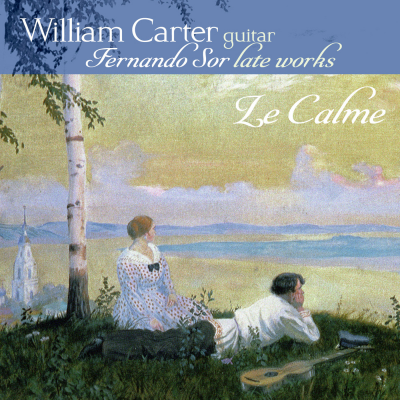 Inlay available for download
Booklet available for download
Three Études, Op. 29: No. 23 in G Major – Allegro

Three Études, Op. 29: No. 23 in G Major – Allegro

$2.30

Three Études, Op. 29: No. 13 in Bb Major – Andante Lento

Three Études, Op. 29: No. 13 in Bb Major – Andante Lento

$2.30

Three Études, Op. 29: No. 17 in C Major – Allegro Moderato

Three Études, Op. 29: No. 17 in C Major – Allegro Moderato

$2.30

Morceau de concert, Op. 54 – Andante Largo

Morceau de concert, Op. 54 – Andante Largo

$2.30

Morceau de concert, Op. 54 – Theme Varie

Morceau de concert, Op. 54 – Theme Varie

$4.60

Morceau de concert, Op. 54 – Allegro

Morceau de concert, Op. 54 – Allegro

$2.30

Lecon, Op. 31, No. 16 – Moderato

Lecon, Op. 31, No. 16 – Moderato

$2.30

Mazurka, Op. 43, No. 4

$2.30

Waltz, Op. 32, No. 2

$2.30

Le Calme, Caprice pour guitar seul, Op. 50 – Andante

Le Calme, Caprice pour guitar seul, Op. 50 – Andante

$3.40

Three Études: Op. 60, No. 22 – Allegro Moderato

Three Études: Op. 60, No. 22 – Allegro Moderato

$2.30

Three Études: Op. 35, No. 17 – Moderato

Three Études: Op. 35, No. 17 – Moderato

$2.30

Three Études: Op. 35, No. 22 – Allegretto

Three Études: Op. 35, No. 22 – Allegretto

$2.30

Lecon, Op. 31, No. 23 – Mouvement de priere religieuse

Lecon, Op. 31, No. 23 – Mouvement de priere religieuse

$2.30
Total running time: 59 minutes.


Album information

William Carter's Le Calme: Fernando Sor Late Works is an appealing collection of works by the Spanish guitar virtuoso and composer Fernado Sor, featuring some of Sor's most popular works. 

This collection demonstrates highly elaborate structures and techniques that pushed the boundaries of the instrument during Sor's time. These recordings employ a performance practice set out by Sor himself; Carter plays with his fingertips, creating an intimate sound. 

Carter's passion for the guitar enthuses his playing with a freshness and vitality that makes these compositions as appealing to today's listeners as it was for the original composition audiences.
Related Artists
Reviews