Filters
La Guitarra Española: The Music of Santiago de Murcia
La Guitarra Española: The Music of Santiago de Murcia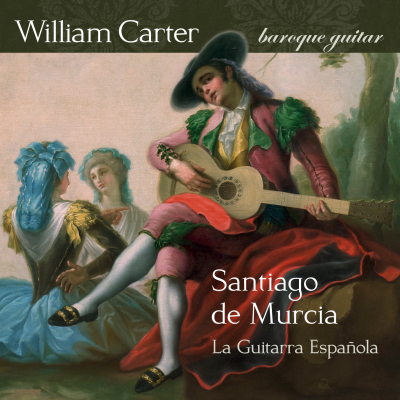 Inlay available for download
Booklet available for download
Folias Españolas

Composer(s)

Santiago de Murcia

Folias Españolas

$2.30

Prelude

Composer(s)

Santiago de Murcia

Prelude

$2.30

Passacalles por la E - a compassillo

Composer(s)

Santiago de Murcia

Passacalles por la E - a compassillo

$2.30

Passacalles por la E - a proporcion

Composer(s)

Santiago de Murcia

Passacalles por la E - a proporcion

$2.30

Suite (after Gaspar Sanz, 1675)

Composer(s)

Santiago de Murcia

Artist(s)

William Carter

Susanne Heinrich

Suite (after Gaspar Sanz, 1675)

$3.40

Zarembeques, o Muecas

Composer(s)

Santiago de Murcia

Artist(s)

William Carter

Susanne Heinrich

Zarembeques, o Muecas

$2.30

Canarios

Composer(s)

Santiago de Murcia

Canarios

$2.30

Passacalles por la B - a compassillo

Composer(s)

Santiago de Murcia

Passacalles por la B - a compassillo

$2.30

Cumbees

Composer(s)

Santiago de Murcia

Artist(s)

William Carter

Susanne Heinrich

Cumbees

$2.30

Passacalles por la D - a compassillo

Composer(s)

Santiago de Murcia

Passacalles por la D - a compassillo

$2.30

Passacalles por la D - a proporcion

Composer(s)

Santiago de Murcia

Passacalles por la D - a proporcion

$2.30

Marionas por la B

Composer(s)

Santiago de Murcia

Marionas por la B

$2.30

Preludio Grabe de Coreli

Composer(s)

Santiago de Murcia

Artist(s)

William Carter

Susanne Heinrich

Preludio Grabe de Coreli

$2.30

Giga de Coreli

Composer(s)

Santiago de Murcia

Artist(s)

William Carter

Susanne Heinrich

Giga de Coreli

$2.30

Gaitas

Composer(s)

Santiago de Murcia

Gaitas

$2.30
Total running time: 58 minutes.

Album information

La Guitarra Española is the second solo album from William Carter. This recording explores the fascinating music of Spanish guitar legend Santiago de Murcia who successfully fused the popular and art music of the early 1700s.

A major figure in the Spanish guitar music scene Santiago de Murcia succeeded in the fusion of popular and art music; an accomplishment that eluded his predecessors. His wonderfully varied body of work combines fully composed versions of Spanish, West African and even New World folk songs with fresh arrangements of music from influential figures such as Arcangelo Corelli. However, perhaps his most significant and intriguing contribution to Spanish music was his role in the development of the popular and controversial dances the Zarembecques, o Muecas and Cumbees.

When first brought to the attention of the authorities the dances succumbed to an official ban which was issued by the Inquisition in 1716. Appalled by the "...lewd actions, lascivious displays and indecent and provocative shaking" they were eager to suppress these dances which were riddled with sexual undertones and risked tainting the "souls of the Christian community".

In contrast to his contribution to the rise of these scandalous and immoral dances the composer also produced many beautiful transcriptions and compositions. In La Guitarra Española William Carter successfully merges Murcia's controversial materials with these charming works and consequently presents an exciting and unique recording. The guitarist creates an original sound delivered by the sensitive interpretations and innovative arrangements which include a guest appearance on the bass line by fellow Palladians musician Susanne Heinrich.  
Related Artists
Reviews