Filters
Locke: For Lovers of Consort Music
Locke: For Lovers of Consort Music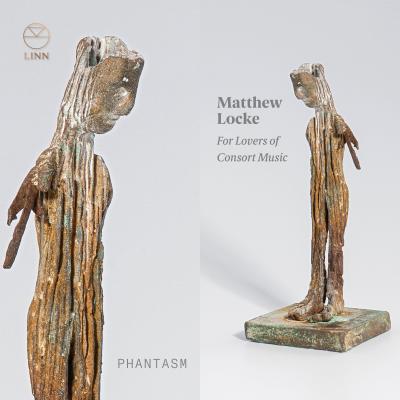 Inlay available for download
Booklet available for download
The Flat Consort for My Cousin Kemble, Suite No. 1 in C Minor: I. Fantazie

Composer(s)

Matthew Locke

Artist(s)

Phantasm

Elizabeth Kenny

The Flat Consort for My Cousin Kemble, Suite No. 1 in C Minor: I. Fantazie

$2.30

The Flat Consort for My Cousin Kemble, Suite No. 1 in C Minor: II. Courante

Composer(s)

Matthew Locke

Artist(s)

Phantasm

Elizabeth Kenny

The Flat Consort for My Cousin Kemble, Suite No. 1 in C Minor: II. Courante

$2.30

The Flat Consort for My Cousin Kemble, Suite No. 1 in C Minor: III. Fantazie

Composer(s)

Matthew Locke

Artist(s)

Phantasm

Elizabeth Kenny

The Flat Consort for My Cousin Kemble, Suite No. 1 in C Minor: III. Fantazie

$2.30

The Flat Consort for My Cousin Kemble, Suite No. 1 in C Minor: IV. Saraband

Composer(s)

Matthew Locke

Artist(s)

Phantasm

Elizabeth Kenny

The Flat Consort for My Cousin Kemble, Suite No. 1 in C Minor: IV. Saraband

$2.30

The Flat Consort for My Cousin Kemble, Suite No. 1 in C Minor: V. Fantazie

Composer(s)

Matthew Locke

Artist(s)

Phantasm

Elizabeth Kenny

The Flat Consort for My Cousin Kemble, Suite No. 1 in C Minor: V. Fantazie

$2.30

The Flat Consort for My Cousin Kemble, Suite No. 1 in C Minor: V. Fantazie

Composer(s)

Matthew Locke

Artist(s)

Phantasm

Elizabeth Kenny

The Flat Consort for My Cousin Kemble, Suite No. 1 in C Minor: V. Fantazie

$2.30

Consort of Four Parts, Suite No. 3 in F Major: I. Fantazie

Composer(s)

Matthew Locke

Artist(s)

Phantasm

Elizabeth Kenny

Consort of Four Parts, Suite No. 3 in F Major: I. Fantazie

$2.30

Consort of Four Parts, Suite No. 3 in F Major: II. Courante

Composer(s)

Matthew Locke

Artist(s)

Phantasm

Elizabeth Kenny

Consort of Four Parts, Suite No. 3 in F Major: II. Courante

$2.30

Consort of Four Parts, Suite No. 3 in F Major: III. Ayre

Composer(s)

Matthew Locke

Artist(s)

Phantasm

Elizabeth Kenny

Consort of Four Parts, Suite No. 3 in F Major: III. Ayre

$2.30

Consort of Four Parts, Suite No. 3 in F Major: IV. Saraband

Composer(s)

Matthew Locke

Artist(s)

Phantasm

Elizabeth Kenny

Consort of Four Parts, Suite No. 3 in F Major: IV. Saraband

$2.30

Consort of Four Parts, Suite No. 1 in D Minor: I. Fantazie

Composer(s)

Matthew Locke

Artist(s)

Phantasm

Elizabeth Kenny

Consort of Four Parts, Suite No. 1 in D Minor: I. Fantazie

$2.30

Consort of Four Parts, Suite No. 1 in D Minor: II. Courante

Artist(s)

Phantasm

Elizabeth Kenny

Consort of Four Parts, Suite No. 1 in D Minor: II. Courante

$2.30

Consort of Four Parts, Suite No. 1 in D Minor: III. Ayre

Composer(s)

Matthew Locke

Artist(s)

Phantasm

Elizabeth Kenny

Consort of Four Parts, Suite No. 1 in D Minor: III. Ayre

$2.30

Consort of Four Parts, Suite No. 1 in D Minor: IV. Saraband

Composer(s)

Matthew Locke

Artist(s)

Phantasm

Elizabeth Kenny

Consort of Four Parts, Suite No. 1 in D Minor: IV. Saraband

$2.30

Consort of Four Parts, Suite No. 2 in D Minor/D Major: I. Fantazie

Composer(s)

Matthew Locke

Artist(s)

Phantasm

Elizabeth Kenny

Consort of Four Parts, Suite No. 2 in D Minor/D Major: I. Fantazie

$2.30

Consort of Four Parts, Suite No. 2 in D Minor/D Major: II. Courante

Composer(s)

Matthew Locke

Artist(s)

Phantasm

Elizabeth Kenny

Consort of Four Parts, Suite No. 2 in D Minor/D Major: II. Courante

$2.30

Consort of Four Parts, Suite No. 2 in D Minor/D Major: III. Ayre

Composer(s)

Matthew Locke

Artist(s)

Phantasm

Elizabeth Kenny

Consort of Four Parts, Suite No. 2 in D Minor/D Major: III. Ayre

$2.30

Consort of Four Parts, Suite No. 2 in D Minor/D Major: III. Ayre

Composer(s)

Matthew Locke

Artist(s)

Phantasm

Elizabeth Kenny

Consort of Four Parts, Suite No. 2 in D Minor/D Major: III. Ayre

$2.30

Consort of Four Parts, Suite No. 6 in G Major: I. Fantazie

Composer(s)

Matthew Locke

Artist(s)

Phantasm

Elizabeth Kenny

Consort of Four Parts, Suite No. 6 in G Major: I. Fantazie

$2.30

Consort of Four Parts, Suite No. 6 in G Major: II. Courante

Composer(s)

Matthew Locke

Artist(s)

Phantasm

Elizabeth Kenny

Consort of Four Parts, Suite No. 6 in G Major: II. Courante

$2.30

Consort of Four Parts, Suite No. 6 in G Major: III. Ayre

Composer(s)

Matthew Locke

Artist(s)

Phantasm

Elizabeth Kenny

Consort of Four Parts, Suite No. 6 in G Major: III. Ayre

$2.30

Consort of Four Parts, Suite No. 6 in G Major: IV. Saraband

Composer(s)

Matthew Locke

Artist(s)

Phantasm

Elizabeth Kenny

Consort of Four Parts, Suite No. 6 in G Major: IV. Saraband

$2.30

Canon '4 in 2' on a Plain Song

Composer(s)

Matthew Locke

Canon '4 in 2' on a Plain Song

$2.30

Consort of Four Parts, Suite No. 5 in G Minor: I. Fantazie

Composer(s)

Matthew Locke

Artist(s)

Phantasm

Elizabeth Kenny

Consort of Four Parts, Suite No. 5 in G Minor: I. Fantazie

$2.30

Consort of Four Parts, Suite No. 5 in G Minor: II. Courante

Composer(s)

Matthew Locke

Artist(s)

Phantasm

Elizabeth Kenny

Consort of Four Parts, Suite No. 5 in G Minor: II. Courante

$2.30

Consort of Four Parts, Suite No. 5 in G Minor: III. Ayre

Composer(s)

Matthew Locke

Artist(s)

Phantasm

Elizabeth Kenny

Consort of Four Parts, Suite No. 5 in G Minor: III. Ayre

$2.30

Consort of Four Parts, Suite No. 5 in G Minor: IV. Saraband

Composer(s)

Matthew Locke

Artist(s)

Phantasm

Elizabeth Kenny

Consort of Four Parts, Suite No. 5 in G Minor: IV. Saraband

$2.30

Consort of Four Parts, Suite No. 4 in F Major: I. Fantazie

Composer(s)

Matthew Locke

Artist(s)

Phantasm

Elizabeth Kenny

Consort of Four Parts, Suite No. 4 in F Major: I. Fantazie

$2.30

Consort of Four Parts, Suite No. 4 in F Major: II. Courante

Composer(s)

Matthew Locke

Artist(s)

Phantasm

Elizabeth Kenny

Consort of Four Parts, Suite No. 4 in F Major: II. Courante

$2.30

Consort of Four Parts, Suite No. 4 in F Major: III. Ayre

Composer(s)

Matthew Locke

Artist(s)

Phantasm

Elizabeth Kenny

Consort of Four Parts, Suite No. 4 in F Major: III. Ayre

$2.30

Consort of Four Parts, Suite No. 4 in F Major: IV. Saraband

Composer(s)

Matthew Locke

Artist(s)

Phantasm

Elizabeth Kenny

Consort of Four Parts, Suite No. 4 in F Major: IV. Saraband

$2.30

Canon '4 in 2' on the Hexachord

Composer(s)

Matthew Locke

Canon '4 in 2' on the Hexachord

$2.30

The Flat Consort for My Cousin Kemble, Suite No. 2 in B Flat Major: I. Fantazie

Composer(s)

Matthew Locke

Artist(s)

Phantasm

Elizabeth Kenny

The Flat Consort for My Cousin Kemble, Suite No. 2 in B Flat Major: I. Fantazie

$2.30

The Flat Consort for My Cousin Kemble, Suite No. 2 in B Flat Major: II. Courante

Composer(s)

Matthew Locke

Artist(s)

Phantasm

Elizabeth Kenny

The Flat Consort for My Cousin Kemble, Suite No. 2 in B Flat Major: II. Courante

$2.30

The Flat Consort for My Cousin Kemble, Suite No. 2 in B Flat Major: III. Fantazie

Composer(s)

Matthew Locke

Artist(s)

Phantasm

Elizabeth Kenny

The Flat Consort for My Cousin Kemble, Suite No. 2 in B Flat Major: III. Fantazie

$2.30

The Flat Consort for My Cousin Kemble, Suite No. 2 in B Flat Major: IV. Saraband

Composer(s)

Matthew Locke

Artist(s)

Phantasm

Elizabeth Kenny

The Flat Consort for My Cousin Kemble, Suite No. 2 in B Flat Major: IV. Saraband

$2.30

The Flat Consort for My Cousin Kemble, Suite No. 2 in B Flat Major: V. Fantazie

Composer(s)

Matthew Locke

Artist(s)

Phantasm

Elizabeth Kenny

The Flat Consort for My Cousin Kemble, Suite No. 2 in B Flat Major: V. Fantazie

$2.30

The Flat Consort for My Cousin Kemble, Suite No. 2 in B Flat Major: VI. Jigg

Composer(s)

Matthew Locke

Artist(s)

Phantasm

Elizabeth Kenny

The Flat Consort for My Cousin Kemble, Suite No. 2 in B Flat Major: VI. Jigg

$2.30
Total running time: 72 minutes.

Album information

Phantasm adds to its critically-acclaimed repertory of English viol consort music with the first recording in what will be a series exploring the music of Matthew Locke.

A turbulent musical personality, Locke has much to endear him to 'lovers of consort music'; his ceaseless and obsessive quest for variety ensures music of maximum breadth and diversity. Director Laurence Dreyfus has created an intriguing programme that showcases Locke's rule-bending approach featuring music that is in turn quirky and humorous, lyrical and sweet.

Most excitingly, this release reunites the partnership of Phantasm and lutenist Elizabeth Kenny, whose last album together, Dowland: Lachrimae or Seven Tears, won both a Gramophone Award and a Diapason d'Or de l'Année. Locke's part-writing, and the oftentimes orchestral dimension of his approach, are both highlighted by the opulent realization of the continuo part, devised here with supreme inventive powers by Kenny.
Related Artists
Reviews