Filters
Mendelssohn: Complete String Quartets, Vol. 1
Mendelssohn: Complete String Quartets, Vol. 1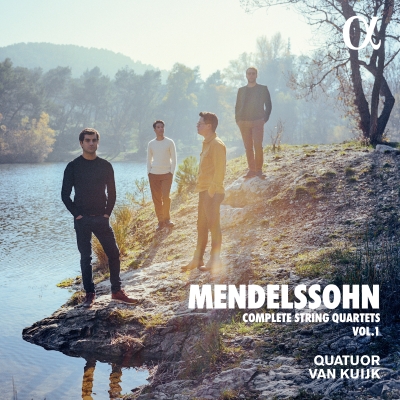 Inlay available for download
Booklet available for download
String Quartet No. 2 in A Major, Op. 13, MWV R 22: I. Adagio - Allegro vivace

Composer(s)

Felix Mendelssohn

Artist(s)

Quatuor Van Kuijk

String Quartet No. 2 in A Major, Op. 13, MWV R 22: I. Adagio - Allegro vivace

$3.40

String Quartet No. 2 in A Major, Op. 13, MWV R 22: II. Adagio non lento

Composer(s)

Felix Mendelssohn

Artist(s)

Quatuor Van Kuijk

String Quartet No. 2 in A Major, Op. 13, MWV R 22: II. Adagio non lento

$3.40

String Quartet No. 2 in A Major, Op. 13, MWV R 22: III. Intermezzo. Allegretto con moto - Allegro di molto

Composer(s)

Felix Mendelssohn

Artist(s)

Quatuor Van Kuijk

String Quartet No. 2 in A Major, Op. 13, MWV R 22: III. Intermezzo. Allegretto con moto - Allegro di molto

$2.30

String Quartet No. 2 in A Major, Op. 13, MWV R 22: IV. Presto - Adagio non lento

Composer(s)

Felix Mendelssohn

Artist(s)

Quatuor Van Kuijk

String Quartet No. 2 in A Major, Op. 13, MWV R 22: IV. Presto - Adagio non lento

$3.40

String Quartet No. 1 in E-Flat Major, Op. 12, MWV R 25: I. Adagio non troppo - Allegro non tardante

Composer(s)

Felix Mendelssohn

Artist(s)

Quatuor Van Kuijk

String Quartet No. 1 in E-Flat Major, Op. 12, MWV R 25: I. Adagio non troppo - Allegro non tardante

$2.30

String Quartet No. 1 in E-Flat Major, Op. 12, MWV R 25: II. Canzonetta. Allegretto

Composer(s)

Felix Mendelssohn

Artist(s)

Quatuor Van Kuijk

String Quartet No. 1 in E-Flat Major, Op. 12, MWV R 25: II. Canzonetta. Allegretto

$2.30

String Quartet No. 1 in E-Flat Major, Op. 12, MWV R 25: III. Andante espressivo

Composer(s)

Felix Mendelssohn

Artist(s)

Quatuor Van Kuijk

String Quartet No. 1 in E-Flat Major, Op. 12, MWV R 25: III. Andante espressivo

$2.30

String Quartet No. 1 in E-Flat Major, Op. 12, MWV R 25: IV. Molto allegro e vivace

Composer(s)

Felix Mendelssohn

Artist(s)

Quatuor Van Kuijk

String Quartet No. 1 in E-Flat Major, Op. 12, MWV R 25: IV. Molto allegro e vivace

$3.40

String Quartet No. 3 in D Major, Op. 44 No. 1, MWV R 30: I. Molto allegro vivace

Composer(s)

Felix Mendelssohn

Artist(s)

Quatuor Van Kuijk

String Quartet No. 3 in D Major, Op. 44 No. 1, MWV R 30: I. Molto allegro vivace

$4.60

String Quartet No. 3 in D Major, Op. 44 No. 1, MWV R 30: II. Menuetto. Un poco allegretto

Composer(s)

Felix Mendelssohn

Artist(s)

Quatuor Van Kuijk

String Quartet No. 3 in D Major, Op. 44 No. 1, MWV R 30: II. Menuetto. Un poco allegretto

$2.30

String Quartet No. 3 in D Major, Op. 44 No. 1, MWV R 30: III. Andante espressivo ma con moto

Composer(s)

Felix Mendelssohn

Artist(s)

Quatuor Van Kuijk

String Quartet No. 3 in D Major, Op. 44 No. 1, MWV R 30: III. Andante espressivo ma con moto

$2.30

String Quartet No. 3 in D Major, Op. 44 No. 1, MWV R 30: IV. Presto con brio

Composer(s)

Felix Mendelssohn

Artist(s)

Quatuor Van Kuijk

String Quartet No. 3 in D Major, Op. 44 No. 1, MWV R 30: IV. Presto con brio

$3.40
Total running time: 82 minutes.

Album information

Quatuor Van Kuijk celebrates its tenth anniversary with its sixth recording for Alpha: the first in a two volume series of Mendelssohn's Complete String Quartets, due for completion in 2023. 

This first volume opens with the Quartet op.13, composed in 1827, when he was only eighteen years old. 'A trial run? No, a masterstroke! In every movement of this first quartet, we are constantly aware that the sense of urgency is the blood that runs through its veins. Never before have we heard such tension maintained over an entire quartet', writes Stéphane Goldet in the album's booklet notes.
Related Artists
Reviews